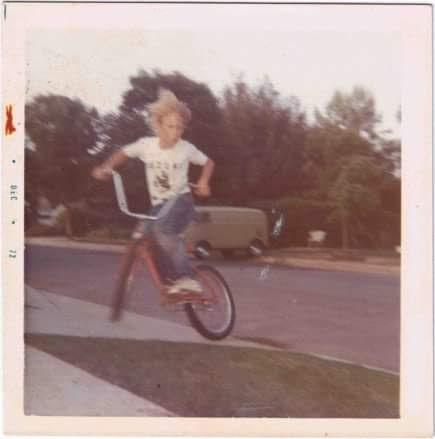 Byron Friday: Cheap department store 20" - shortly after that, a Schwinn Stingray.
The Motocross vibe was fully alive in that era with people racing in motocross gear imitating Motocross on bicycles. How did the Kawasaki bike hold up for that type of riding?
Byron Friday: Kawasaki bike was a significant upgrade from the Schwinn Stingray. Beefy forks meant no more bent forks, and double handlebar clamps held the bars much better than the single pinch bolt gooseneck. The Kawasaki design and engineer held up to the rigors of BMX. I was a finesse rider; therefore, I tended not to be too hard on the equipment. Dave Clinton and I pushed way past the existing boundaries at the gnarly Saddleback MX park and NBA's Randall Ranch downhill tracks. We would send-it at 30 + mph to flat....NO landing ramp, lol!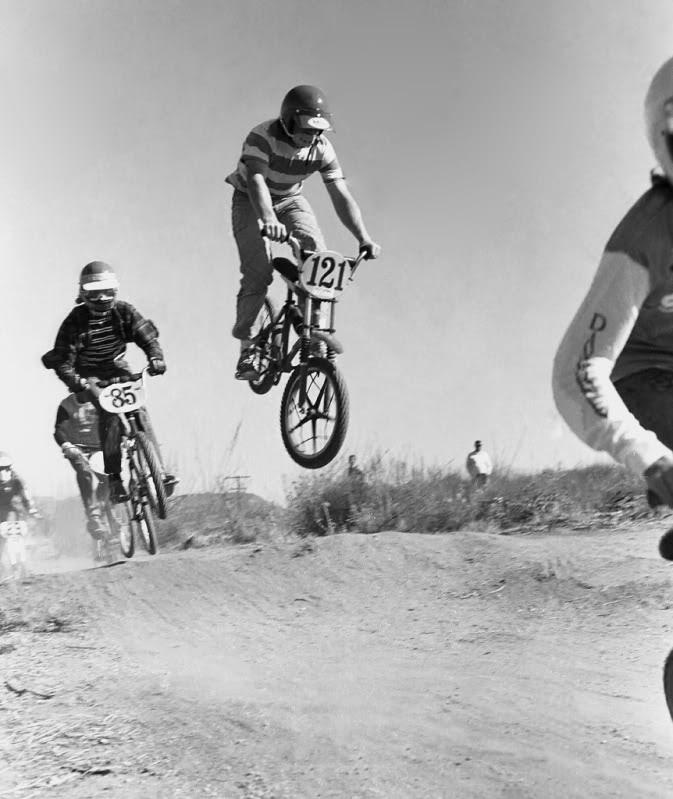 You've seen the BMX bike development firsthand. What kind of full-suspension bikes did you get to ride next to the Kawasaki?
Byron Friday: Oh-man! The Triple A Mono shock was a sweet ride for BMX Down-Hill; unique pivot around the bottom bracket, aluminum frame, and high-end motorcycle gas shock. It was a dream on those ungroomed downhill tracks. Triple A was the manufacturer of the Kawasaki BMX bike. The Triple A and the Kawasaki bikes shared some of the same construction and parts. Note: rear suspension only but still a welcome asset.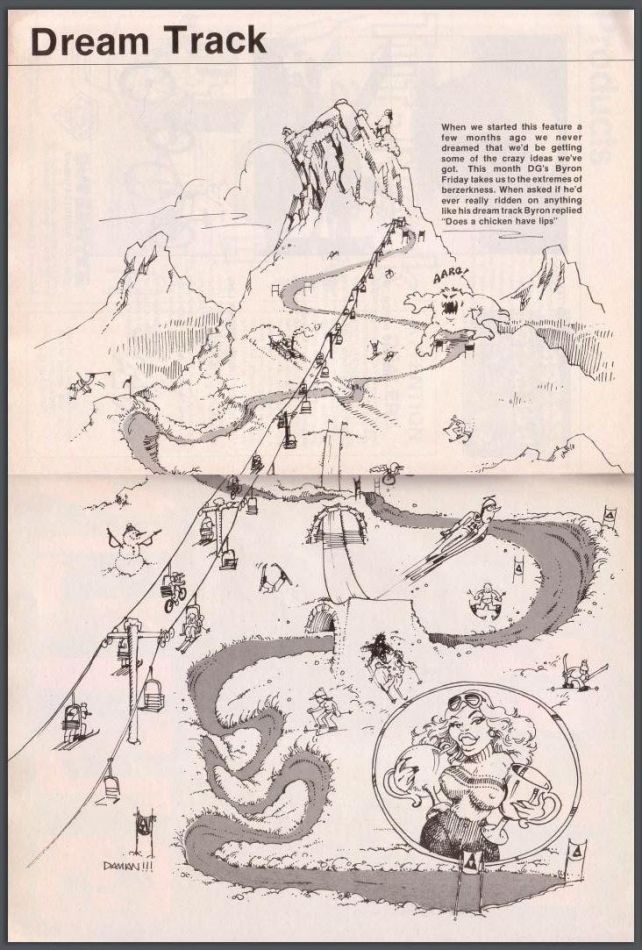 Another rad bike that was Full-Suspension; Billy Mac's Super Mono; super fun to ride that bike on the two downhill tracks at Yarnell - we used to session after the races for hours. I was fortunate to race this bike at the last race at Corona Raceway. This last race at Corona featured a special Pro-only section and a full-suspension bike classification that day. Dennis Dain and John Severin of Johnny's True-Torch BMX fabrications (frame builder) and I battled and had so much fun that day!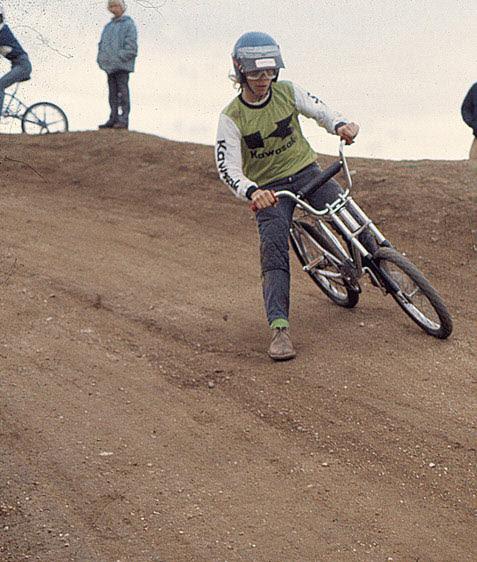 Note; Billy Mac worked and at Cook Bros Racing; he designed the Factory Works bars and A-Headset clamp stem, and more.
What was it like going through the development process, and did you have a big influence giving product feedback to Kawasaki? Did they ever send Product Development managers to watch you ride?
Byron Friday: There was some product development and R&D at Kawasaki. Mainly minor refinements in the current production bike. Initially, a couple of issues needed to be addressed; fork triple-clamps and frame heat treating. These minor refinements got addressed with the Kawasaki R&D people.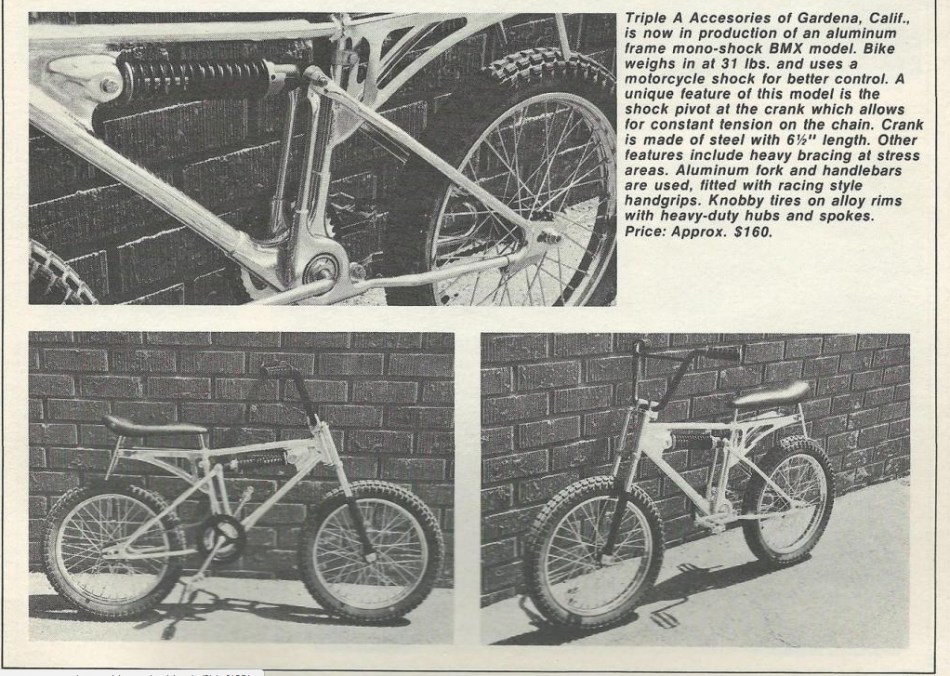 Note: Aluminum product development guru Bill Bastian would develop the first FMF BMX frames with Scot Breithaupt all of which were aluminum.
Bill Bastian would later develop the Race Inc brand, PK Ripper was involved with.
As you must have been on many prototype bikes, were you ever scared a bike part would snap on big jumps?
Byron Friday: Haha! Fortunately, I worked with companies that made quality products, so the sketch factor was usually minimal.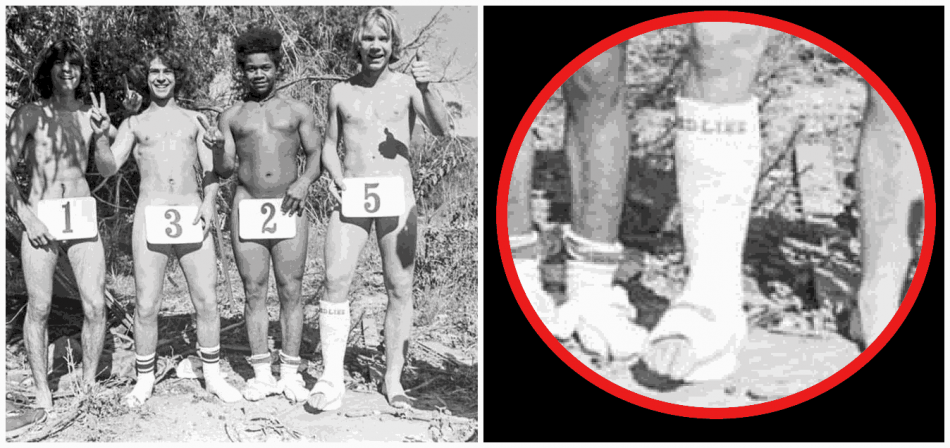 The only a few times that I had a significant concern was;
1) When we tested the first few rounds of Redline Flight cranks, I broke two or three sets right away. The last crank arm I broke resulted in a broken foot. I ended up switching back to a one-piece crank.
2 ) Sad to say that there was a time at DG BMX where I experienced chain derailment issues. Coming from riding a Redline square back, the DG bike's rear triangle was insufficient for my size and power. For example, I led the semi-main at the ABA Pro spectacular indoor race at Anaheim convention center; horrible chain derailment was flipping over the bars.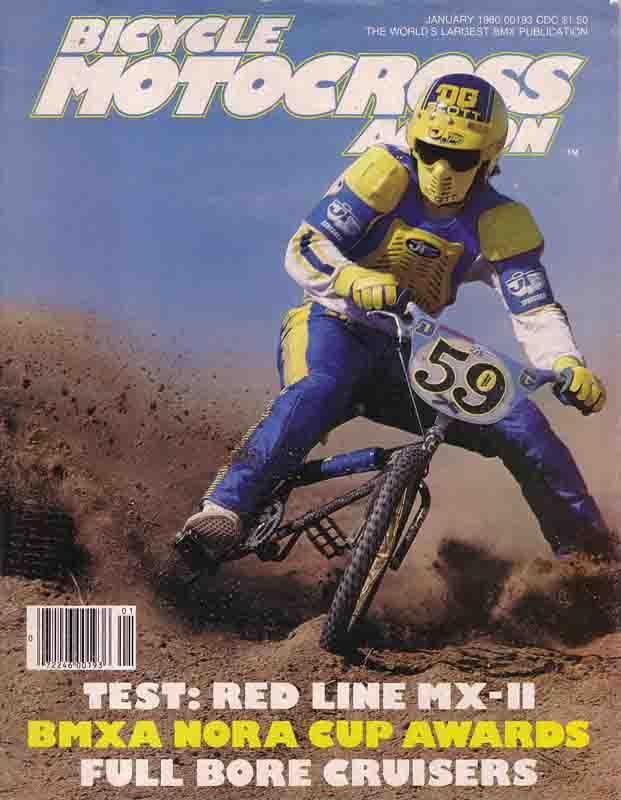 Fortunately, I worked at DG in the factory; I would modify the existing frame using 0.49 i.d. wall-thickness on both the chain-stays and down tube. Also, I would shit-can the Sedisport road bike chain, swap out for a single speed specific track chain.
Looking back, I was so angry and disappointed at missing out on another podium because of the component technical issues - I asked the bike shop why the fuck they were recommending a road bike derailleur chain instead of a single-speed track chain. It took almost a year for my knee-cap to heal.
DG adopted a potential solution for the chain derailment issue; we tested out a prototype belt drive system. This prototype BMX belt-drive design and construction were inadequate for my level of power / Watts output.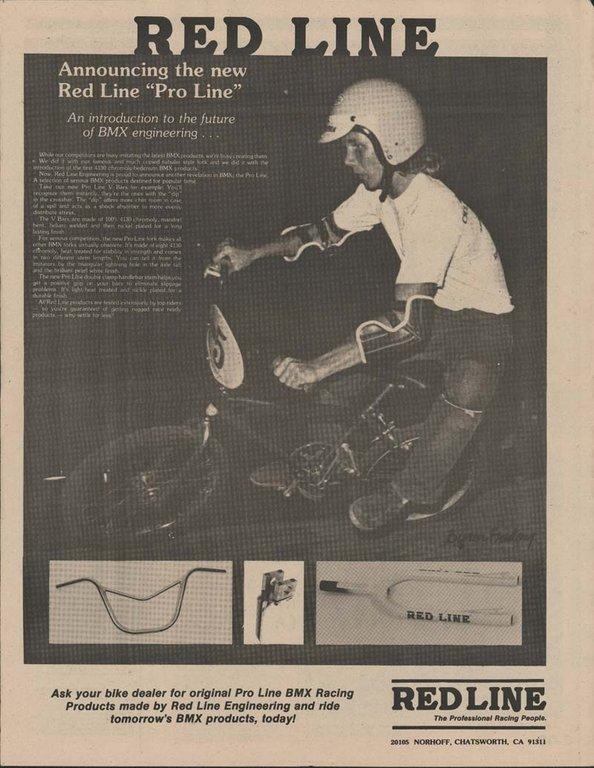 With the difference in bikes, did you ever feel you were in a disadvantage racing a certain bike on a certain track?
Byron Friday: I was often testing brand new stuff - on occasion, and there were component compatibility issues that ended up being problematic and causing me to lose big races. The frustrating thing was..... the mechanicals usually occurred at a big race when I performed at my best.
I led the NBA Shimano Grand National pro main event; I had a drivetrain mechanical; the Shimano drivetrain compatibility issue with the Redline prototype Squareback. Same thing with the prototype Proline and prototype Shimano drivetrain parts. I should have won The NBA Jimmy Weinert Mountain Super Nationals. Testing prototypes at big races and having mechanicals was the only downside when you're a test rider.
Did you feel "Factory" riding for a brand like Kawasaki?
Byron Friday: Hell yes, I did! Kawasaki often had company staff at the races; Dave Clinton and I visited Kawasaki - we came home dressed head to toe in Kawasaki and Bell helmet gear. Dave got a new Kawi 125 cc. When I got home, my good friend, classmate, and riding buddy Johnny O'Mara about crapped his pants - I rolled up to his house fully decked out Factory Kawasaki bike and gear. Good times for sure.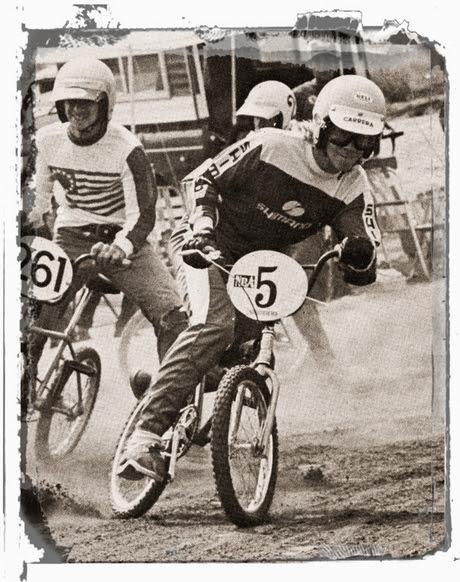 Can you explain why Japanese companies like Shimano were stepping into Bicycle Motocross this early?
Byron Friday: Yes, this is what happened:
1) Shimano America was located in Sun Valley, north of Los Angeles. Shimano was up the street from Jim Emerson's Peddlers West bike shop and EFF BMX distributing. An Epicenter of BMX.
2) The perfect storm; Jim Emerson has his finger on the pulse of BMX and what BMX riders needed product-wise. Jim supported many local riders computing at NBA BMX races, Soledad Sands downhill, Yarnell downhill, etc. Including Dave Clinton, who just won the Yamaha Gold Cup series.
3) President of Shimano America Bob Hansing also owns a Montrose Pro bike shop, heavily involved in bike racing. Long story short, fate and working relationships in the bike industry would connect Bob Hansen, Shimano, Jim Emerson, and Linn Kastan Redline motorcycle racing.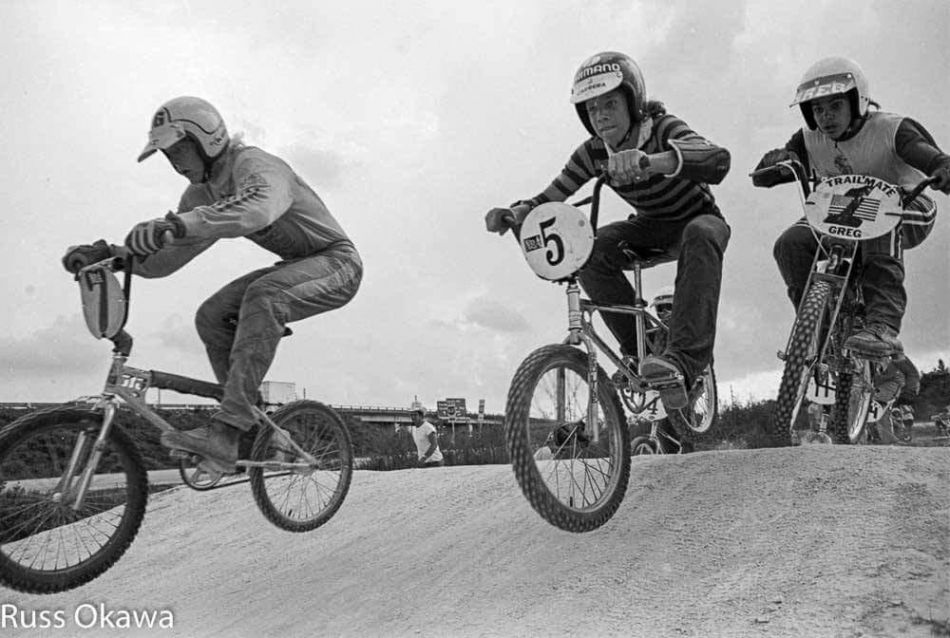 Bob Hansen being a professional bike racer (bicycle industry entrepreneur mogul) and Linn neck-deep in flat track and short-track motorcycle racing. Bob, Linn, and Jim could see a need for higher quality BMX products and eventually professional level BMX products. The perfect storm all the right people in multiple industries working together to create new and innovative BMX products. Americans were working with the Japanese and vice versa.
4) Furthermore; Howie Cohen of West Coast Cycles/Cycle-Pro, Joel Davis West Coast cycles, Jack Kemp were veteran bike industry VIP's and Webco Don Kemp we're all building relationships with Shimano America and Japan.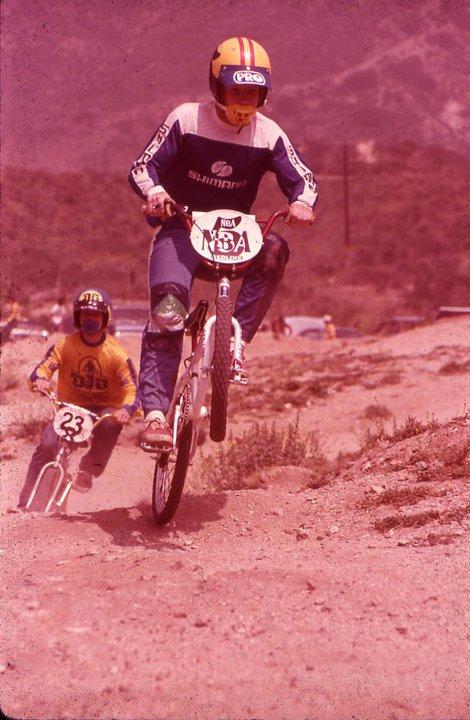 5) Because Shimano was located at the right place and at the right time, connected with the right people - BMX and the BMX industry would benefit from the JBM Japanese bicycle manufacturer group; Tange - Tubing and Fork, KKT, Araya, SR Sakai, Takagi, Marui LTD (parent company of Tioga)
Do a Google photo search: JBM Japanese bicycle manufacturer group.
Essentially the US bicycle industry distributors and manufacturers gradually developed a relationship with Shimano and the JBM group. US bike industry executives were requesting cycling innovation - innovative products to increase sales and profits in a very healthy US market.
How involved were you in the Redline brand? What parts did you help develop?
Byron Friday: Very important to note; Jim Emerson was the liaison that connected me directly with Linn Kastan. Redline's shop was located in Northridge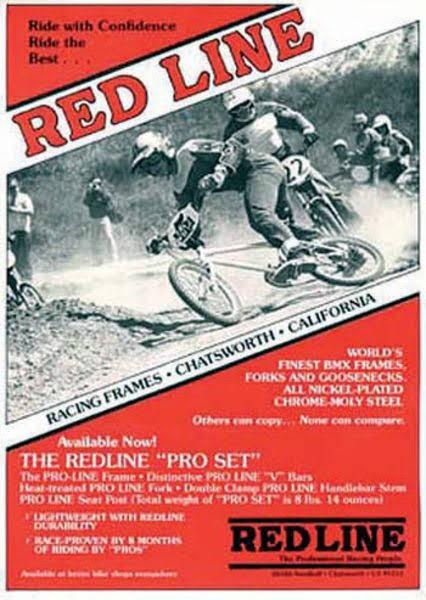 , not far away from my school. I think I started working at Redline in 1975, the latest 1976. Redline frame and fork sales were increasing exponentially - to increase manufacturing capacity, Redline moved to a much bigger location down the street in the city of Chatsworth. I frequently pitched Linn to design and build some new stuff for me and often nagging Linn for a lighter, stronger but... durable bike.
Being an innovative product guy, combined with Redline selling everything they made... Linn headed to the drafting table, creating the blueprints for the Redline V bars. We built the prototypes, then Linn went to work on the ProLine stem - this was an excellent working product that I was happy with - next up was the ProLine frame and fork - Linn showed me the blueprint... I about crapped my pants... I was so excited I could barely work.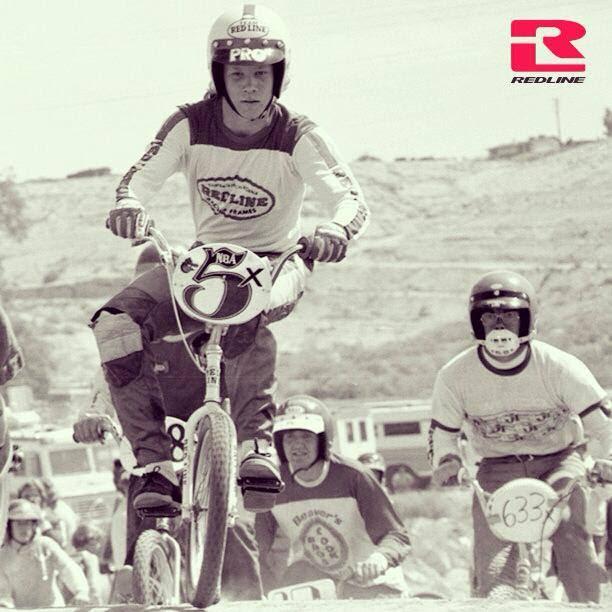 About a week later, the prototype Proline frame and fork were done. Going from a Square-Back with heavy components to a lightweight Proline frame and fork made a massive difference in my performance. The ProLine was a hole-shot machine. It was so rad!
Next up was the Flight-Cranks; initially, these prototype cranks failed miserably. One afternoon of testing and boom cracked or broken off. The final straw was a broken foot and a cast... After I healed, I switched back to the one-piece Takagi crank.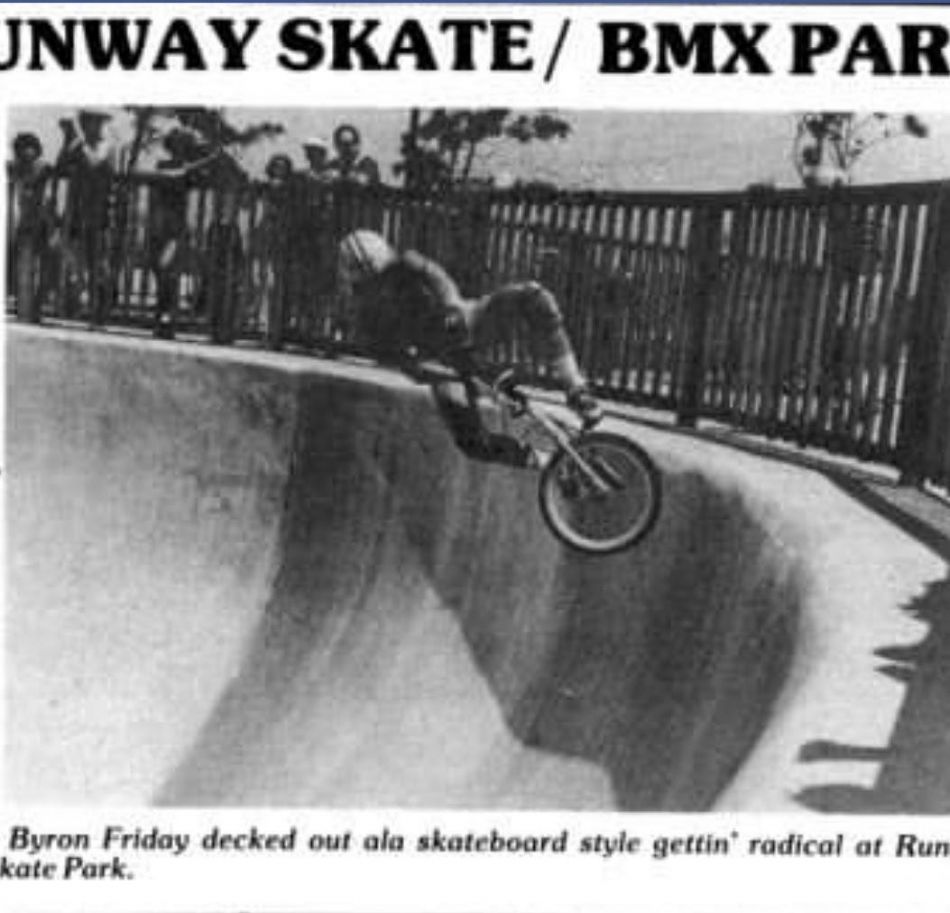 Note: Getting sidetracked from BMX in the middle of the Redline program; at that time, the Hollywood party lifestyle was in full effect, BMX /skateboard pool riding park riding, sex drugs, and rock and roll - I got sidetracked from BMX.
Hard drugs were available at school and in my neighborhood. It was impossible to escape. There was no drug or addiction education; therefore, no deterrent to understanding that addiction is the bad part of drug use. My girlfriend Cherie Curie would start a band with Joan Jett and Lita Ford "The Runaways." Long story short: I ended up dropping out of school - unfortunately, I jumped into the deep end of skater drugs & pool riding lifestyle. I didn't know any better.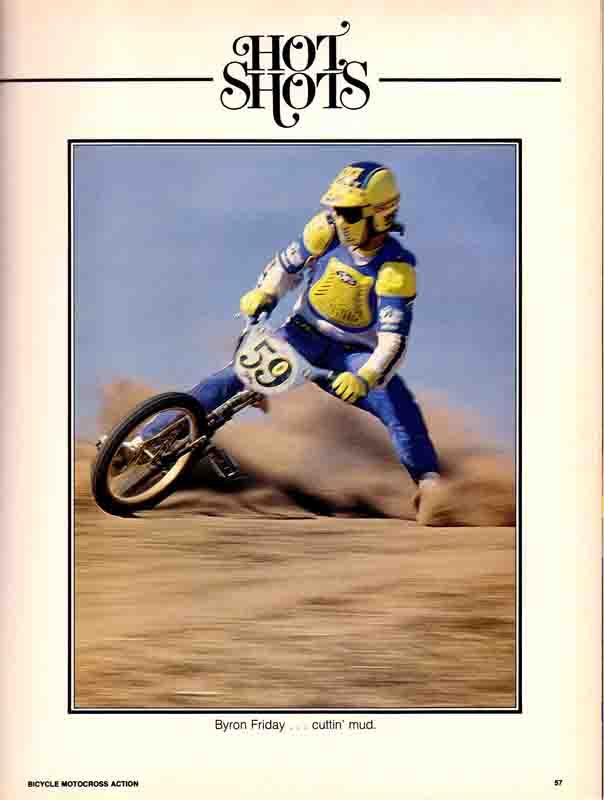 With my unhealthy lifestyle shift, I would inevitably end up getting fired from Redline. I was living a dual life: prospering as an athlete and bike racer and self-destructing all at the same time.
After I got fired from Red Line... I was sort of lost in life; I lacked much-needed direction in life, I almost dropped out of BMX. Fortunately- a phone call from DG would open up the door to new possibilities. Initially, I was offered a full-ride with DG. Soon enough.... I was offered a position to work at DG. Fortunately, this would mean I could move away from the drugs and bad lifestyle in the Los Angeles area. As a motocross company DG, along with a few others, made a welcome move into the BMX world.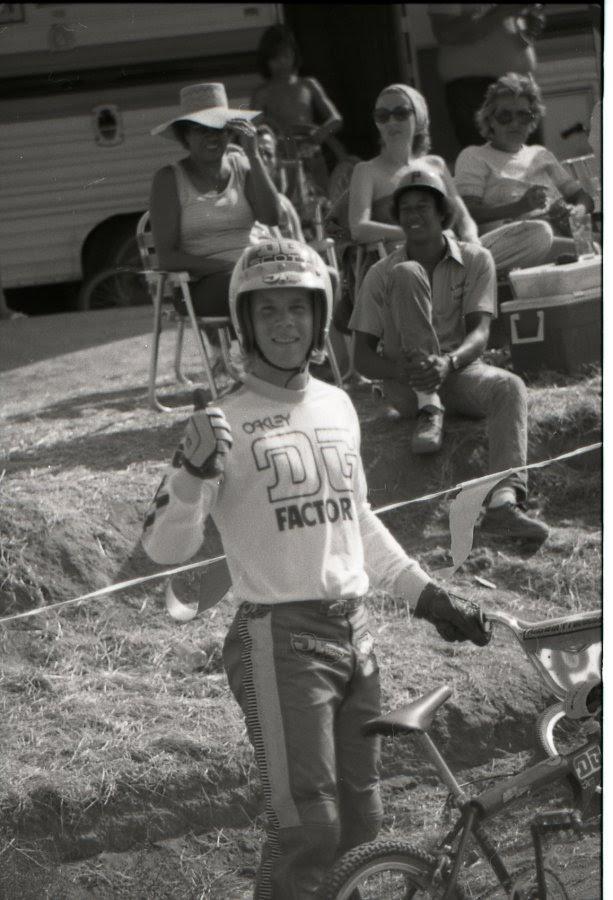 How was it representing that DG brand?
Byron Friday: Oh-man! To me, the Team DG kit design was my all-time favorite. Visiting the DG home office in Anaheim was excellent, provided a significant confidence boost. I would get to hang out with some of the top riders and MX industry VIP'S like MXA Jody Weissel, etc. Being a part of the DG program had other perks; open the door to relationships with Doug Mello and Karsten Berg @JT Racing, Jim Janard @Oakley. The DG program was fantastic. I'm grateful to be a part of that program.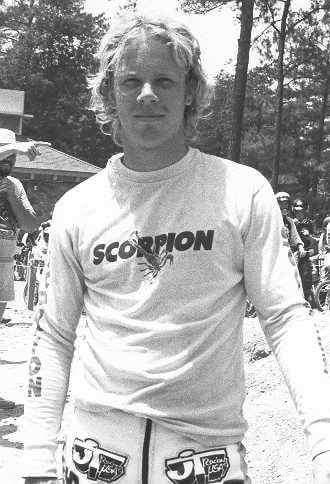 How did the deal with Scorpion come about?
Byron Friday: During the time I was with Shimano America, Mr. Paul Hinkston was one of the executives at Shimano America. Paul was a well-connected bicycle industry veteran. After his departure from Shimano, Paul formed the Los Angeles-based bike company Sentinel Cycle (a product of Cal-Facet). They produced road bikes and BMX bikes. The Sentinel BMX bike was rebranded to Scorpion BMX. After I departed the DG program, Paul contacted me about helping him with the new Scorpion BMX program. At that time, I was building houses for my brother's construction company.
Paul had a good vision and sound financial resources. My good friend Dogtown resident "PK Ripper" Perry Kramer worked at BMX Plus! magazine and talked with me about putting together a spring and summer tour doing BMX clinics and hitting up the BMX Nationals. One of the benefits of working with Paul at Scorpion Cycle was his Chatsworth facility had a frame assembly factory. Tange Japan supplied frame tube sets.
The Scorpion shop foreman Gustavo was a high-level craftsman and road bike racer; Gus would fabricate custom frames for me in whatever geometry I requested. This benefit was monumental to the rider's confidence.
What countries did you visit doing BMX clinics for Scorpion?
Byron Friday: Europe; Holland, Belgium, and the UK.
Looking back at your BMX career, what years did you enjoy the most?
Byron Friday: Downhill tracks 1974, 1975, 1976. 1982, 1983 NBL Summer Tour, European Tour
Was there a brand you always liked but never was a part of?
Byron Friday: I feel like I've experienced more than my fair share of good fortune working with brands that I fit in with. I feel very fortunate to have been at the right place at the right time. Had I not decided to quit BMX and pursue mountains, I would have enjoyed being a part of companies like S&M, Standard Bike Co. These companies were the embodiment of BMX's lifestyle and culture. Hard work during the day, have fun after work and on the weekends.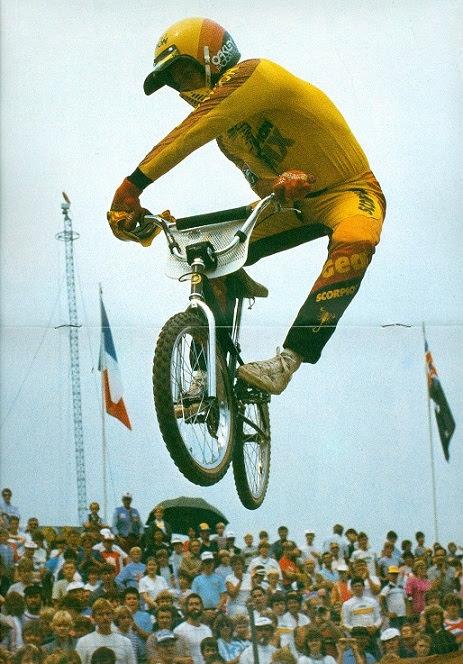 Who are some of the people from back in the day that you are still in contact with?
Byron Friday: Dave Clinton, Perry PK Ripper Kramer, Stevie Skibel, DJ Johnny Johnson, Eddy King, Jeff Bottema, Toby Henderson, Robby Rupe, Bill Ryan, Mike Daily, Jen Zeuner, Bob Osborn, Mark Eaton, NBA BMX Ernie Alexander & Suzanne Claspy, Greg Hill, Stu Thomsen, Brian Lopes, Harry Larry, Richie Anderson, sooo many, I forget.
Do you enjoy going to BMX collector shows?
Byron Friday: Yes, amazing in so many ways. Collectors preserving the history for generations to come. I enjoy connecting with the community and marveling at the first-generation BMX products.
Name three people who have done a lot for you during your BMX career?
1) Dave Clinton
2) Perry PK Ripper Kramer
3) Jim Emerson.
Note: lots of people open doors and provided me with opportunities.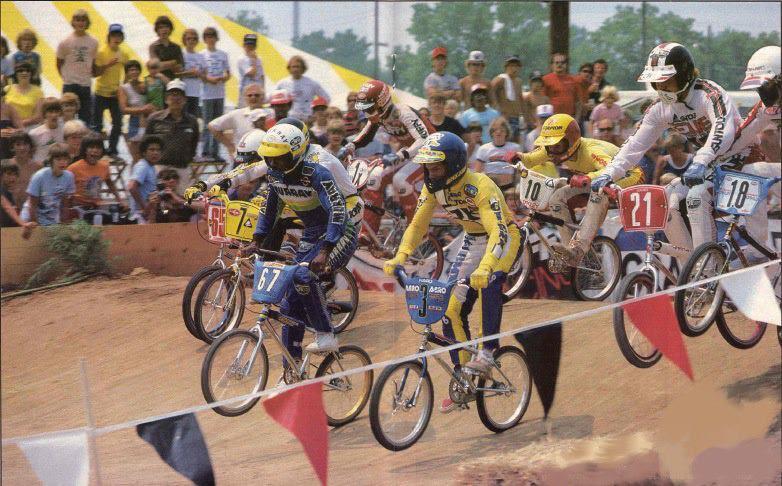 Thanks to: Jim Emerson, David Clinton, Paul Hinkston, Ernie Alexander, Suzanne Claspy, Bob Osborn, Mike Devitt, PK Ripper, Scott OM, Jim Janard, Jon Minor, Skip Hess Sr and Jr, Bob Haro, MBA Wrecking Crew (Jody, Eddy, Zap Roland), Scott Wallenberg, Dean Bradley. Al Stonehouse, Paul Swift, Thad Friday, Mom and Dad, Mr and Mrs. Gerrit Does, Doug Mello, Karstan Berg, Jim Hale, Hellen Molletta, Linn Kastan John Ker, Guy B, Mark Langton, Russ Okawa, Jammin Jimmy Weinert, Yo-Yo, The Diesel, Wade Bootes, Brian Lopes, Simon Tabron, FATBMX.com, Jim and Cory Alley, Brain Skinner, VVA, Stompin Stu Thomsen, Jett Bottema, Greg and John Hill, ABA (Clayton, B.A., Shannon) NBL ( Bob T), Travis Chipres, John Swarr, Mark Eaton and all my BMX Pals and Family.

Previous Episodes on FATBMX:

Episode 1: Christophe Detandt (BEL)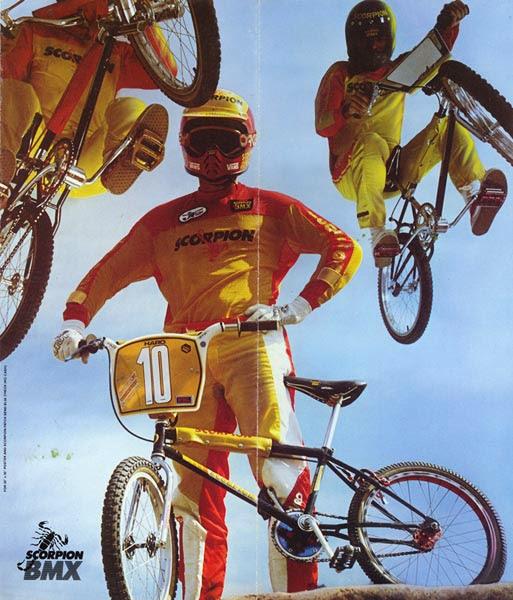 Episode 2: James White (GBR)
Episode 3: JT Freestyle (USA)
Episode 4: Ben Murphy (IRL)
Episode 5: Rainer Schadowski (GER)
Episode 6: GAry Sansom (USA)
Episode 7: Michael Gamstetter (USA)
Episode 8: Grant Stone (GBR)
Episode 9: Steve Blackey (USA)
Episode 10: Shannon Gillette (USA)
Episode 11: Woody Itson (USA)
Episode 12: Oliver Kienzle (GER)
Episode 13: Kelly Swanson (USA)
Episode 14: Pat A Lar (GBR)
Episode 15: Billy Mills (GBR)
Episode 16: Steve Brothers (USA)
Episode 17: Aykut Hilmi (GBR)
Episode 18: Alex Leech (GBR)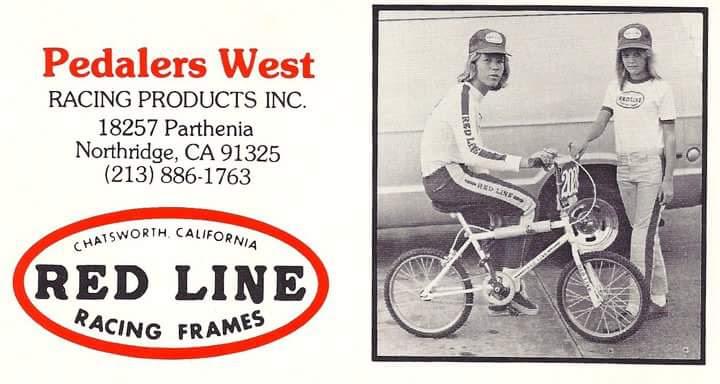 Episode 19: Mike Janssen (NED)
Episode 20: Brian Gutierrez (USA)
Episode 21: Chad Powers (USA)
Episode 22: Alessandro Barbero (ITA)
Episode 23: Chris Daly (GBR)
Episode 24: Ian MacArthur (GBR)
Episode 25: Steve Strong (GBR)
Episode 26: Stephen Joseph (GBR)
Episode 27: Paul de Jong (NED)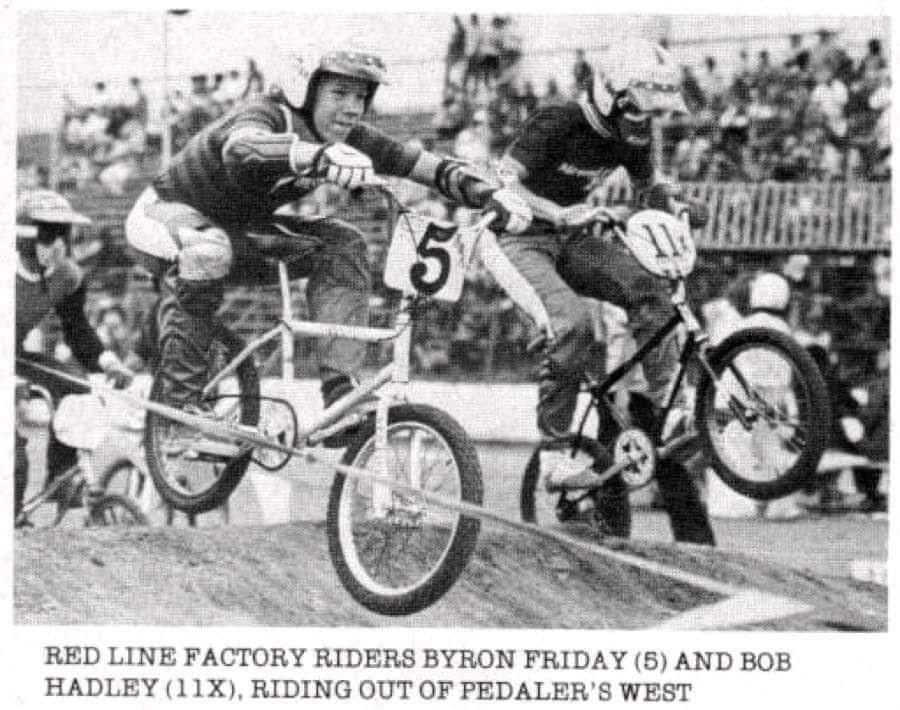 Episode 28: Jon Western (GBR)
Episode 29: William "LaRock" LaRoque (USA)
Episode 30: Johan Janssens (BEL)
Episode 31: Darren Chan (USA)
Episode 32: Frank Lukas (GER)
Episode 33: Jason Teraoka (USA)
Episode 34: Shad Johnson (USA)
Episode 35: PJ McKenna (USA)
Episode 36: Henry Sarria (USA)
Episode 37: Jonathan Sherwood (SAF)
Episode 38: Trevor Henry (GBR)
Episode 39: Daniel Purcell (GBR)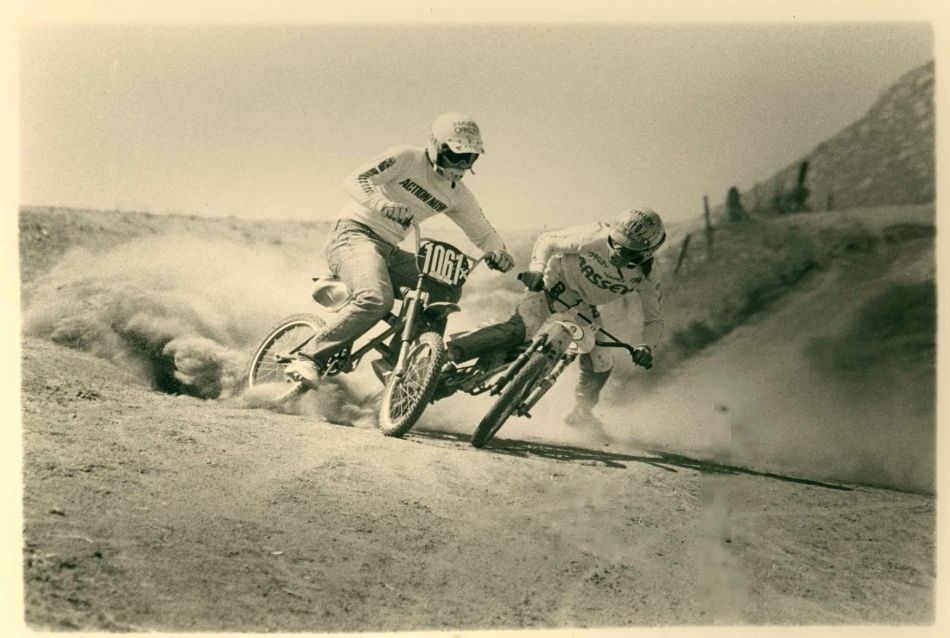 Episode 40: Mark McCorkle (USA)
Episode 41: Tom Sustarich (USA)
Episode 42: Adam Cox (USA)
Episode 43: Perry Wills (USA)
Episode 44: John Buultjens (SCO)
Episode 45: Jay Eley (GBR)
Episode 46: Alvin Mullins (USA)
Episode 47: Scott Barrette (USA)
Episode 48: Ashley Little (GBR)
Episode 49: Bill Batchelor (USA)
Episode 50: Steve Firestein (USA)
Episode 51: Jon Hoffman (USA)
Episode 52: Peter Ashby (AUS)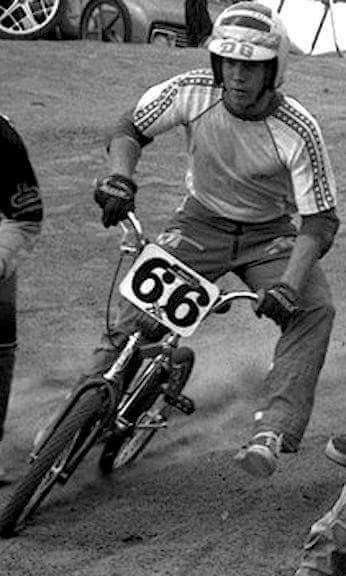 Episode 53: Patrick Freitas (USA)
Episode 54: Mel Stoutsenberger (USA)
Episode 55: Martin Primentel (AUS)
Episode 56: Chino (USA)
Episode 57: Ely D. Thomas (USA)
Episode 58: Mickael Clerté (FRA)
Episode 59: Toby Henderson (USA)
Episode 60: Eddy King (USA)
Episodee 61: Byron Friday (USA)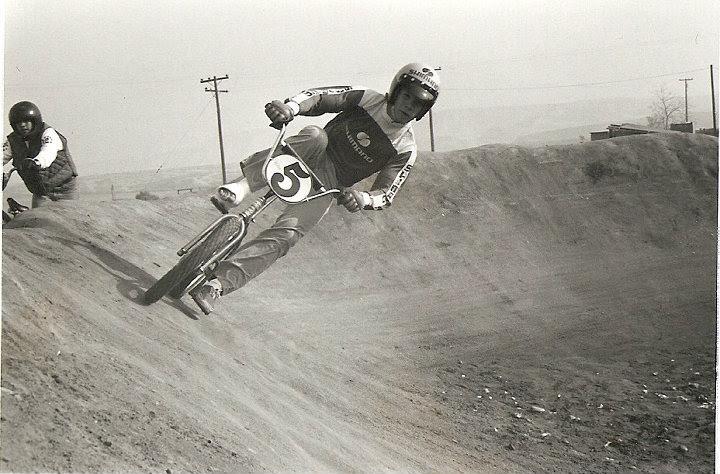 Pics provided by Byron Friday.