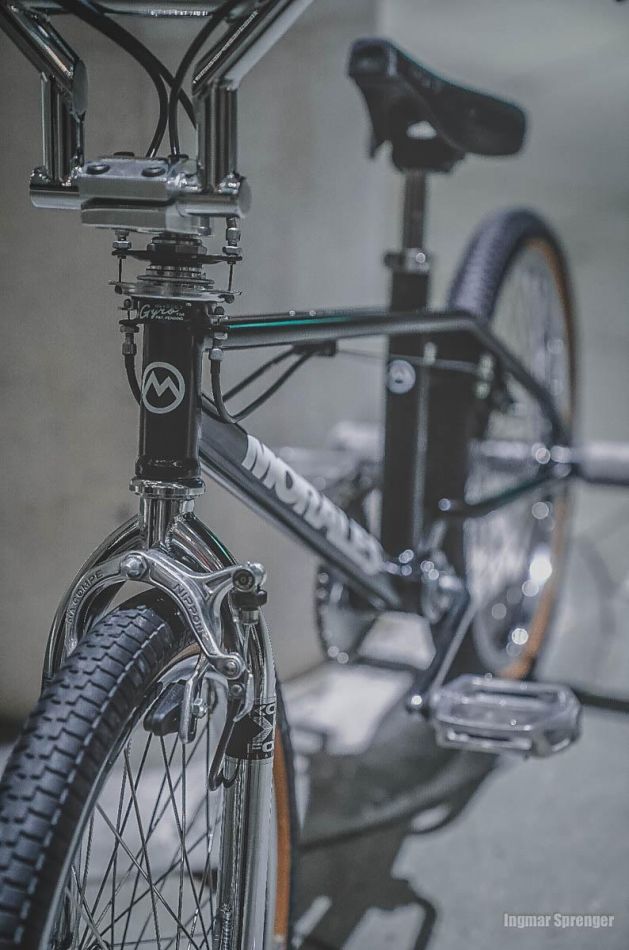 Of course, almost 30 years later in time, the exact parts are harder to find. Pick 3 parts that were the hardest to locate?
Frank Lukas: I wouldn't have started the whole project if I hadn't had the Graveyard Handlebar in my closet. Without that I would have probably pulled out before I started looking for a frame. So finding that these days would be number one. Not in my case though. So:
1) -NOS 1" Kore Fork
2) -Morales early production frame. I am really not into 3rd Generation Morales Frames. Again, don't quote me on this, but I think they were produced in Taiwan and 1st and 2nd Generation were produced in the US. Besides that, 1st and 2nd Generation had different Angles, thinner top tubes, more raw looking dropouts… all things I am really into.
3) -48s Peregrine Hub and Rims in good condition.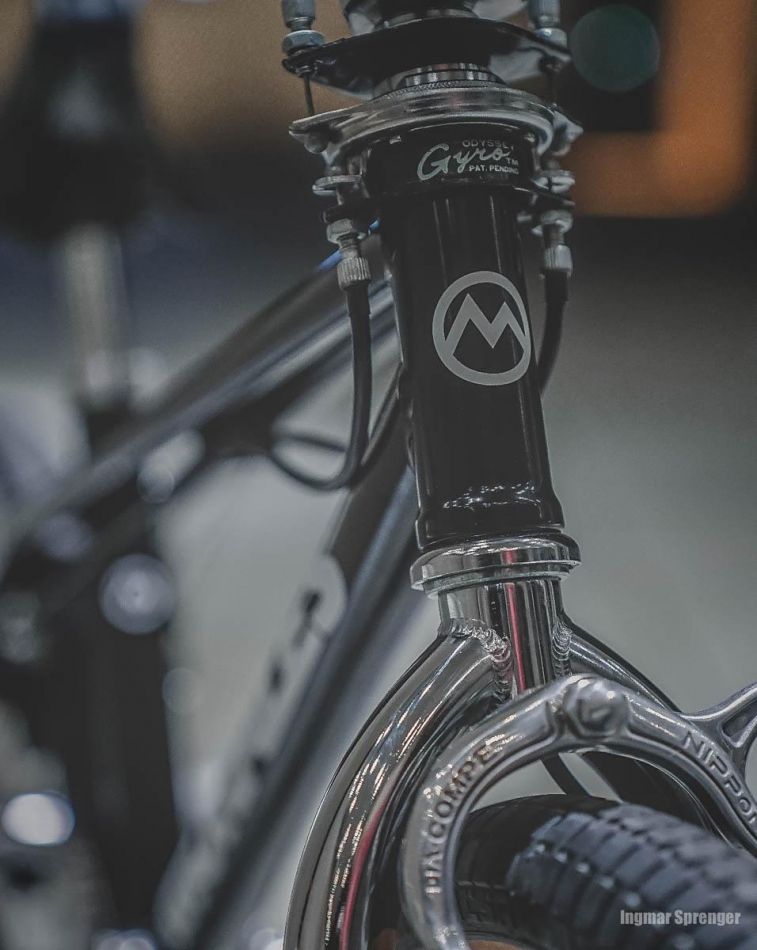 I have to say that basically every part was quite challenging for me to find. Good GT Seat (expensive and then I cut off the nose anyway), Nippon Brakes, 1st Gen NK Coaster...
Have you shown the bike to Phil Dolan yet?
Frank Lukas: No not yet but I think he will like it as he became world Champion on a pretty similar set up back in '96!
The seatpost clamp is on backwards. Is that to create more scuffing space?
Frank Lukas: Haha no, it's because the Morales frames had the slot that is pushed together by the seat clamp in the front.
Would a session be better if you were wearing a Flatland Fugitives T-shirt?
Frank Lukas: Well, definitely more hardcore. I still have my Graveyard Shirt. Westcoast Freestyle on the back. It's framed and hanging on the wall.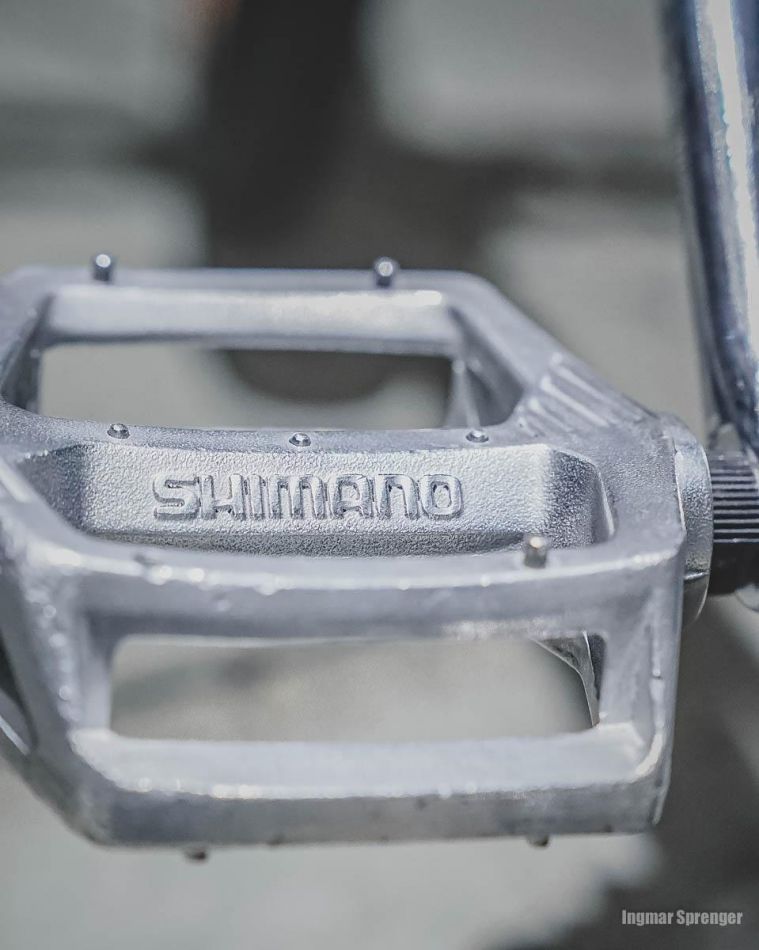 Shimano DX vs MKS Graphite pedals. Why the DX's?
Frank Lukas: When these pictures were taken, I did not have any nice MKS but these were the only alternatives for me. When you read this, I will have black og MKS pedals on that bike. I will sell the DX and become rich.
Do you miss an actual good front brake sometimes instead of the Nippons?
Frank Lukas: Personally, I don't miss any brakes on my BMX. I love the Nippon design and the fact that most of the Flatlanders I look up to had them on their bike.
When you ride the bike, do you mentally make a trip back in time and start doing early '90-s tricks?
Frank Lukas: What do you mean ride the bike? Haha. I am not gonna ride that bike. Breaking something on it would break my heart as it took me 16 Months to build it. I had thousands of hours on that frame anyway, so my muscle memory would be strong.
Who built your wheels?
Frank Lukas: I think it's the best wheelbuilder on this Planet- an awesome guy from Aarle Rixtel. His name is Paul de Jong.
Do you have an idea of how many Morales bikes are still rolling today?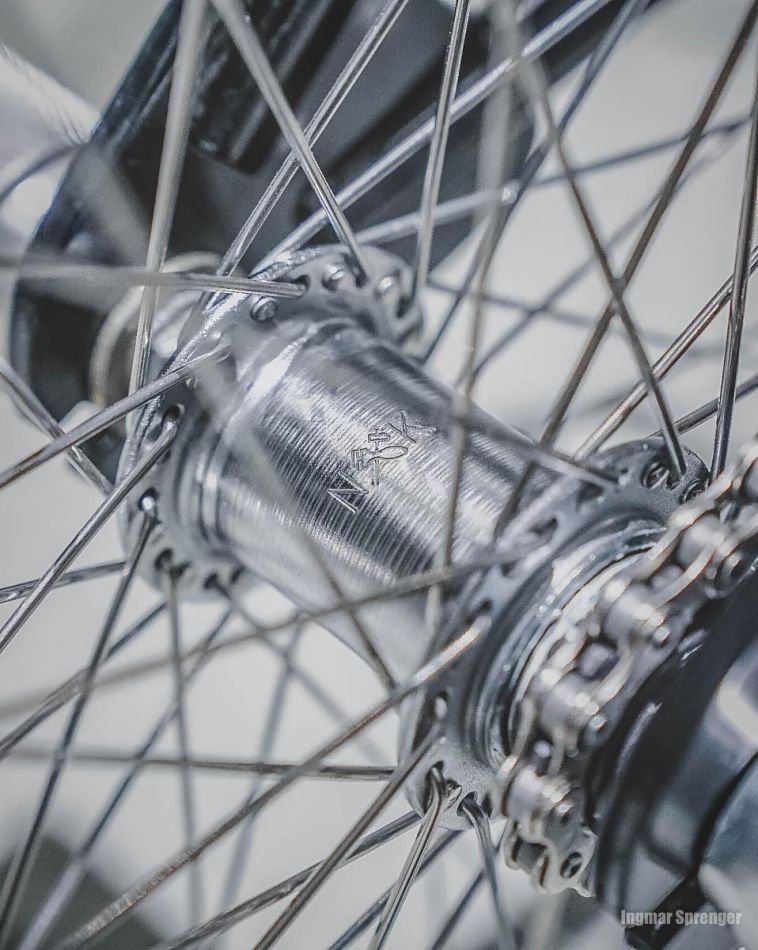 Frank Lukas: I think there are still a few. Not like mine though. I think it's the best.
Is this your favourite bike to ride right now?
Frank Lukas: If you put it in historical context: YES
Any other bike projects in the works?
Frank Lukas: Yes, I had the Idea to build a few bikes exactly how my favorite riders from back then had them. Just to drop a few Names…Sean Peters, Kevin Jones, Jesse, Nate.
Thanks to?
Frank Lukas: Thanks to your brother Paul for hooking me up with his great knowledge and his skills. Thanks to Ingmar Sprenger (@thedirtshape) for the pictures.

Pics by Ingmar Sprenger


Previous Episodes on FATBMX:
Episode 1: Christophe Detandt (BEL)
Episode 2: James White (GBR)
Episode 3: JT Freestyle (USA)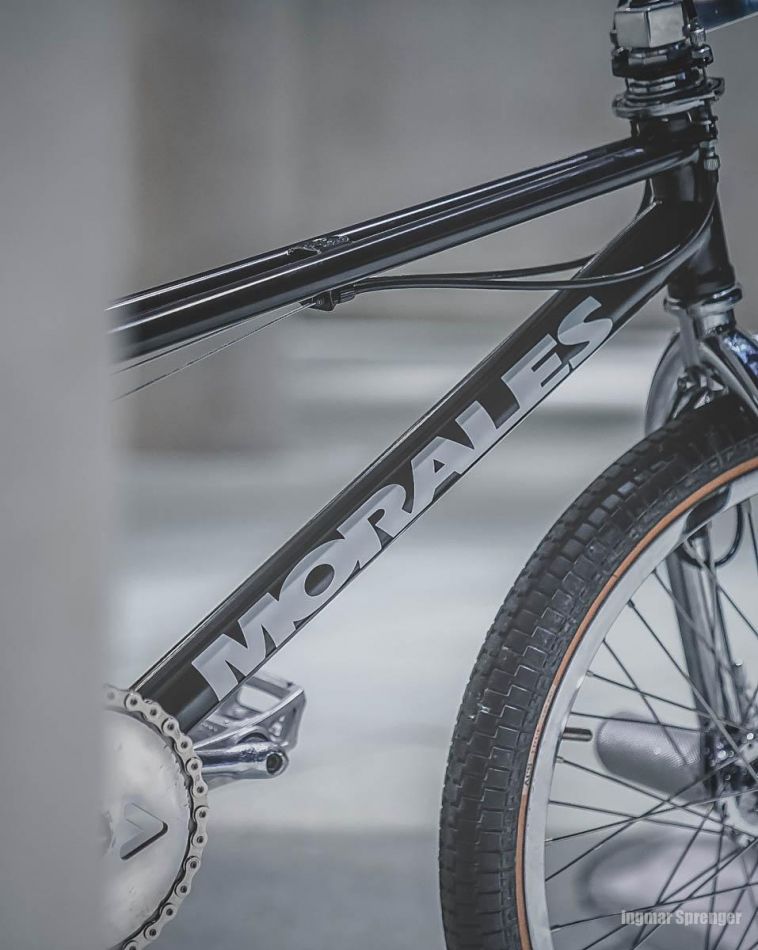 Episode 4: Ben Murphy (IRL)
Episode 5: Rainer Schadowski (GER)
Episode 6: GAry Sansom (USA)
Episode 7: Michael Gamstetter (USA)
Episode 8: Grant Stone (GBR)
Episode 9: Steve Blackey (USA)
Episode 10: Shannon Gillette (USA)
Episode 11: Woody Itson (USA)
Episode 12: Oliver Kienzle (GER)
Episode 13: Kelly Swanson (USA)
Episode 14: Pat A Lar (GBR)
Episode 15: Billy Mills (GBR)
Episode 16: Steve Brothers (USA)
Episode 17: Aykut Hilmi (GBR)
Episode 18: Alex Leech (GBR)
Episode 19: Mike Janssen (NED)
Episode 20: Brian Gutierrez (USA)
Episode 21: Chad Powers (USA)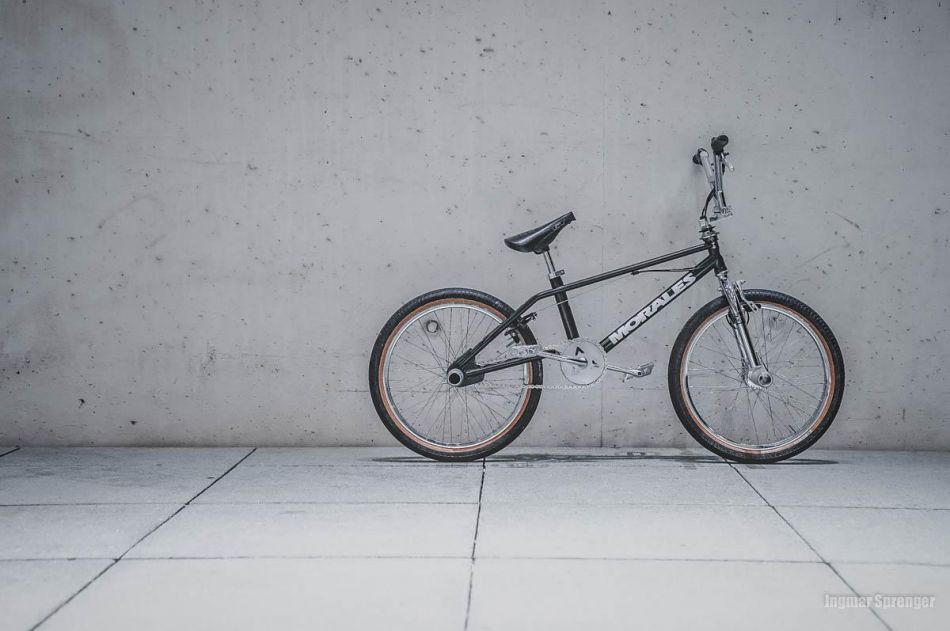 Episode 22: Alessandro Barbero (ITA)
Episode 23: Chris Daly (GBR)
Episode 24: Ian MacArthur (GBR)
Episode 25: Steve Strong (GBR)
Episode 26: Stephen Joseph (GBR)
Episode 27: Paul de Jong (NED)
Episode 28: Jon Western (GBR)
Episode 29: William "LaRock" LaRoque (USA)
Episode 30: Johan Janssens (BEL)
Episode 31: Darren Chan (USA)