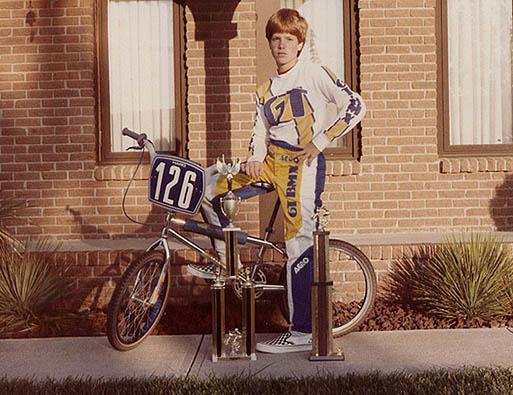 actually raced BMX as a kid. I guess that's one of those indicators of what an impact BMX had on me as a kid. It was very formative. I know that is the case for many of us obviously.

Number of bikes in the collection: 12 completes. I don't have a full collection shot, but one subgenre within my total collection are some factory anodized SE Racing looptails - I have a couple anodized PK's with round top tubes... that'd put them at '79 and the ano of course is very rare. Only a very few are known. I also have an anodized Floval Flyer, which in the looptail era was reserved for factory riders it seems.
Do you remember the moment that you decided to start collecting BMX memorabilia?
Steve Brothers: I got the urge to search "PK Ripper" on Ebay in probably 2003.... I was so surprised, it was exciting - there were some listings and from there I discovered the main web pages... what I refer to as the, "2nd wave sites", like VintageBMX and OS-BMX, which had come in the wake of the earliest collector gathering points on the internet, the "first wave" spots like, ROOST and of course, Menotomy. So that was it... I discovered the communities of like minded people and settled in for the long haul. I acquired OS-BMX in 2006, after being an admin there, and we changed the name to BMX Society in 2010. 11 years ago. Man... time flies.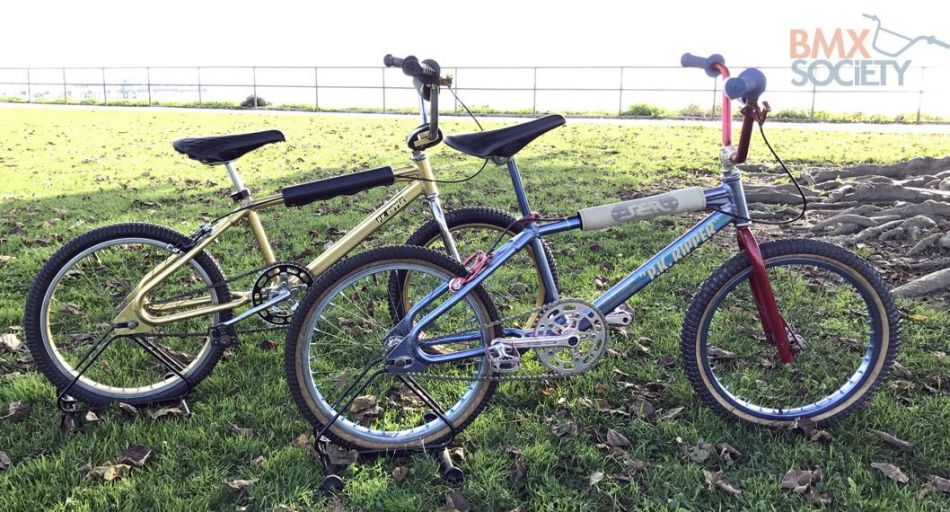 At this moment, do you wish you had started collecting earlier?
Steve Brothers: I was in pretty early, there were MANY before me, but the prices were still very affordable when I began... so I wish I had bought more "essentials" -- the fundamental parts of bike compositions... I'm referring to things like soft goods especially black tires and black grips, but also components like seats, good headsets and bottom brackets and maybe some inventory in brake calipers and brake pads. Stuff that is needed on every build, it might have been good to stockpile a little. I did do that to a degree, but not as much as I wish I had.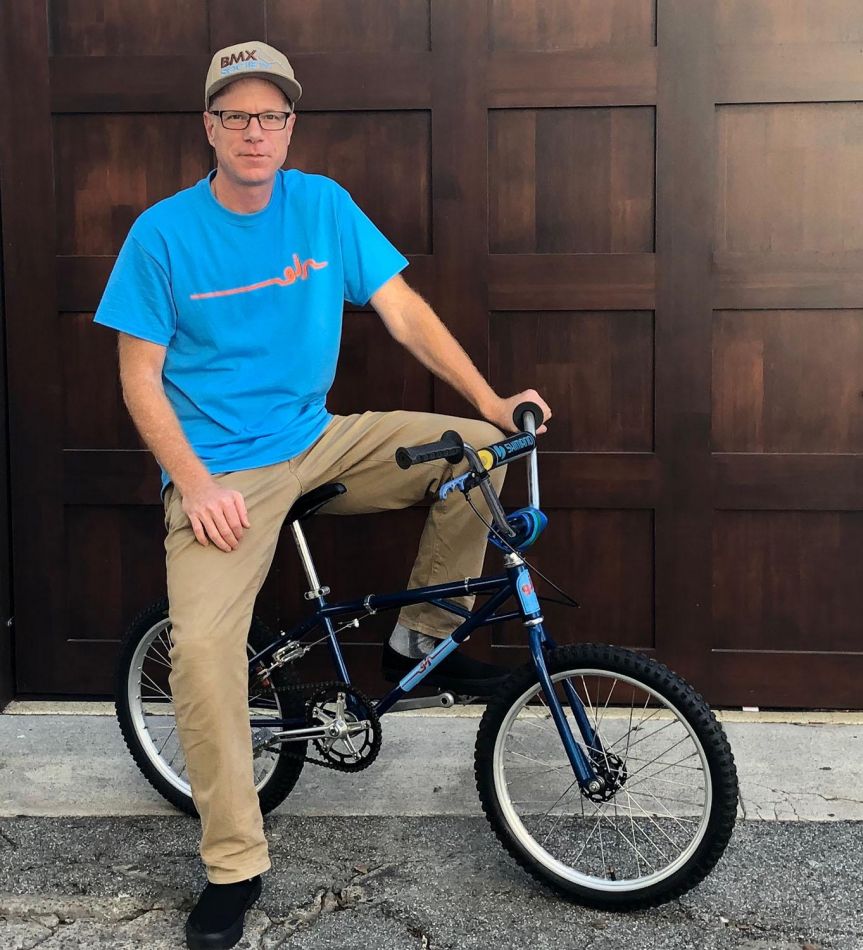 Do you feel there is a need for BMX products to survive for history's sake?
Steve Brothers: Yes, for sure... BMX is an important branch of the cycling family tree, so yes - it's important that this material history and culture is documented and preserved, and that includes the broad spectrum, from the proto-bmx bikes that were conversions on the stingray format, to the early suspension bikes and the earliest double triangle rigids with the raised bottom brackets and other evolutionary explorations in geometry, etc.... and then on up through the continuing evolution in BMX tech that we see in the 80's, 90's and so on.
It's interesting to consider where we've been and where we currently are as the community of collectors... when this began with folks like Shannon Gillette, Dan Goins, Darren Chan, Laroque, the Barrette Brothers (there were others but I'm mentioning those that are still in it and encountered regularly in our scene up to the present)... I'm talking about the "Retro-Rag" set, the forefathers of collecting. "RetroRag" being THE earliest sort of "bmx collector community nexus", which took the form of a 'Zine and was published intermittently in the mid 90's., just as the internet was getting going as a social networking infrastructure for hobbyists... so that was the first wave of collectors and then there was the next wave of guys that tuned in, and this 2nd period was when I sort of engage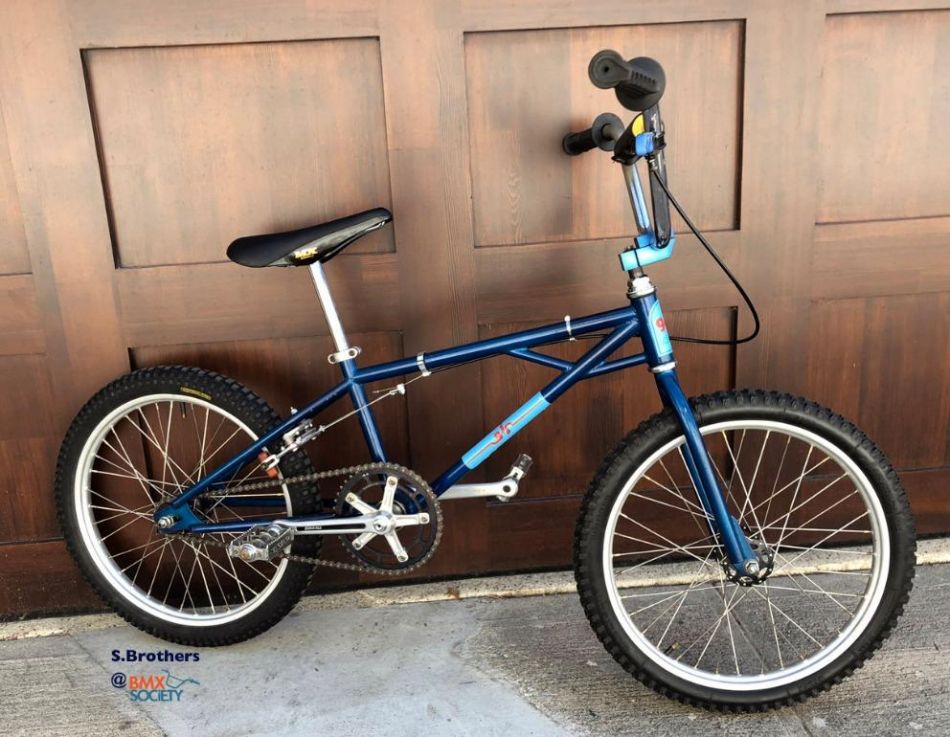 d... and this was the era when we saw the rise of the major BMX community websites... like VintageBMX and OS-BMX in the States and RAD in the UK. But where I'm going with this, is that the Collecting Community has been well established for a long enough period that we've had to sort of let our own terminology and manner of organizing within this hobby evolve at this point, especially where the eras of BMX are concerned. I'm talking about terms like "Mid-School" and "New School" especially. When the earliest, OG collectors that remain in the scene first began, it was the 1990's - in other words, it WAS what we conventionally refer to as the "mid-school" era. Similarly when I began collecting in 2004... what we called new school then, is now 16 years old here in 2021.... so in other words, we are as far away in time from that 2004 "new school" technology today, as I was from the 1988 technology when I began collecting in 2004!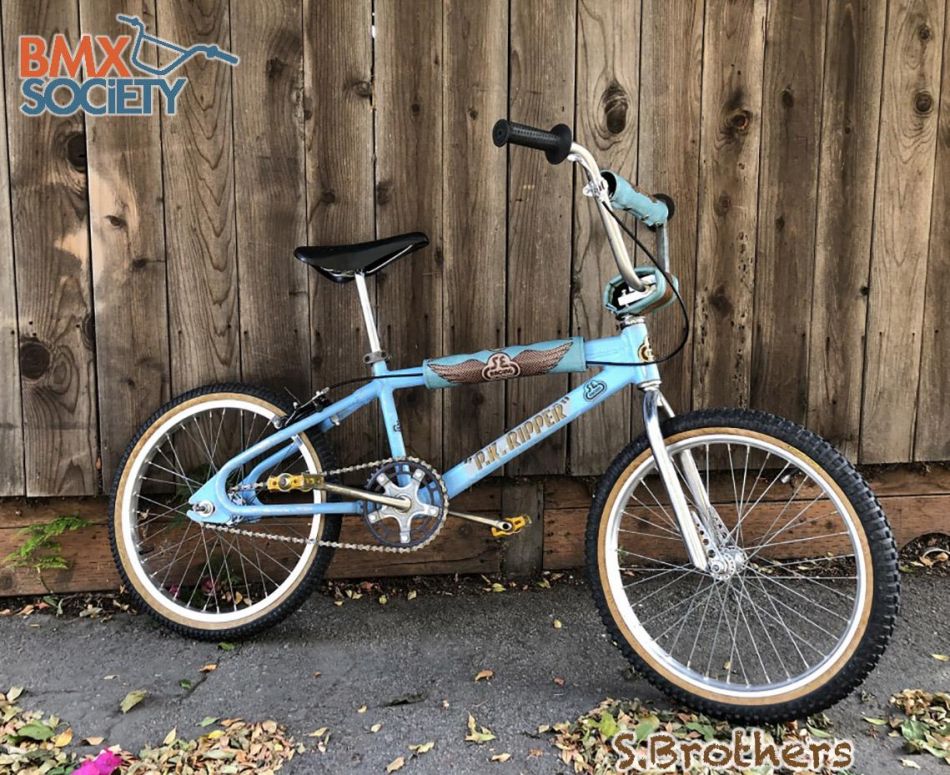 That's just interesting to reflect on. As you know, I organize bike shows, so we got away from some of the earlier terminology for the classes that people enter their bikes into at the shows... now we more typically demarcate by decades, i.e., the 70's BMX class, the 80's class, the 90's class, the 2000's and so on.
How many swap-meets do you go to per year?
Steve Brothers: If there is no pandemic and I can organize a show... I go to one, the BMX Society Show.
What's one of your oldest BMX products in your collection?
Steve Brothers: I am interested in all BMX eras, however where collecting is concerned, I focus predominantly on the era in which I personally raced and in which BMX was the dominant force in my life, so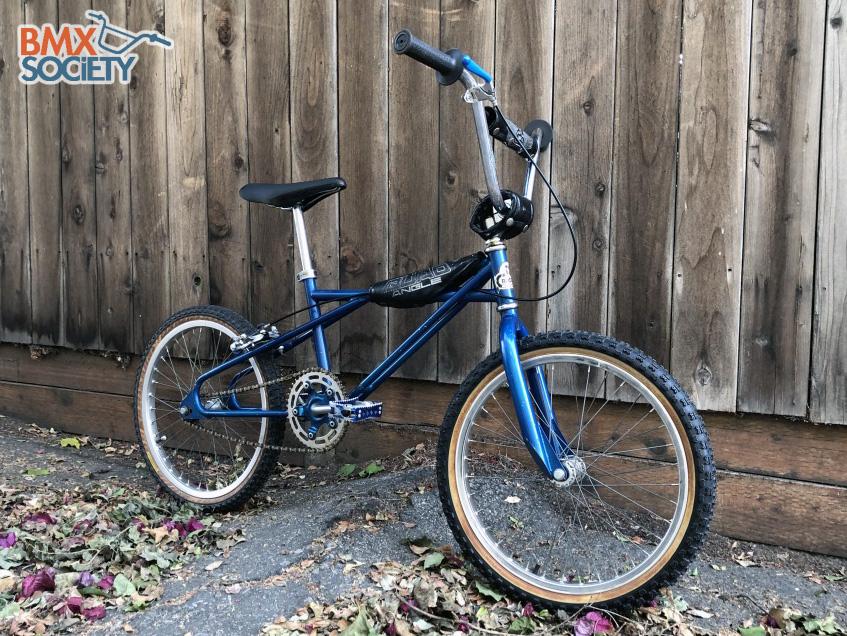 that's the late 70's and early 80's in my case. I don't really collect early, early stuff. Right off hand, I'm gonna say the earliest piece I'm holding is probably some 2nd gen Redline forks. Impulse buy... don't have a build for them, but Redline was the first tubular fork and I just wanted to get a foothold in that early lineage. Beyond that... I have a 79 PK Ripper and a 79 GJS A-frame, which are pretty much the early boundary on my collecting focus up to now.
What bike was the dream bike for you?
Steve Brothers: PK Ripper as a kid, 1st gen Quadangle as a collecting adult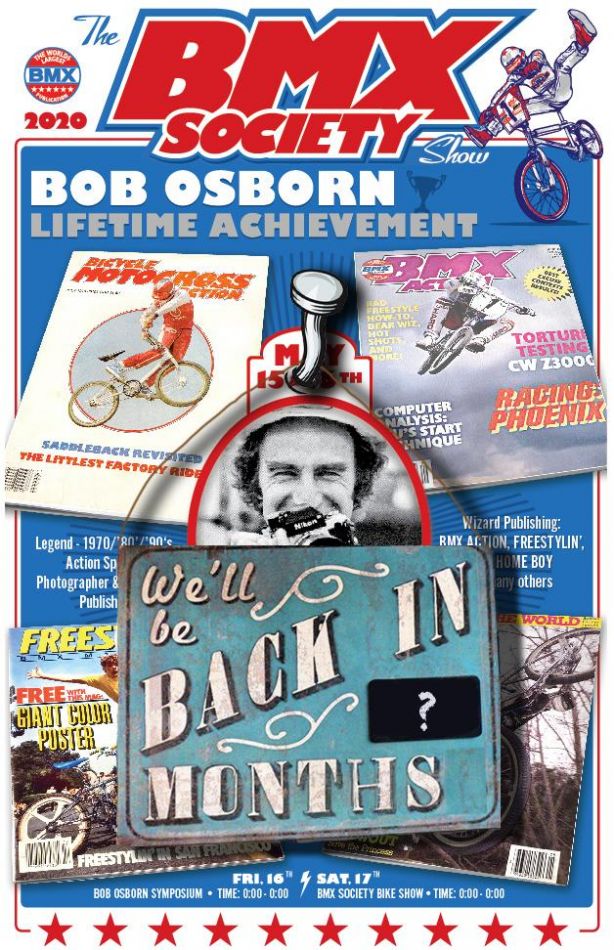 Do you have that bike in your collection today?
Steve Brothers: Yes, I have a number of PK's in my current collection but still have not built my childhood PK Ripper, which was a polished PK looptail with blue accents. I will do that someday. I did acquire a looptail Quadangle a few years ago, it was a bike that had belonged to a childhood friend and was a bike I had known since 30+ years ago, as a kid. It's a survivor and a personal favorite mostly because of the personal connection - a bike that belonged to my friends and that I had ridden, back in the day.
Name three BMX collectors that you respect?
Steve Brothers: Well, Bart, respectfully I have to expand the scope of this question quite a bit, in order to do this subject matter justice.
This is an important and nuanced question with multiple facets. People ask me this question regularly due to the fact that I run the BMX Society web nodes across the internet and organize a significant gathering and bike show annually. So here's the thing, I've been organizing bike shows for over 15 years now and have seen a LOT of masterful collectors and collections.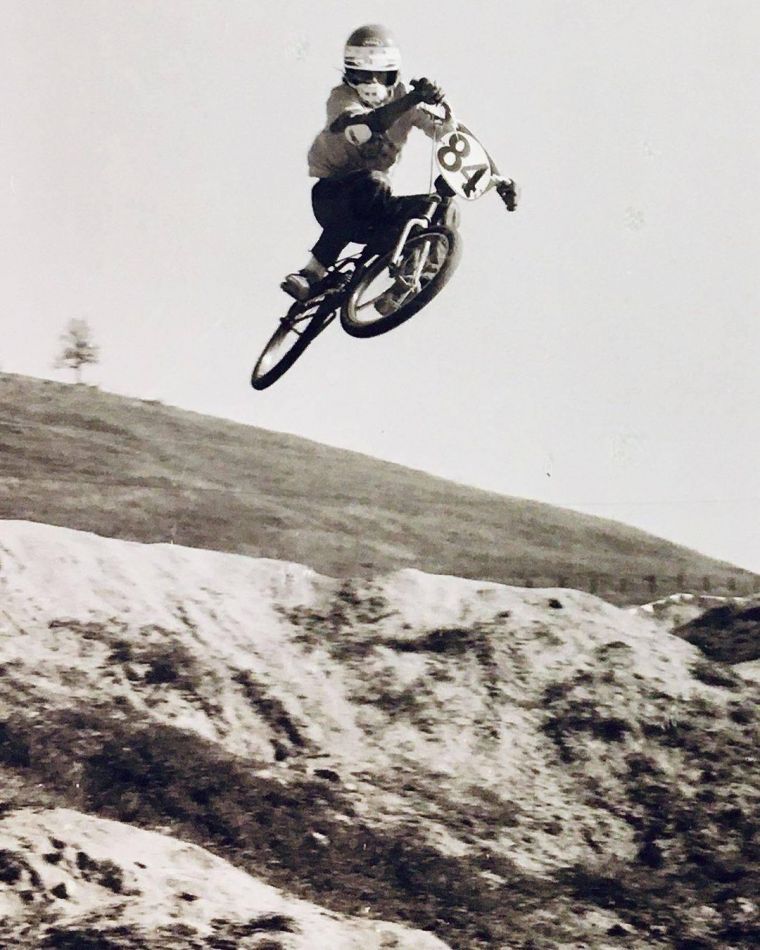 At this point, there is one name that comes instantly to mind: William Laroque. There are some others that do it just as well on an individual build basis, but William is the person who is the most prolific and consistently top notch BMX collector/builder as far as those who are building bikes from the 70's, 80's and even early 90's goes. He is a master at the 70's and 80's and merely top notch for the 90's, LOL! The significant thing here is quality AND quantity... William has been cranking bad ass compositions out to a degree that is simply unmatched. Nobody even comes close, as far as I'm concerned. People might have built more bikes, but they aren't ALL bangers like William builds. People may have BOUGHT more important or notable bikes, but William composed all his. You get the point. So, for my tastes, and this is a very subjective thing, I'm going to say William is really important in this scene. This is a hard topic because I could name several more people, but I'd forget somebody, so I'll just leave it at that. Generally though, the people that the BMX Society attracts to our online or real world bike shows are the top tier - the winners circle is constituted of the best the hobby has to offer.
Now, of course there are so many other important names, people like Martin Pimentel, Scott Loveless, Jeff Venekamp, Patrick Freitas, Tom Sustarich -- community fixtures, who in many cases are no longer very active in building bikes, but who've nonetheless left indelible marks. Then there's the Double OG's: dudes like a Dan Goins, or Darren Chan, or let's say the Scott Barrette collection... the Haney Collection - collections which are the cardinal points on the collector map, so to speak.

But also important, indeed crucial, are the Collector / Scholars - Brian Gutierrez, Michael Gamstetter, Rick Gaytan, Brian Hays, or the true savants like Marcos Saurez or Donnie Platt - guys that have this encyclopedic knowledge of brand and components that is just unreal -- each and every one of these guys can build a show winning bike effortlessly, but are more significant, in my opinion, because they are the guys who have a depth of knowledge about BMX bikes and parts and brands and BMX lore in general, that is simply staggering. These are the folks who make this hobby such a rich experience because of the d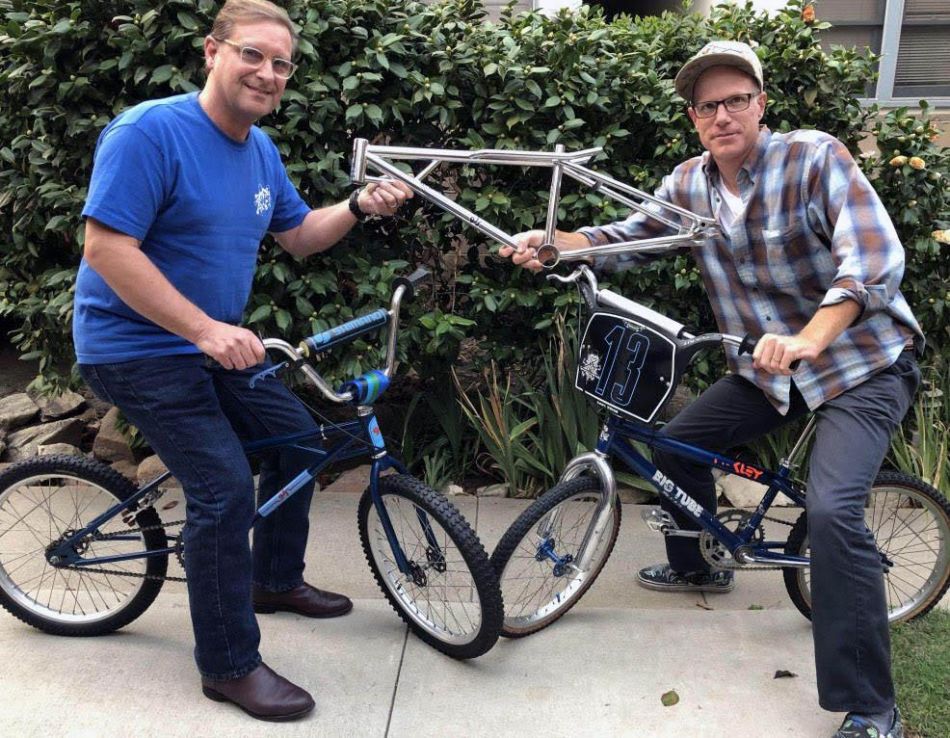 epth at which they engage with all this and their willingness to share. It should also be noted that there are still other important figures in the hobby who never show up on line... hard to believe, but there are indeed still a few guys out there that just don't do the internet.
Now, there are to be sure, a number of other remarkable collections out there - there are legitimately epic ones, but also in some well known instances, it's collections that dudes essentially bought their way into. These folks that bought their way to notoriety, frankly, are not the important ones...it is merely a matter of funds - that's the only reason some of those guys are notable, and as far as the BMX Society goes... that is the most superficial standard - just a quantity of stuff - no matter how nice it is. That's the thing about the BMX Society community - it's broadly composed of the most seasoned collectors in general and for us -- it's what you know and how you express that, not how much you own. The latter doesn't mean shit. Straight up.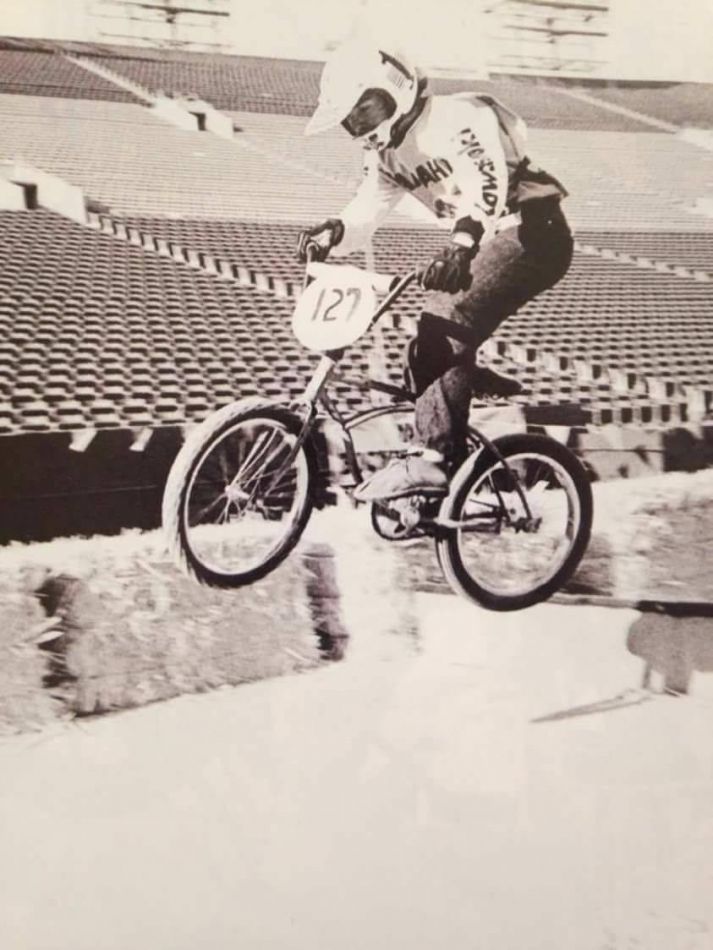 Do you have decent mechanical skills?
Steve Brothers: Decent? Yeah... I'll say "ample". I can get it done, but I mean, I'm no Scott Sjobakken - a collector whose bikes just reek of "dialed". Similarly, I've sought out dude's like the above mentioned Brian "SodBuster" Gutierrez to repack and dial a Bendix coaster hub for another friend and the midwest OG, Bill Nichols, who still works in the cycling industry showed me how to lace wheels... it's good to sit at the feet of the masters and learn. I have always been a person that really only dabbles in collecting, relative to so many of these guys. I was averaging one to two builds a year, for a while, but things just got so busy in my personal and professional life and I moved out of the collector heartland in Southern California and have just not had the time nor focus to get much done in the past couple years. The bottom line is, I just don't work on bikes enough to have developed super elite mechanical chops. I manage, but certainly I know a lot of great collectors who can dial things way better than myself.
What products are a great help when you find an old rusty historical piece of shit bike that needs to shine again?
Steve Brothers: Oxalic Acid / Citric Acid - are the safe and hazard free way of getting rid of oxidation generally speaking.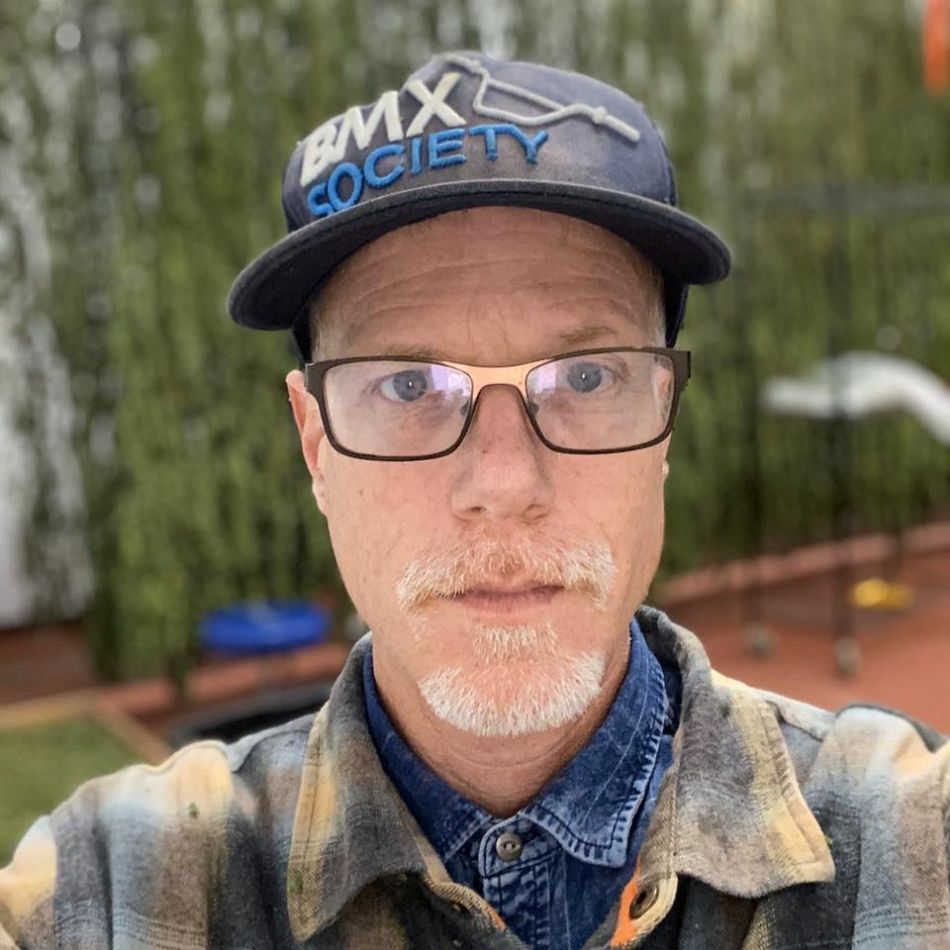 How often do you look on eBay/Craigslist/BMX Museum to shop for old BMX stuff?
Steve Brothers: Almost never. But it should be noted that I think it's possible that the Facebook marketplace - which encompasses many groups is probably where, if not a near majority, then certainly a very notable portion of all online vintage bmx sales are happening nowadays. That said, I don't shop much on FB either. Maybe if someone sends me a link to something interesting, or a piece they know I'm looking for - I'll click through to the sites you mentioned. Nothing against any of them, I have and likely will again, buy stuff there - but it's not my habit to hover over the refresh button and scour the boards for parts - never been that kind of trip for me. For the most part, I only shop the semi-underground "bro-network". We know who we are, we keep track of provenance and we don't suffer reproduction bullshit.
What's the most ridiculous amount you have paid for a bike part that you needed to own?
Steve Brothers: See above - I don't really do that. I've purchased some sort of high priced bits, but nothing astronomical nor record setting. No way. As just mentioned... mostly I just buy or trade within the network of homies. I am the guy who will make an era correct substitute for a part that is just out of reach in price or availability. I will never do a reproduction part either - that's not my thing, we are collecting and researching "vintage bmx" and a newly made, fake part that looks like the real thing is just not going to cut it for a lot of us. Again - we'll substitute something era correct and appropriate. This isn't cosplay for the core BMX Society crowd... we aren't into "look a likes", we are interested in the real thing. If it's not genuine, it's not of interest.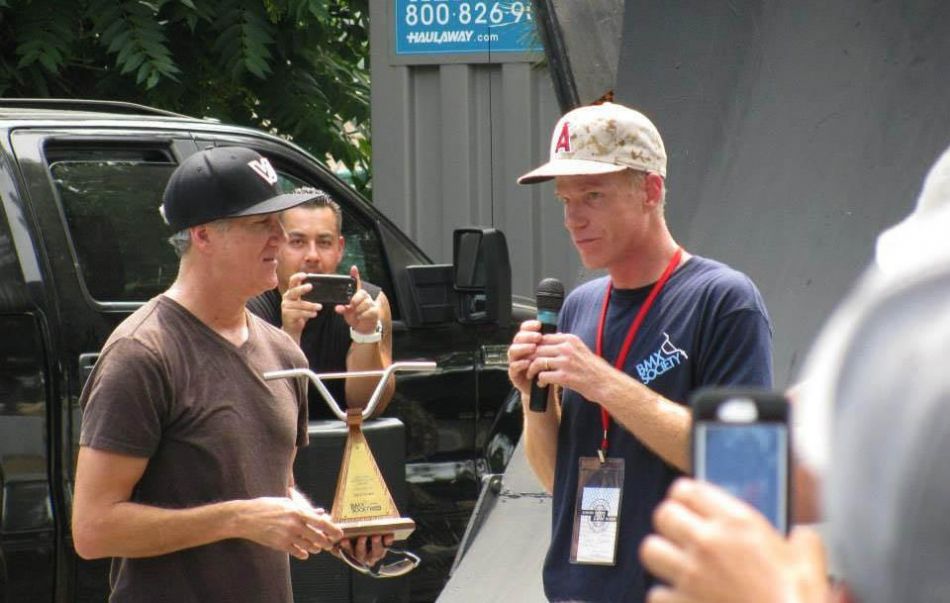 Do you have a man-cave where your bikes are displayed?
Steve Brothers: Kind of... I've turned the garage into a man cave to a degree. I have a portion of my collection out and on stands, as well as some tribal art stuff I also collect... some things - the majority actually, I still keep stored. In short, what I've got going at present is not the awesome display and hangout space that some dudes have - it's very much still a garage.
Do you always have room for "one more bike"?
Steve Brothers: Pfft... absolutely, I've tried to stop collecting 20's and only focus on cruisers - which I enjoy riding, but then things will inevitably pop up - irresistible things. ;)
What's a bike (part) you have been looking for but haven't been able to locate?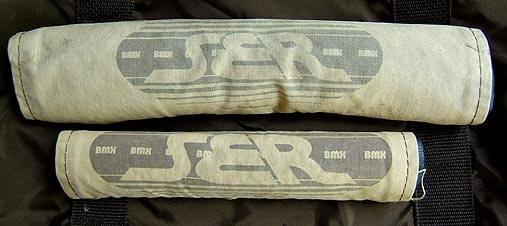 Steve Brothers: I have a tan canvas SE Racing pad set, I've had it since I was a kid... it came on my first real race bike, a 2nd hand PK Ripper. I need the canvas stem pad to complete the set. I won't pay sucker prices... I just don't want it that bad.
Also... I need some GJS Freestyle forks to complete a GJS Freestyle frameset I have. Here's my forkless frame sitting on Jeff Utterback's workbench.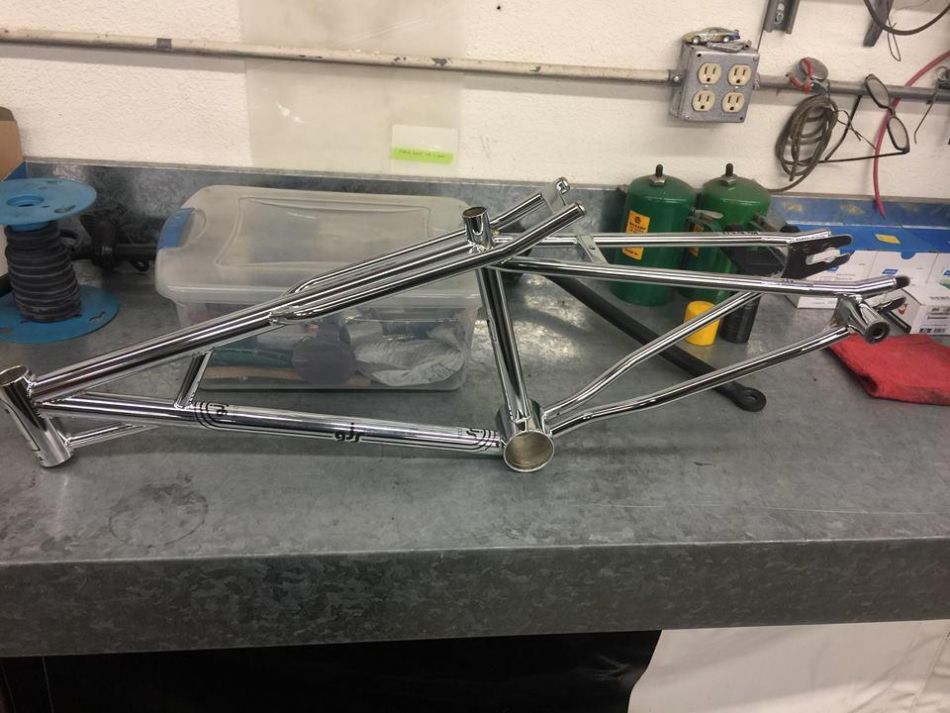 Where can people reach you when they have that part available?
Steve Brothers: This email address is being protected from spambots. You need JavaScript enabled to view it.... the BMXsociety FB groups, or the website, BMXsociety.com, I'm on IG, but I'm not good at it, I can't even find my in-box half the time.
And stay tuned folks... someday, after this pandemic abates... we'll have a gathering and the legendary Bob Osborn will be there to accept the BMX Society's Lifetime Achievement Award for Contributions to BMX Culture.
Thanks to: The BMX Society community. The scholars, the ballers... the straight up shot callers in this scene.
Previous Episodes on FATBMX: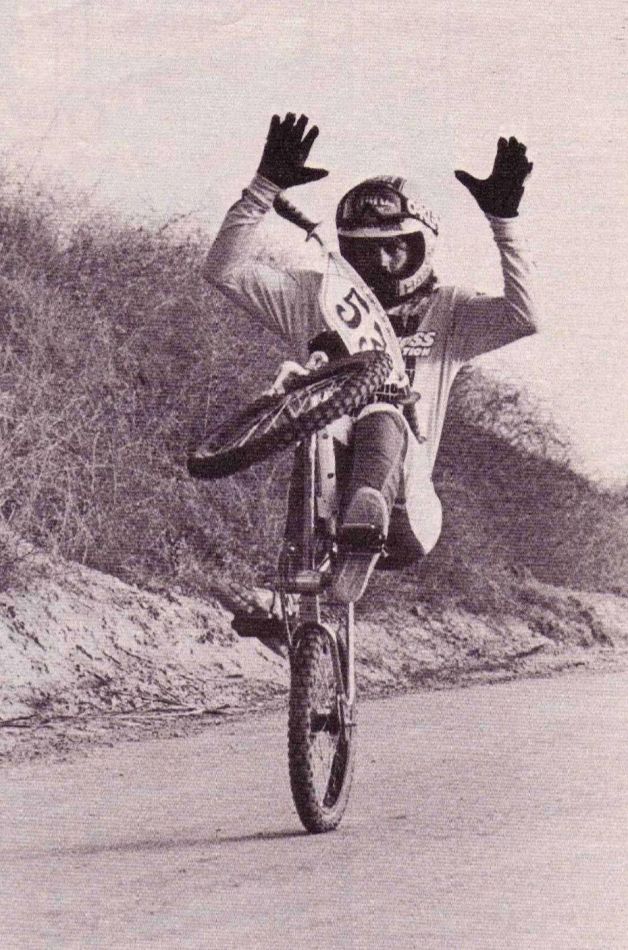 Episode 1: Christophe Detandt (BEL)
Episode 2: James White (GBR)
Episode 3: JT Freestyle (USA)
Episode 4: Ben Murphy (IRL)
Episode 5: Rainer Schadowski (GER)
Episode 6: GAry Sansom (USA)
Episode 7: Michael Gamstetter (USA)
Episode 8: Grant Stone (GBR)
Episode 9: Steve Blackey (USA)
Episode 10: Shannon Gillette (USA)
Episode 11: Woody Itson (USA)
Episode 12: Oliver Kienzle (GER)
Episode 13: Kelly Swanson (USA)
Episode 14: Pat A Lar (GBR)
Episode 15: Billy Mills (GBR)
Episode 16: Steve Brothers (USA)