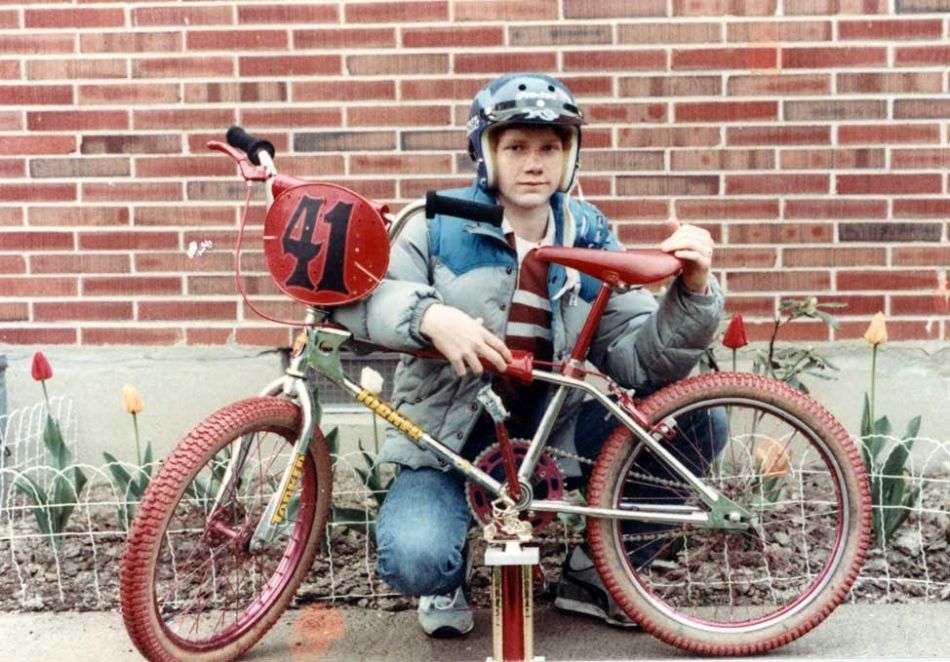 I figured there must me hundreds of old BMX bikes in attics and garages all over the country. I figured they'd be cheap, too. This was pre-eBay and really pre-Internet, so I really had no idea how to get started. Someone told me about a 'zine that had collector stuff in it and then an online newsgroup. Not long after I had that thought, I met a guy in Ohio while back home for Christmas. He told me he had Torker 20" and 24" framesets he'd sell me for $100. It started with those two frames.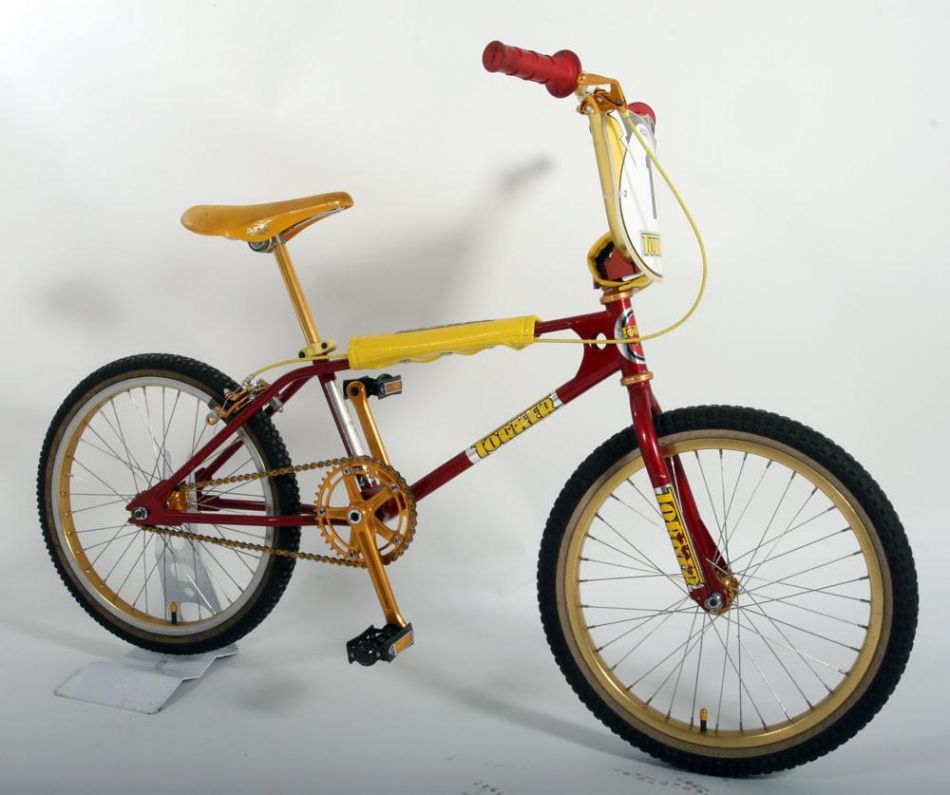 At this moment, do you wish you had started collecting earlier?
Michael Gamstetter: I started pretty early. I missed the first wave, but I was thinking about it then. Had I lived in Southern California, where I live now, I'd probably have started sooner. I was pretty isolated in Santa Fe, New Mexico, and had no idea people were collecting. I've had pretty much everything I wanted, so I'm not sure starting sooner would have improved my collecting experience. There are some old (legendary?) collector guys I never met, though.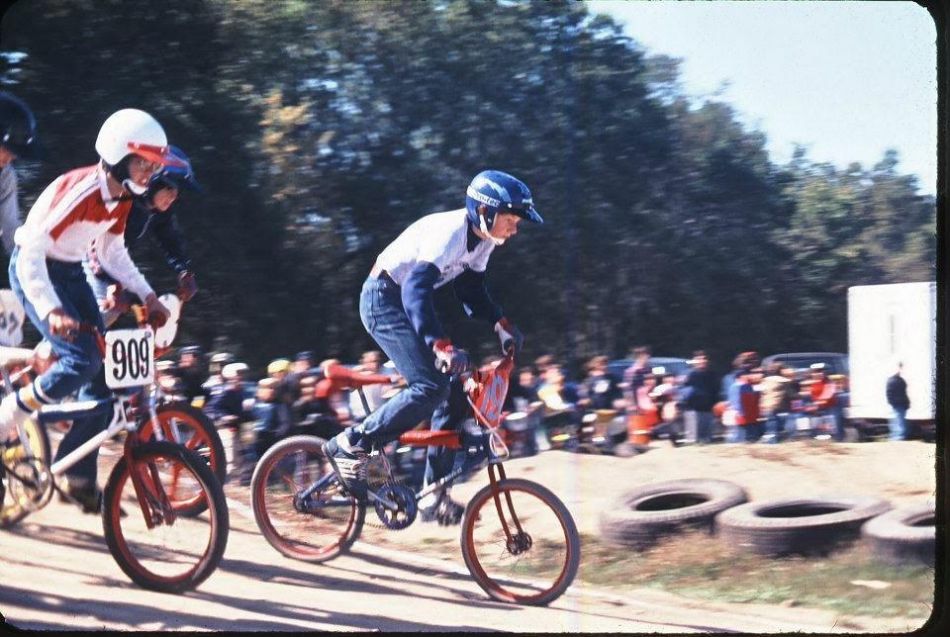 Do you feel there is a need for BMX products to survive for history's sake?
Michael Gamstetter: A "need?" Probably not a need. The world and mankind are facing much bigger issues than whether or not a bunch of old bikes survive. But, I do think it's important from a "history of cycling" perspective. But the reality is, most collectors don't do it for that reason. They do it because it's fun. If preserving history was the key reason for collecting, more people would make a greater effort to research the histories of their bikes and they'd share that information. They would also do better at preserving the bikes they have—they wouldn't refinish them; they wouldn't part out survivor bikes; they'd make them more available to the public.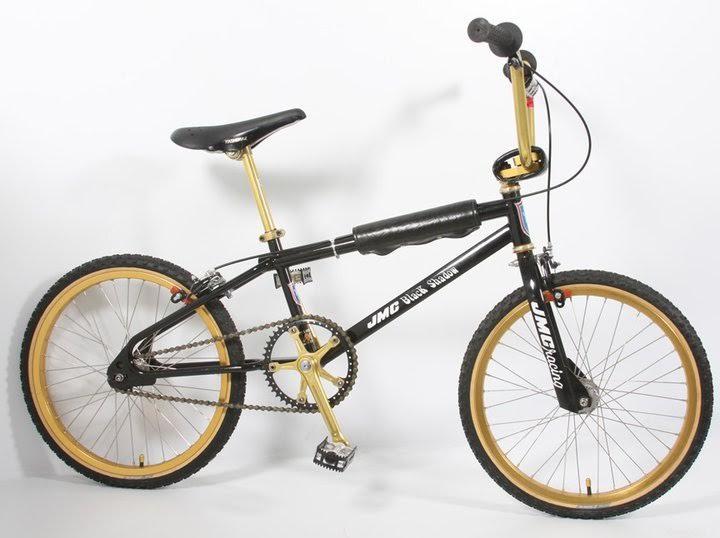 Preserving history is the realm of museums, not collectors (sadly). Unfortunately, there are very few BMX museums. I do wish there were more. I also wish there were more historical documentaries, books, websites, etc. I do think preserving the history of BMX is
important, but more than the bikes and parts, the words and images of the people who were there.

What's one of your oldest BMX products in your collection?
Michael Gamstetter: My collection pretty much starts with my entry into BMX in 1978. I have a 1978 Schwinn Scrambler 36/36 frame like the one I bought in 1978.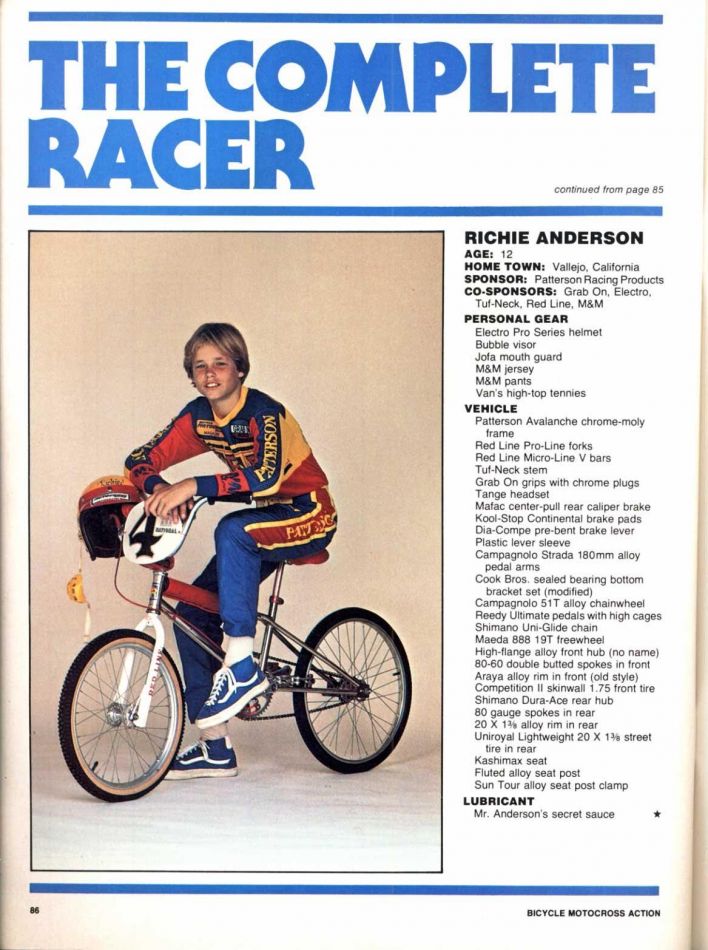 When you started riding what bike was the dream bike for you?
Michael Gamstetter: A black Torker Eddy King with full Shimano Dura-Ace/DX/Tourney in gold with Reedy pedals and black and gold Bullseye hubs.

Do you have that bike in your collection today?
Michael Gamstetter: No, but I have a replica of the Torker I raced in 1980 that was as close as I could get back when I dreamt of that bike (see pic). Last year I sold a similarly spec'd, red Torker LP (see pic). I also once had a similarly spec'd JMC Black Shadow, which was another dream bike for me back in 1980 after I sold my Torker (see photo). Oh, I forgot, I lusted after the Richey Anderson bike Bicycle Motocross Action magazine featured in The Complete Racer in 1979. I did build a replica, as close as I could get, of that bike. And I still have it.
Name three BMX collectors that you respect?
1) William La Roque
2) Patrick "Truly Odd" Freitas
3) Steve Brothers

Do you have decent mechanical skills?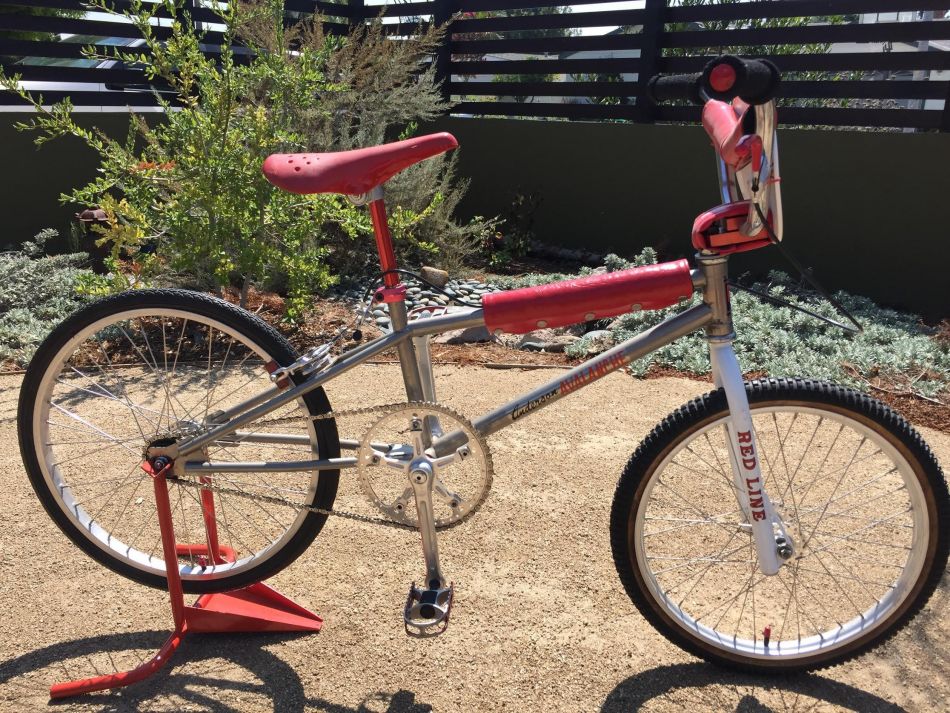 Michael Gamstetter: Yes, I do.

What products are a great help when you find an old rusty historical piece of shit bike that needs to shine again?
Michael Gamstetter: I'm all about preserving the history and patina of bikes, so I rarely do much other than wipe down a bike, repack the bearings as necessary and maybe, if the rust is really bad, give it a quick soak in oxalic acid. Mild restorations are my thing.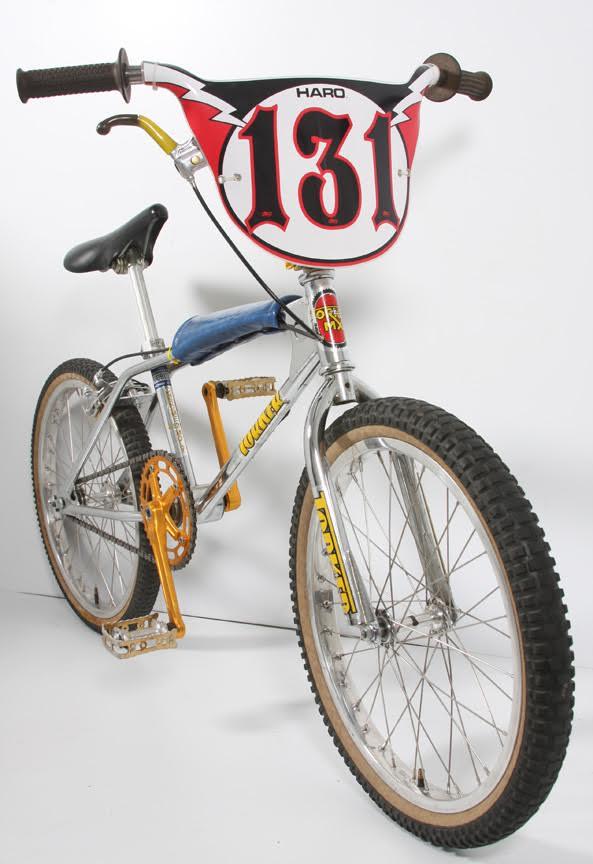 How often do you look on eBay/Craigslist/BMX Museum to shop for old BMX stuff?
Michael Gamstetter: Not much anymore. I haven't bought any BMX stuff for a few years. I think about it sometimes, though. I'd still like an RRS and a few other things. But prices are so high, I can't even imagine getting into it now. I know what prices were before, through the market ups and downs. Prices are silly to me now.

What's the most ridiculous amount you have paid for a bike part that you needed to own?
Michael Gamstetter: I'm not one of those guys. When I started collecting, everyone was into NOS stuff and refinishing parts. Bling was the thing. I was recently unemployed, so I was on a tight budget. I would buy used or dirty stuff and pay a small percentage of the prices of mint or NOS stuff. For example, I once bought a used, but perfectly presentable, Cycle Pro Shot Gun saddle for $25. An NOS one, at the time, sold for $500. I built all my bikes with used stuff and the occasional new or minty bits. The result was bikes that someone described as "looking like I just pulled my old bike out of the attic after 30 years." And I mixed parts like we did back in the day. They were pseudo-survivors, before the survivor bike was really a big deal. I also was into the parts I used or wanted to use back in the day. Much of it wasn't the "cool" stuff. I liked Shimano Tourney brakes, for example, when everyone wanted Dia-Compe MX1000s. There used to be a huge price difference between the two.

Do you have a man-cave where your bikes are displayed?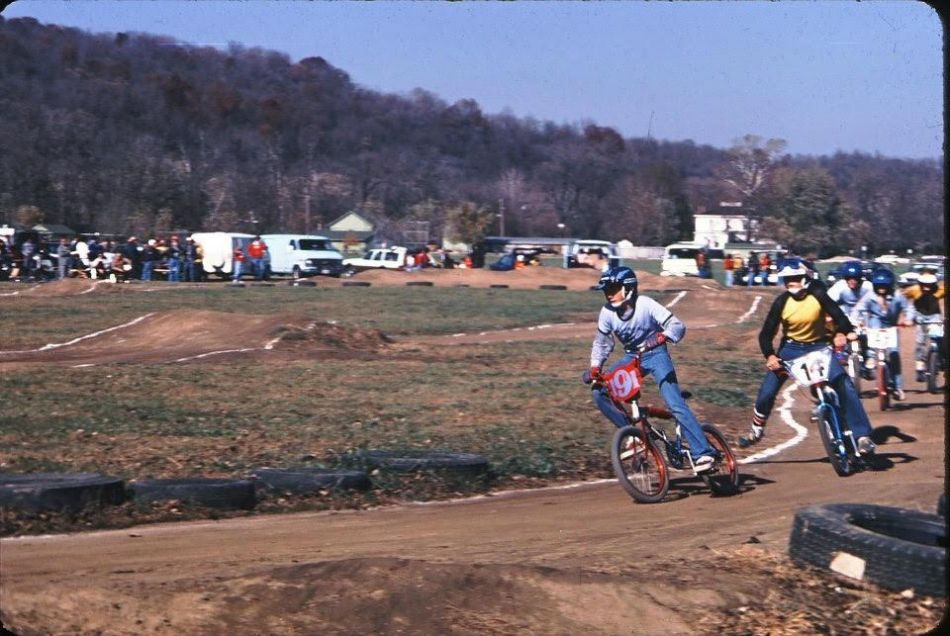 Michael Gamstetter: I do not. And that's part of the reason I sold much of my collection. My bikes hang in the rafters of my garage and my parts were stored in boxes, mostly out of sight. It seemed a shame that they weren't being used or displayed properly.

Do you always have room for "one more bike"?
Michael Gamstetter: No, but yes.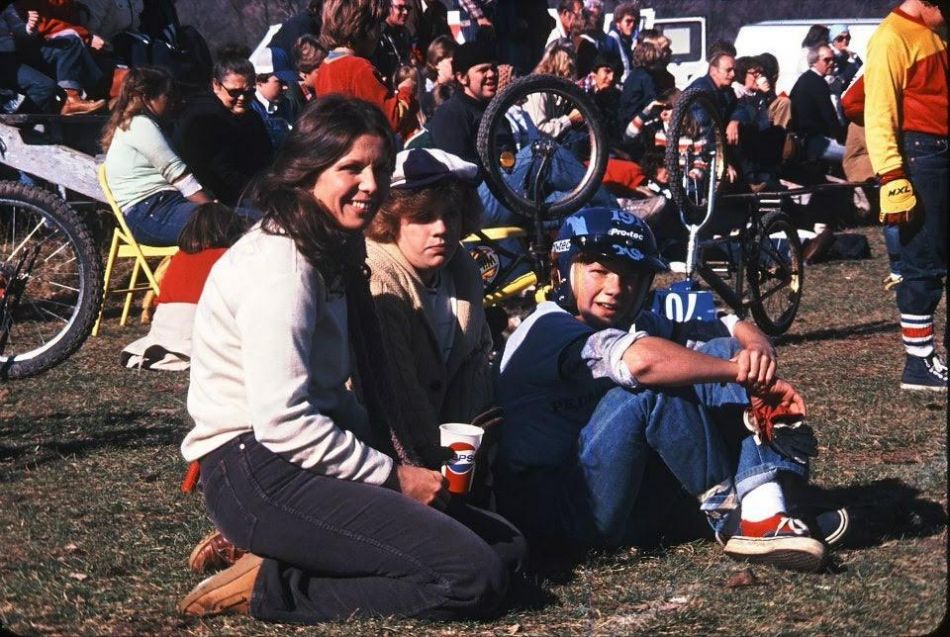 What's a bike (part) you have been looking for but haven't been able to locate?
Michael Gamstetter: I can't say I've not been able to locate anything I wanted, but I have been unwilling to pay for certain things I'd love to have. Among them are a 20" or 24" RRS, Prodyne cruiser handlebars, a red JMC Darrell Young, a handmade Haro number plate (I have one from 1979, but the stickers are long gone.), pinchless Redline Flight cranks, a Cook Bros. Racing bottom bracket…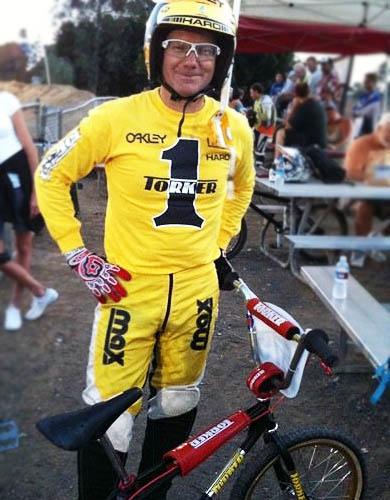 Where can people reach you when they have that part available?
Michael Gamstetter: This email address is being protected from spambots. You need JavaScript enabled to view it.

Thanks to: my mom, who supported me the best she could when I started riding and racing BMX despite it being a weird and unknown sport with no perceivable future. Little did we know where it would take me.

Episode 1: Christophe Detandt (BEL)
Episode 2: James White (GBR)
Episode 3: JT Freestyle (USA)
Episode 4: Ben Murphy (IRL)
Episode 5: Rainer Schadowski (GER)
Episode 6: GAry Sansom (USA)