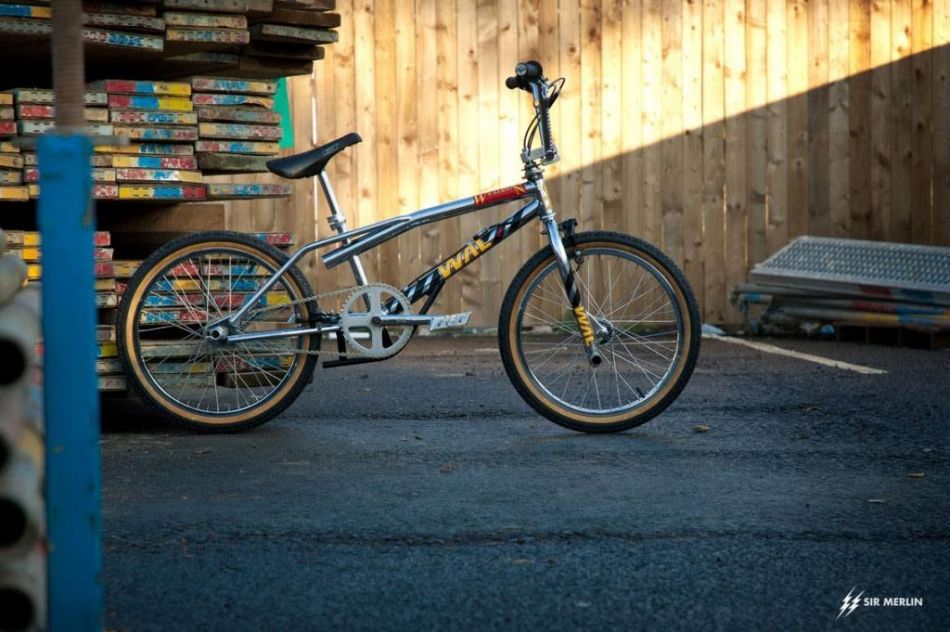 Trend Bike Source. Because that was the only way to get parts, and it was really expensive, you didn't see a lot of new 90's bikes in SA. That said, even though there werent a lot of bikes in the country, there was a pretty good mix of bikes. At the BMX nationals you would see GT's, Elf, Powerlight, Auburn, and S&M's to name a few, but the vast majority of people were riding old bikes from the 80's.
What bike was the first decent (American) BMX bike that you had?
Jonathan Sherwood: The first American BMX I owned was a 1" S&M Holmes. I bought it of off SA BMX legend Warren Miller when he quit racing, and I absolutely loved that bike. It had Pitch Forks, Slam Bars, GT 3pc cranks, Bullseye hubs, and a bunch of other rad parts on it. I raced and rode it for years, and it is still one of my favourite bikes I have ever had. The original bike is long gone now, but I have since built up an exact replica.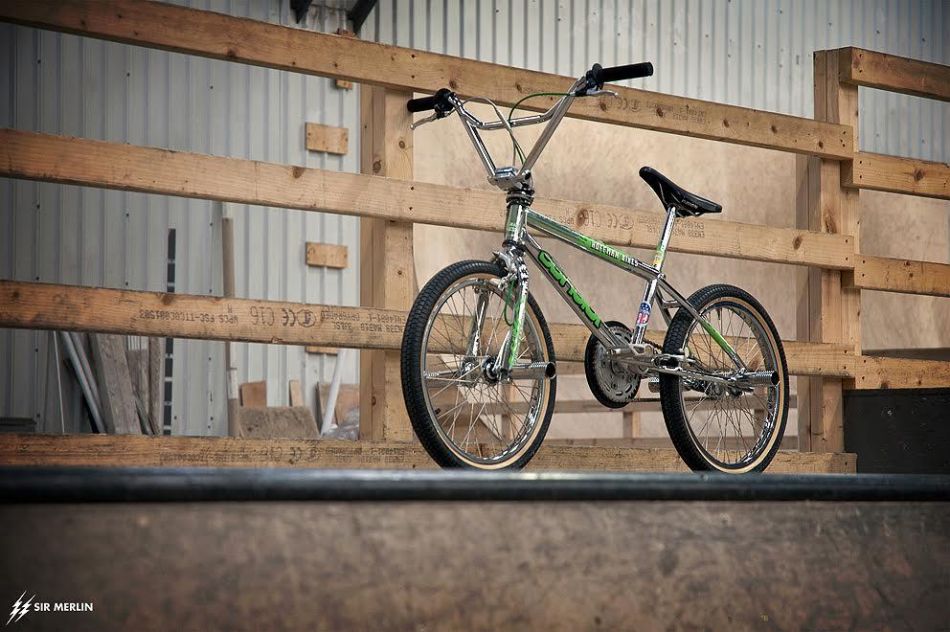 Have you tried to track down that specific bike?
Jonathan Sherwood: Because bikes were so hard to get hold of in SA all bikes were sold on multiple times before finally being ridden into the ground. That Holmes changed hands four or five times after I had it before I finally lost track of it. By then the dropouts had been cut to 14mm, the chainstays were smashed flat from grinding, and it was looking pretty sad for its self. I would love to find it today, even in that beat up shape, but I suspect it had been ridden into the ground by now.
When you hunt for BMX stuff, is it basically products that you have a feeling with? For instance parts that you could not get/afford when you were younger?
J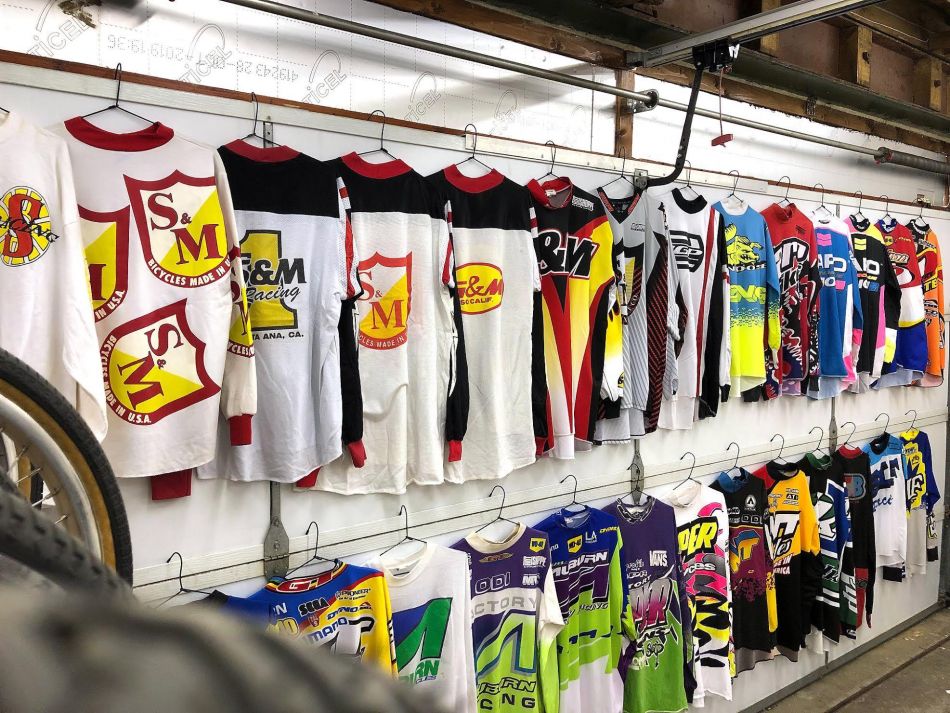 onathan Sherwood: Yes for me collecting is all about finding and restoring those bikes that were so hard to get hold of back in the day. It's not even about finding expensive or rare bikes. I just want to find the bikes that people at my local track or trails had back in the day. It turns out that a lot of them are quite sought after now, but for me it always has been about reliving memories and preserving those bikes that were special to me and my friends.
Do you believe your hobby has gotten out of hand a little?
Jonathan Sherwood: That's an interesting question. There is no doubt I have way more bikes, parts, and kits that I could possibly ride myself. That said, for me it's about preserving the bikes from an era when BMX was all but forgotten. The 90's was such a special time in BMX and I think there is a really rich history there that needs to be better preserved and recorded. So I can appreciate that from the out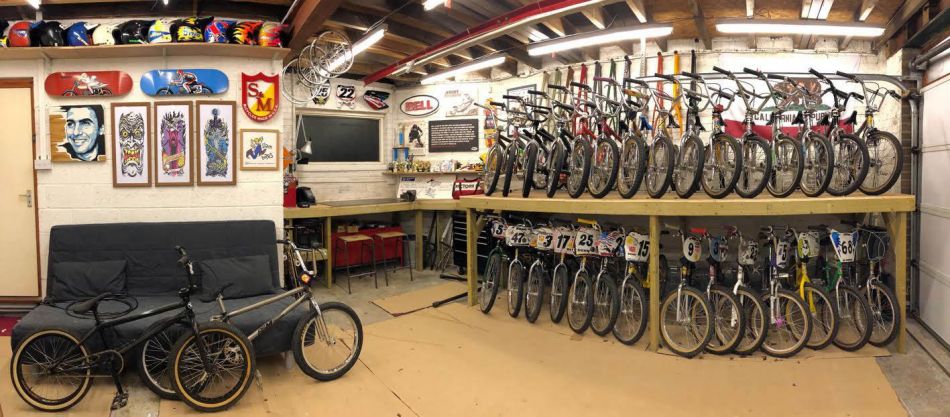 side it could appear out of hand, especially if you just look at bikes as something to ride, but for me it's about saving and restoring bikes that represent so much more that just a bike. Each of them has a story about that time in BMX, and I really enjoy restoring and preserving that history.
When you see BMX bikes from the '70s, do they mean as much to you as the bikes that were around when you started riding?
Jonathan Sherwood: I have a huge respect for the origins of BMX, and love that there are people that are a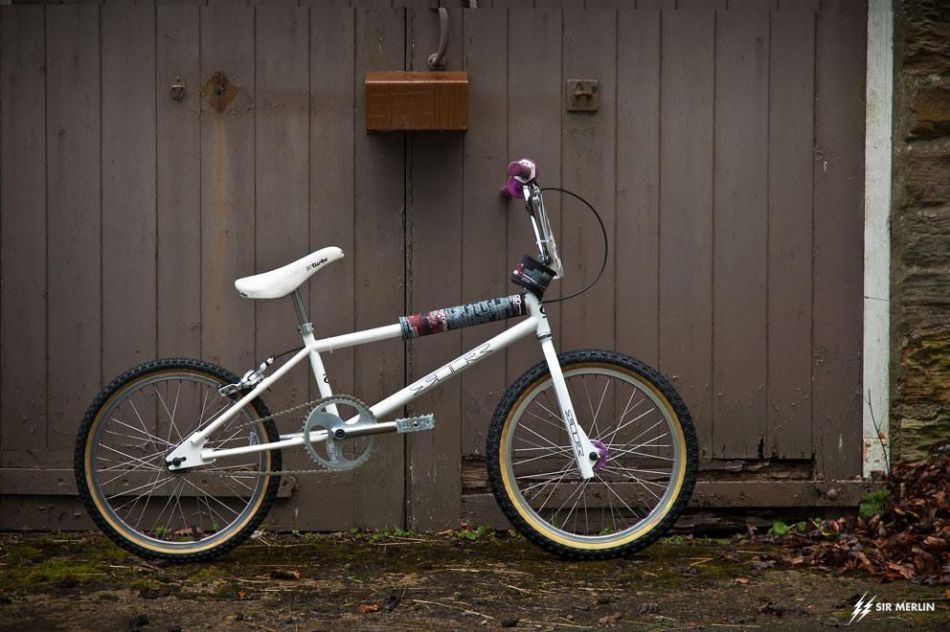 s passionate about that era as I am about the 90's. I definitely don't have an emotional attachment to the bikes of that era like I do to the mid school bikes, but I do have a lot of appreciation for them.
By now we've looked into many people's collections, are you surprised that there is so much out there still?
Jonathan Sherwood: To be honest I'm not that surprised. BMX has been a huge part of many people's lives, and it always has been a truly Global "sport" as well. Even growing up in Africa, with all of the challenges around accesibility that went with it, we still had a really good scene. So with that in mind I can see why there are still a lot of bikes out there, and that people all over the world are digging old bikes out of their sheds, or calling up old friends and asking them if they still have their old bikes. I think it's great that so many people are paying attention to the history of BMX, and preserving these bikes going forward.
Have you built up a bike in your collection specifically based on one photo (of a rider that you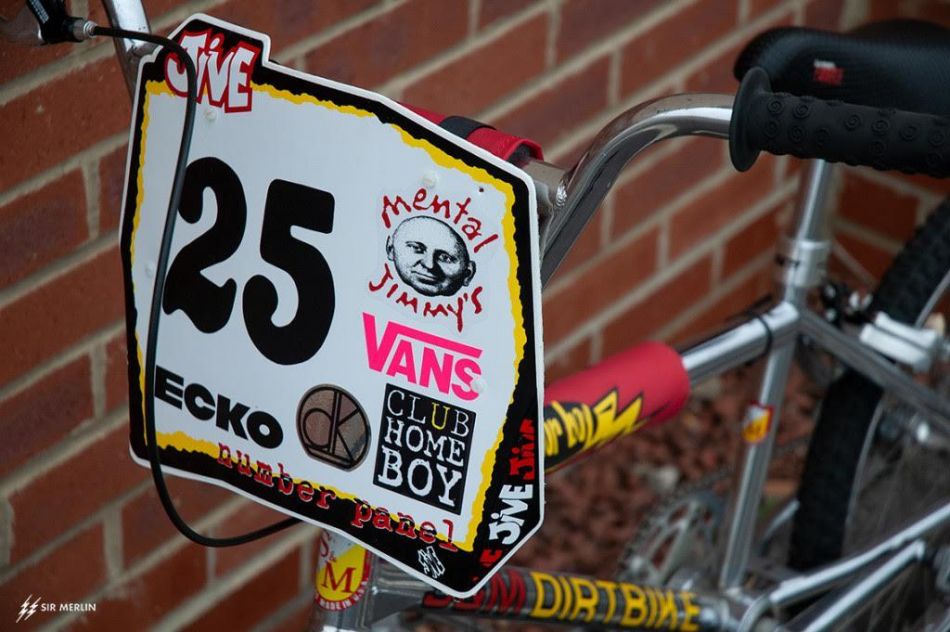 admired)?
Jonathan Sherwood: Most of my bikes aren't replica builds and are more focussed on how I would have ridden them back in the day or era correctness. That said, I have a '94 S&M H.A.F that is based on the yellow one that Ian Morris rode back in the day. Another ongoing build is an original finish brown King Liberty like the one Jerry Galley rode in all the King ads.
Next to bikes, certain uniforms, number plates, etc. are a good indication of a specific time in BMX history. Are you interested in Factory gear, or number plates of certain pro riders from back in the day?
Jonathan Sherwood: I love the old race gear, helmets, and plates just as much as I do the bikes. Back in the 90's the kit was really distinctive, and you could te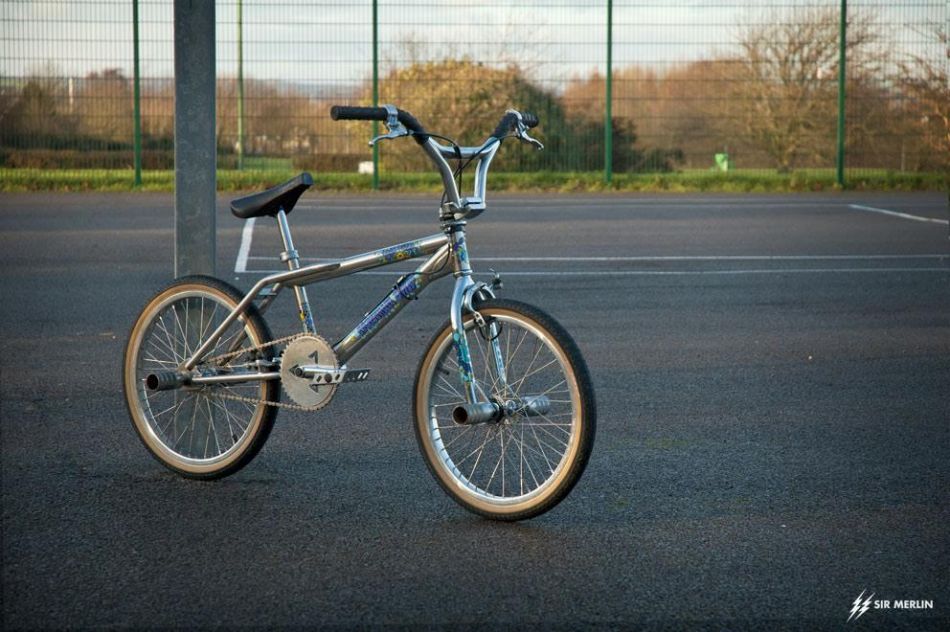 ll what team a rider was on from the other side of the track. The kits seemed to have so much more identity back then, and I am still hunting down some of my favourite rider or team kits. Outside of the bikes there were also some amazing co sponsor brands that have really fascinating histories as well. One of the best parts about finding old team riders kit is seing all of the co-sponsor logos that are added to the jerseys. Brands like Kovachi Wheels, Vans Shoes, Airwalk, WD-40, ODI, Jive, ATI, Lowey Axles, UGP, Hot Shoppe, JT, etc, etc. The stories behind those brands are just as interesting as the stories behind the bikes and teams, so I love tracking down those products as well.
Do you believe more BMX swap meets should take place in the UK?
Jonathan Sherwood: The UK actually has a lot of really great meet ups so we are pretty fortunate. The MK festival organised by the guys on the Rad BMX Forum is arguably the best BMX gathering in the world. They have always been very welcoming of the mid school crowd, and some of the collections on display there (70's, 80's, and 90's) are mind blowing. I can't speak highly enough of what those guys do to pull that show together, and no matter where you live around the world it is worth attending at least once in your lifetime if you are into BMX.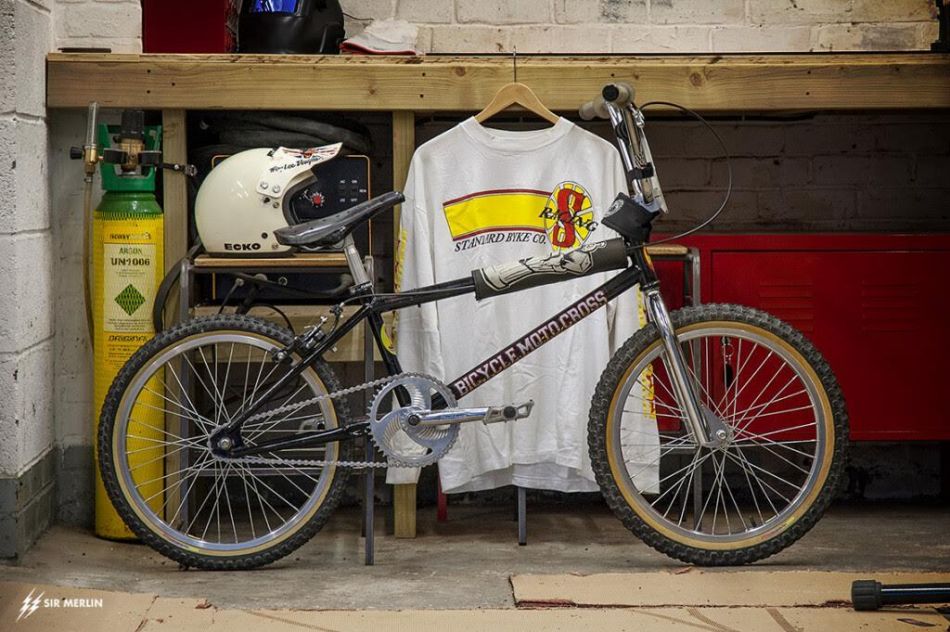 Do you think a National/International BMX museum is something that could work?
Jonathan Sherwood: That would be amazing. I know there is one in the Netherlands that looks really good, and some of the older BMX stores in the USA like ACE have museums as well. Having an official museum that could document and preserve a lot of the history from around the world would be great though.
Do you ever take out your bikes to show them to people?
Jonathan Sherwood: I take a selection of bikes to the MK festival each year which is always a good time. You can never take them all, but each year I take a different selection to share with everyone. I really enjoy meeting up with all the other guys who are building bikes and seeing what they have been working on. Other than that there are a number of online websites and platforms where all of us share our builds and exchange ideas and info. The online collector community is truly amazing, with so many people from all over the world willing to help track down parts and offer up items from their personal collection to help each other. I don't have a single build that doesn't have parts on it that other people helped me find, so that is testiment to what a great scene we have.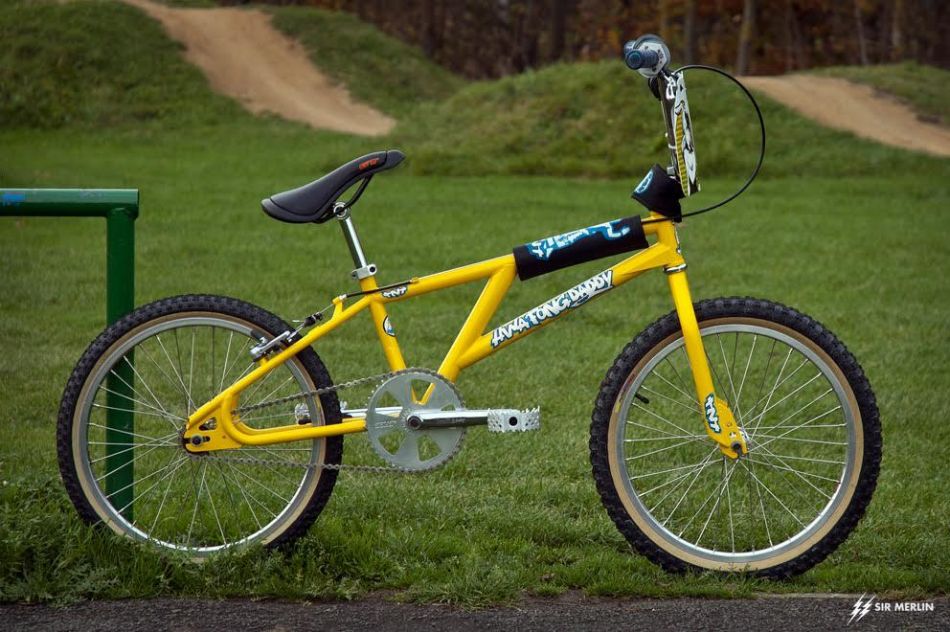 Every bike has a story. What's the best story you have on a bike that you have in your collection?
Jonathan Sherwood: I wish these old bikes could talk. I'm sure they would all have amazing things they could tell us haha. None of the bikes in my collection have truly epic stories attached to them, but a few of them have history. Two of my bikes ('88 S&M Mad Dog, '94 S&M Menstrual Cycle) both belonged to Scottish BMX legend GoGo of Team Sano fame. My '98 First Gen T1 progression is "Mr Pants'" old bike, and is the same bike that was featured in the Ride BMX Mag (UK) South Sea KOC feature when you see him ghosting it over the box jump. My Kastan made T1 Barcode was Joe Rich's old frame, and he gave it to me during one of my trips to Austin, it's the tan one he rode in the Fox video and a few issues of Props. So yea, nothing too epic in terms of stories, but a few of them have history.
What bike/part have you been looking for and haven't been able to find?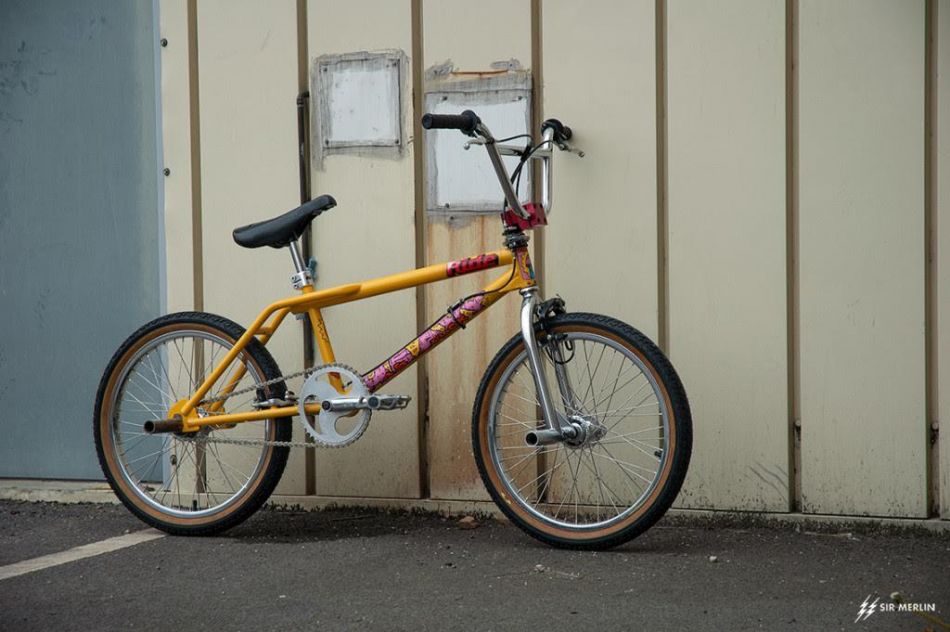 Jonathan Sherwood: One thing I have learned is that if you are patient everything will turn up eventually. Back in the early 90's when bikes were hard to find in SA a company called Pro-Dux built a small run of BMX frames. A few guys at the Nationals had them and they were only made for a very short time. I have been searchign for one of those for nearly 10 years now and have yet to locate one. They were made in very small numbers and a lot of them broke, but I haven't given up yet. One day I hope to find one. There are a few other bikes I'm after as well, but the Pro-Dux is the one I want the most.
Where can people contact you if they have that product in the shed and want to make your day by sending it to you?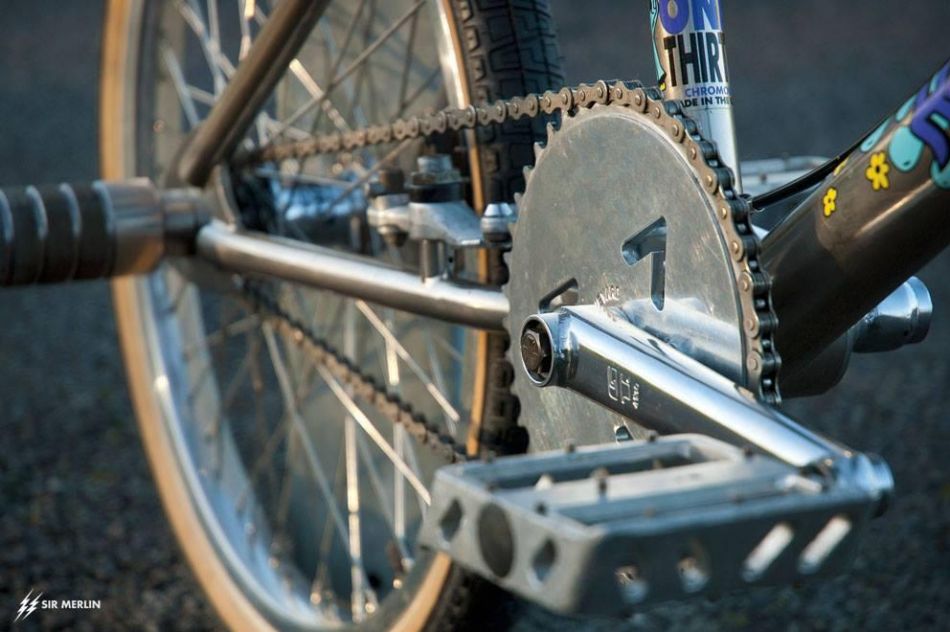 Jonathan Sherwood: Anyone can get hold of me via my instagram account @sirmerlin which is where I share pics of some of my bikes (and life in general). I am always interested in random bits from the 90's, and likewise if anyone is hunting for anythign specific I am happy to try and help them locate it or at least point them in the right direction.
Thanks to?
Jonathan Sherwood: Thanks to you Bart for the opportunity, and for putting some focus on BMX history. I have really enjoyed reading the features in this series. Thanks to all the guys in the mid school / 90's BMX collector scene who have helped me build bike over the years. Alex Leech, Tobie Gronewald, Dan Harris, Stephen Joseph, and Ed Chester to name a few (but there are far too many to mention). I'd also like to thank the guys from Rad BMX for organising such a great show, and doing what they do to keep the old school BMX scene alive and well over here in the UK.
Previous Episodes on FATBMX:
Episode 1: Christophe Detandt (BEL)
Episode 2: James White (GBR)
Episode 3: JT Freestyle (USA)
Episode 4: Ben Murphy (IRL)
Episode 5: Rainer Schadowski (GER)
Episode 6: GAry Sansom (USA)
Episode 7: Michael Gamstetter (USA)
Episode 8: Grant Stone (GBR)
Episode 9: Steve Blackey (USA)
Episode 10: Shannon Gillette (USA)
Episode 11: Woody Itson (USA)
Episode 12: Oliver Kienzle (GER)
Episode 13: Kelly Swanson (USA)
Episode 14: Pat A Lar (GBR)
Episode 15: Billy Mills (GBR)
Episode 16: Steve Brothers (USA)
Episode 17: Aykut Hilmi (GBR)
Episode 18: Alex Leech (GBR)
Episode 19: Mike Janssen (NED)
Episode 20: Brian Gutierrez (USA)
Episode 21: Chad Powers (USA)
Episode 22: Alessandro Barbero (ITA)
Episode 23: Chris Daly (GBR)
Episode 24: Ian MacArthur (GBR)
Episode 25: Steve Strong (GBR)
Episode 26: Stephen Joseph (GBR)
Episode 27: Paul de Jong (NED)
Episode 28: Jon Western (GBR)
Episode 29: William "LaRock" LaRoque (USA)
Episode 30: Johan Janssens (BEL)
Episode 31: Darren Chan (USA)
Episode 32: Frank Lukas (GER)
Episode 33: Jason Teraoka (USA)
Episode 34: Shad Johnson (USA)
Episode 35: PJ McKenna (USA)
Episode 36: Henry Sarria (USA)