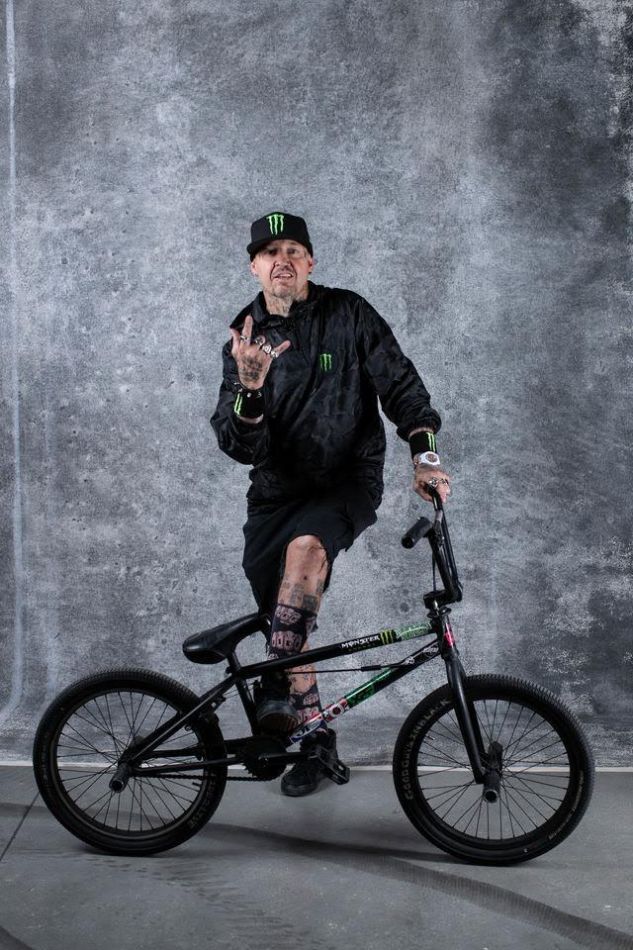 my own nickname and own logo and my own image that I built over the years. The tattoos are all reminders of my life, and my story, and who I am. I wanted people to know who I was. I want people to remember what I'm doing because I want to leave a positive impact," said Thorne on Episode 32 of UNLEASHED.
Fans can now tune in to Episode 32 of UNLEASHED featuring Thorne and his "Stay Rad" philosophy. Released today, the new podcast is streaming on all major platforms, including Spotify, iTunes, and YouTube.
Rick Thorne requires no introduction in BMX circles. Still riding hard at the age of 52, Thorne pushed the evolution of BMX riding as part of the elite Hoffmann Bikes team in the 1990s. At a time when pro BMXers were clean-cut athletes in race jerseys, Thorne earned the nickname 'The Biker in Black' by injecting a heavy dose of punk rock attitude and tattoo style. The multi-talent has appeared in blockbuster movies like 'Mall Cop' and 'XXX', hosted action sports TV programs, and today tours as a musician and stand-up comedian.
Look forward to a no-holds-barred conversation with the two podcast hosts, Australian action sports personality Luke "The Dingo" Trembath and professional snowboarder Danny Kass on Episode 32 of UNLEASHED. Listen right here.
Growing up in the Midwest, Thorne discovered BMX at the age of 12 back in 1982 when the sport was still in its infancy. The local scene: Non-existent. But Thorne's spirit for making things happen: Limitless from day one. "It was just being in the streets with your friends. Doing wheelies, jumping curbs," said Thorne. "We started racing but then we were doing tricks in the parking lot. I wanted to be a freestyler because I didn't have that race mentality… I wanted to express myself more."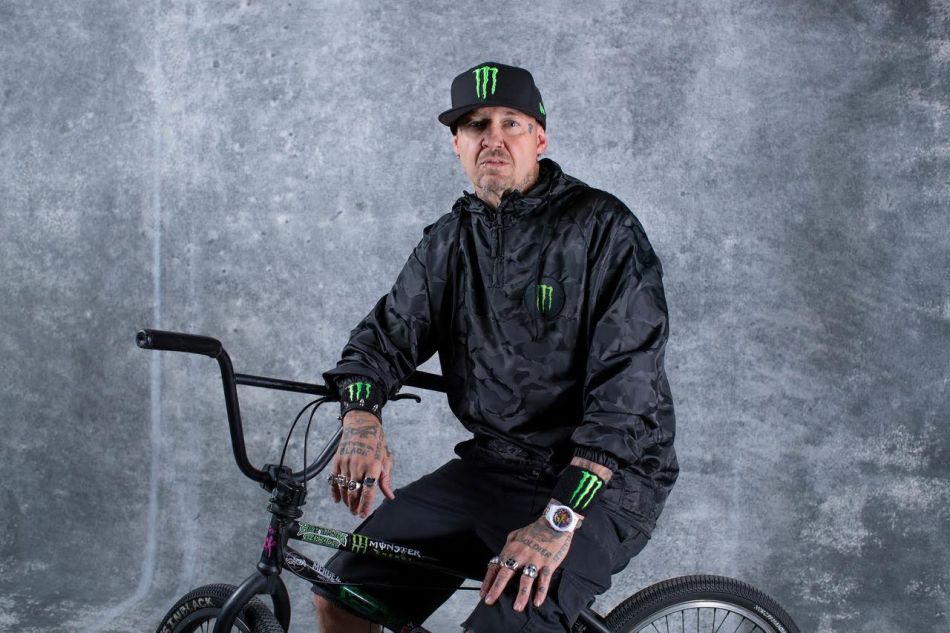 "I give racing all the respect in the world, but it wasn't my thing," said Thorne. "Freestyle was new, and it wasn't developed yet. I just wanted to be part of something new and liked doing tricks more." As freestyle BMX riding evolved, the teenager found his penchant for vertical tricks on halfpipe. Plus, he soon developed the consistency to drop tricks like 540s, backflips, and can-cans at will. This earned him sponsorship by A-list bike brands and his first full-page photo in a BMX magazine in 1991. "I liked competing, because it pushes me to learn tricks," said Thorne on the episode, while pointing out that his approach to BMX has always been all-encompassing, including competitions just as much as trick progression and video parts.
Aside from his expansive bag of tricks, what set Thorne apart were early on were his punk-rock inspired look and tattoos that earned him a reputation as 'The Biker in Black'. "I always liked black. I always thought it looked cool. Did you ever see Elvis Presley in the '68 comeback special? Black leather suit! I thought he looked cool and tough." Ultimately, during a heavy period of listening to Johnny Cash, Thorne realized: "He's the Man in Black. I'm the Biker in Black!"
Nevertheless, Thorne backed up the flair and attitude with skills on his bike, touring the world doing demos alongside skateboard icon Tony Hawk in the early 1990s and ultimately turning pro for Hoffmann Bikes, the elite team founded by legend Mat Hofmann. Thorne was still bussing tables to make ends meet when the mid-1990s brought new popularity to action sports, including televised events and concert series. "It was an exciting time with all these things happening like Warped Tour and X Games," said Thorne, who became able to make a living from BMX riding as more sponsors and money entered the sport.
As a cultural ambassador, Thorne has hosted the Tony Hawk's Boom Boom Huck Jam tour of action sports spectacles in the early 2000s and worked as television broadcast host for the likes of ESPN and Fuel TV. Today, the born entertainer hosts his own comedy show, Stay Rad. He can also be found touring with his punk rock band, Good Guys in Black. "I felt like I needed a voice beyond bike riding and be able to express myself. It was always a dream to learn how to make music and play music. It's been a rad road. Music is like riding, you always keep developing your style," said Thorne who shared shows with legends such as Suicidal Tendencies and Pennywise.
Throughout all his different creative pursuits, Thorne names BMX as the central driving force to keep him going: "You need to find that place in your life where you can get away from everything, clear your mind, and get creative. I get ideas for tricks and songs and whatever, by riding down the street."
Ready for more? For an interview guest never afraid to tell it like he sees it, tune into the episode today! Visit the landing page to access Episode 32 of the UNLEASHED with The Dingo and Danny Podcast featuring Monster Energy BMX legend Rick Thorne.