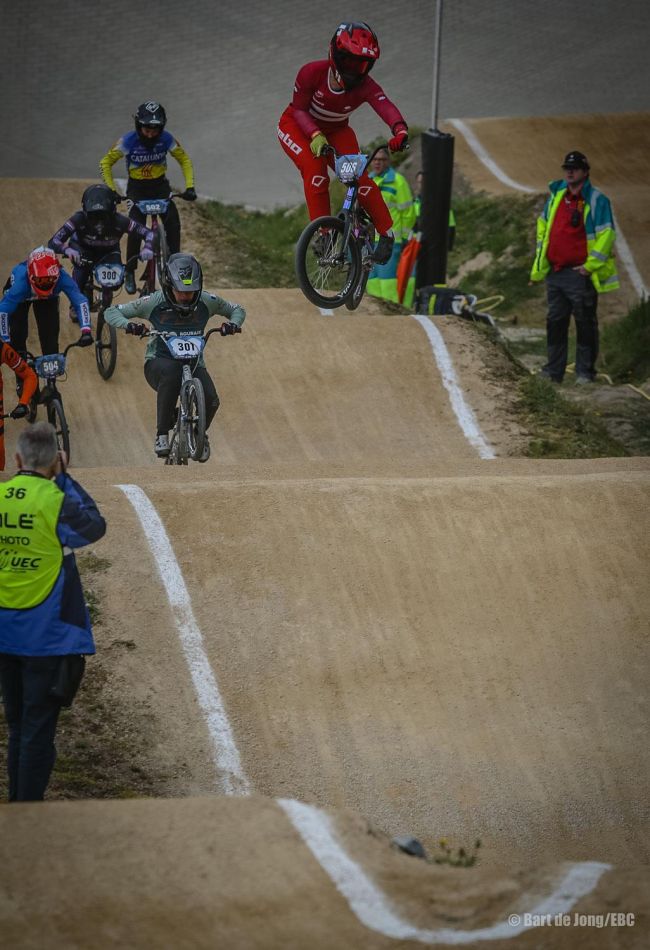 In many ways BMX Racing is far more structured than BMX Freestyle. The loose management of BMX freestyle has been cool in the past, and still is, but on top of the loose part of BMX Freestyle, there's a posibility we will have a European Cup of BMX Freestyle in years to come next to the European Championships. It will bring riders together for an event, just like it does in BMX Racing. Today we made out way to Ravels, Belgium where Round 5 of the UEC European Cup was held. Around 700 BMX-ers signed up for it and they did come from all over the place. It even had riders from Ecuador, Colombia and Brasil on the track next to racers from all over Europe. The European Cup series has 6 stops on the calendar with 2 rounds at each stop. It takes the BMX racing community to Verona-Italy, Zolder-Belgium, Ravels-Belgium, Stuttgart-Germany, Kampen-Netherlands and ends over in Valmiera-Latvia. It's a flying circus where BMX racers meet for some good racing on well prepared tracks. Ravels was only an hour drive so it can be considered an easy trip but it was our first time there actually. The town was turned into 'BMX Village' with all the foreign visitors and the BMX Devils (name of the local BMX Club) made sure people were feeling welcome.

The entire program was split into blocks. The Elite/Junior/U23 classes were placed in a block that started on the day with the smaller age groups and cruisers ending the day. That way we made sure we arrived in Ravels at a decent time to catch some of the practice and all the qualification rounds.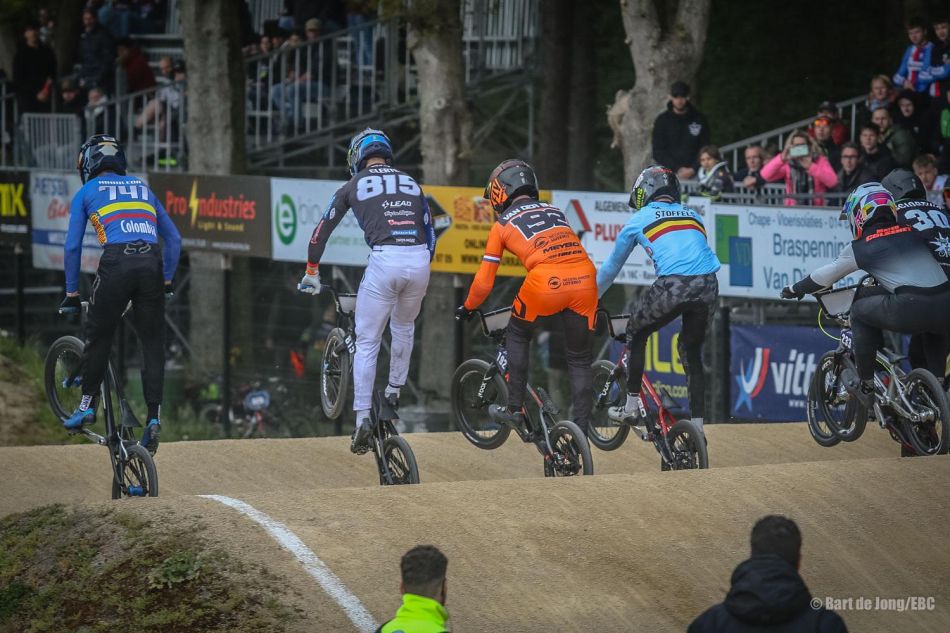 With the grandstands, the vendors, the pits, the media room, the podium stage and DJ set-up it looked like the real deal. The sun showed up from time to time but when it was gone, it was chilly for those who were just watching the racing. The athletes didn't notice and didn't care as their bodies stayed warm from doing fast laps in a short period of time.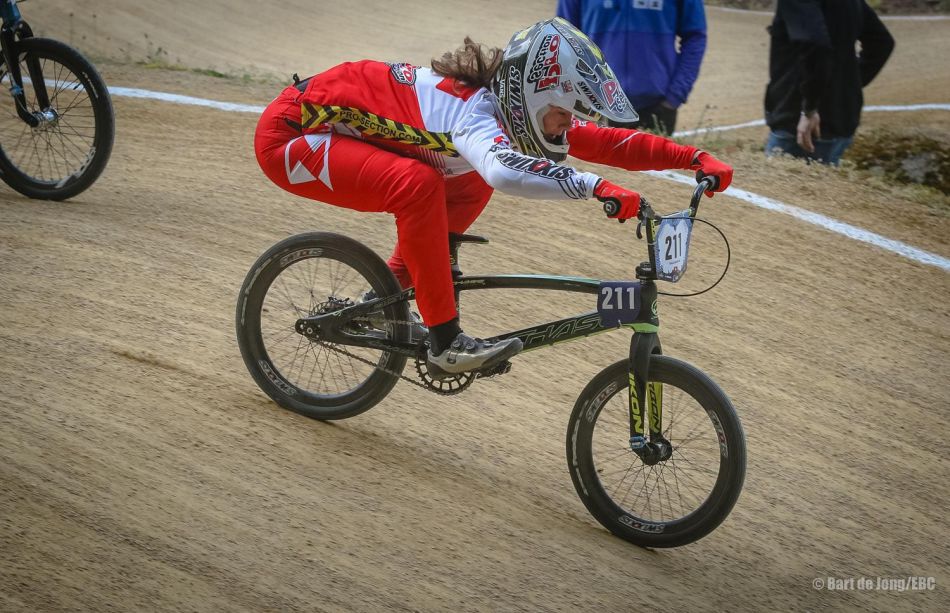 The Elite finals had some action! The Women final kicked off with Malene Kejlstrup (DEN) grabbing the holeshot and never looked back. She even styled it up over the many doubles and did not notice that 3 riders were on the ground after the first turn. Thalya Burford (SUI) stayed close behind her for second and series leader Michelle Wissing (NED) was fast all day to finish 3rd on the Saturday in the combined Elite/U23 class. The action in the Elite Men final took place in the last turn where leader Eddy Clerté (FRA) was not expecting a move by Diego Arboleda (COL) who suddenly appeared on his inside.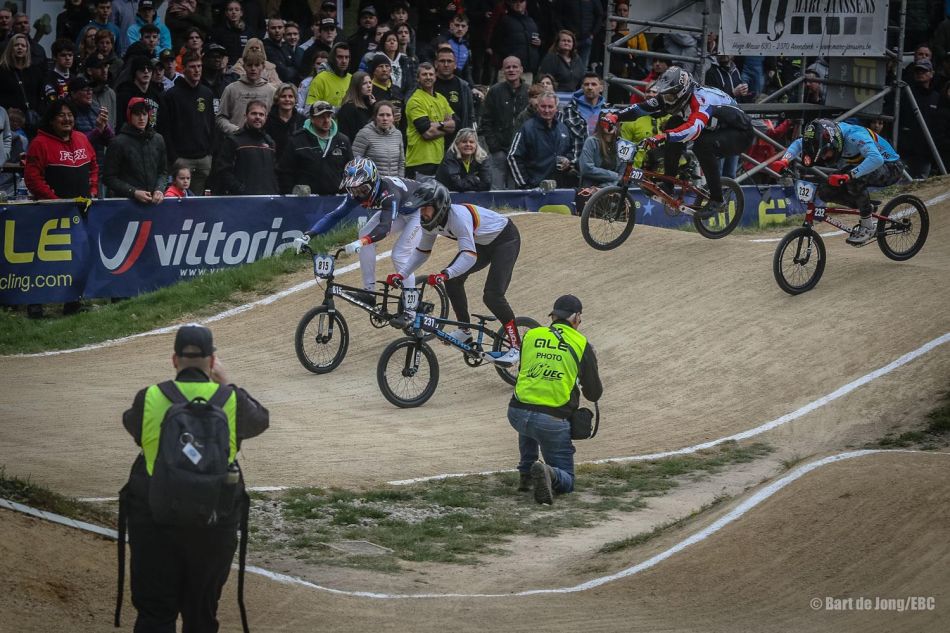 The two collided which sent Eddy off the track and Diego on the floor. Stefan Heil (GER) was the one profiting from the situation as was Quillan Isidore (GBR) who managed to cross the finish line in 3rd after being in 7th place in the first turn. Eddy Clerté had made his way back to the track again but had lost momentum to take home the win. He still managed a second and is hoping to turn that around for Sunday.

By BdJ

2022 UEC BMX EUROPEAN CUP Ravels (BEL), 30 April - 1 May 2022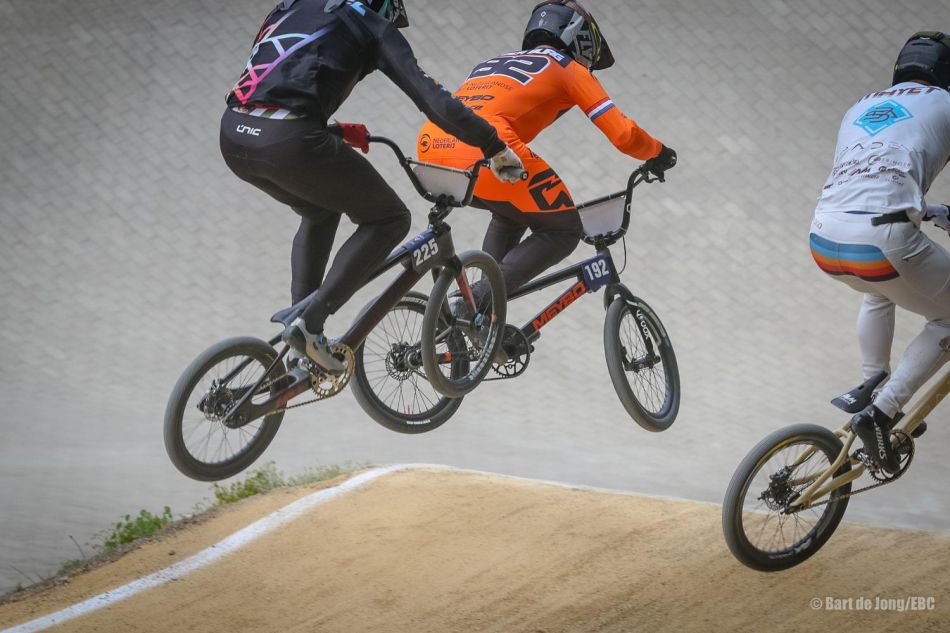 Men Elite
1 Stefan HEIL; Germany
2 Eddy CLERTE; France
3 Quillan ISIDORE; Great Britain
4 Thibaut STOFFELS; Belgium
5 Romain MAYET; France
6 Loris AEBERHARD; Switzerland
7 Kay STINDL; Germany
8 Diego Alejandro ARBOLEDA OSPINA; Colombia
9. MatÈo COLSENET, FRA
10. Kasper OLSSON, DEN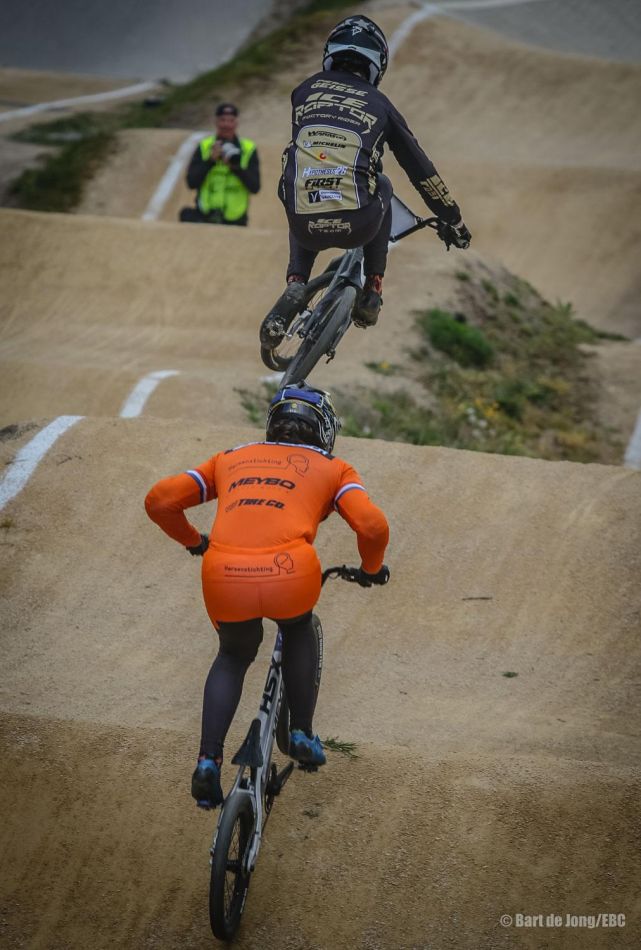 11. Dave VAN DER BURG, NED
12. Aston WYPYCH-COLES, AUS
13. Ruben GOMMERS, BEL
14. Axel WEBSTER, GER
15. Andres FUENTES AVELLANO, ESP
16. Martti SCIORTINO, ITA
17. Ugo BALLERINI, SUI
18. Matthijs VERHOEVEN, BEL
19. Sebastian SULKA, SVK
20. Rody VAN DEN HEUVEL, NED
21. Elwin REMMERTS, NED
22. Elias VERBINNEN, BEL
23. Stef LAUWERS, BEL
24. Jose Leonardo MARQUEZ, VEN
25. Marco JƒCKEL, GER
26. Wouter SEGERS, BEL
27. Sylvain ANDRE, FRA
28. Carlos Alberto RAMIREZ YEPES, COL
29. Santiago Angel SUAREZ SUAREZ, COL
30. Julian SCHMIDT, GER
31. Leo GAROYAN, FRA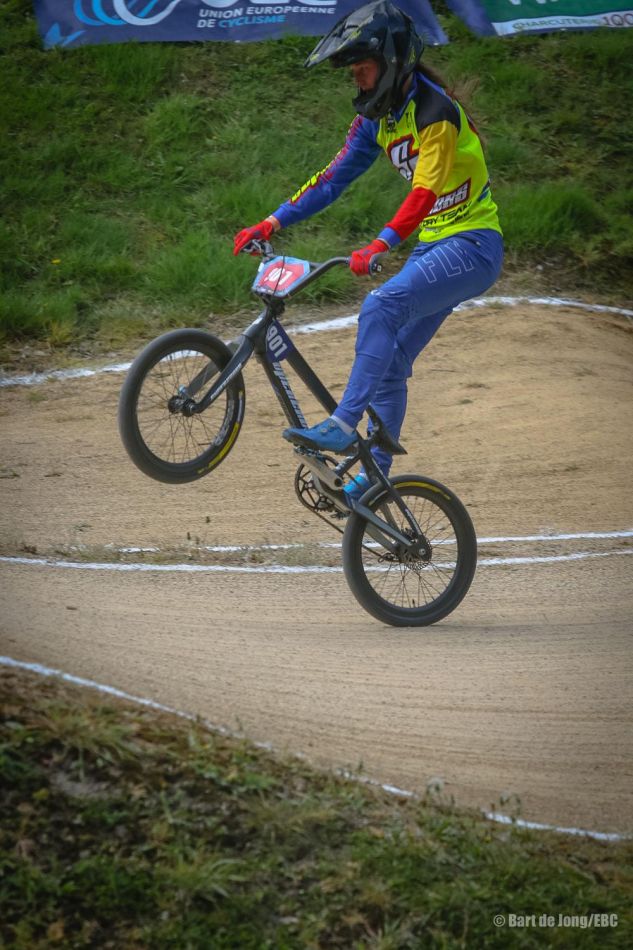 Women Elite & U23
1 Malene KEJLSTRUP; Denmark
2 Thalya BURFORD; Switzerland
3 Michelle WISSING; Netherlands
4 Mathilde DOUDOUX; France
5 Dorte BALLE; Denmark
6 Domenica AZUERO; Ecuador
7 Zoé HAPKA; France
8 Tessa MARTINEZ; France

Boys 15/16 year
1 Edgars LANGMANIS; Latvia
2 Rune ROEFS; Belgium
3 Jakub KLEMENT; Czech Republic
4 Mika LANG; Netherlands
5 Lowie NULENS; Belgium
6 Zian LEMEE; France
7 Yorgi PICCART; Belgium
8 Alejandro VERDU MARTOS; Spain

Men 17+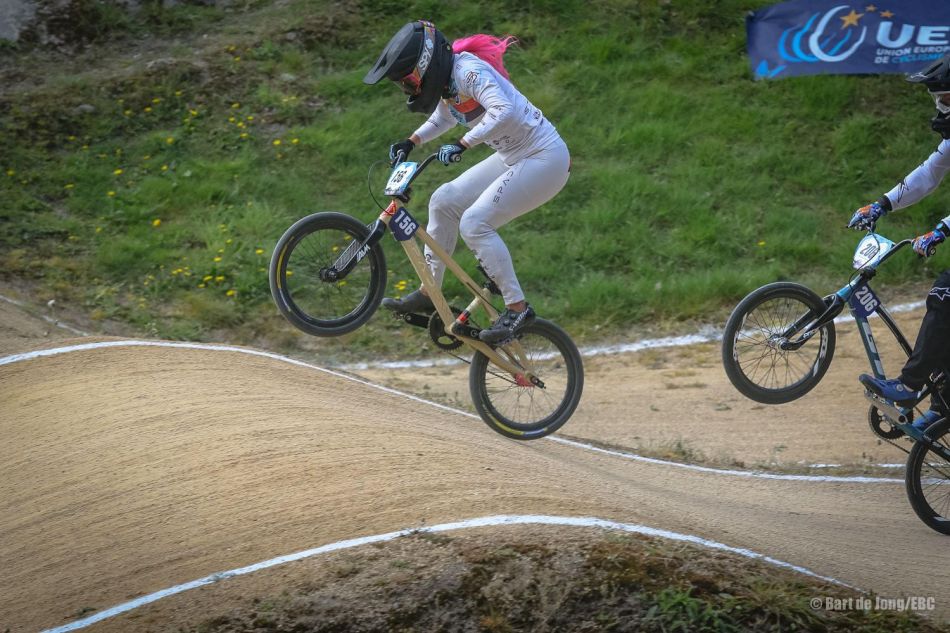 1 Nico ELBERS; Netherlands
2 Nick ROELOFS; Netherlands
3 Dean WOUTERS; Belgium
4 Alexandre MONLEON; France
5 Ingmar ANKERMAN; Netherlands
6 Matthew MALONE; Ireland
7 Steven ROUWÉ; Netherlands
8 Lars HORNMAN; Netherlands

Girls 15/16 year
1 Jill VOGELPOEL; Netherlands
2 Alina BECK; Germany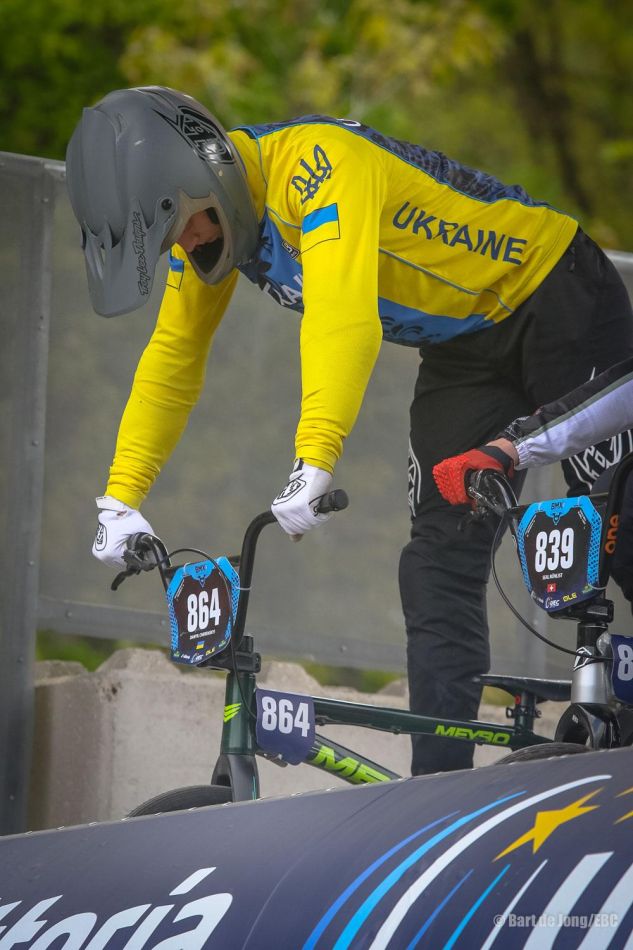 3 Lotte WOLFS; Belgium
4 Debbie SCHALK; Netherlands
5 Paula KIBARE; Latvia
6 Demi NIEUWENKAMP; Netherlands
7 Anouk JANSSEN; Netherlands
8 Bolette SCHLÜTER; Denmark
Women 17+
1 Sille Bundgaard MIKKELSEN; Denmark
2 Bo VAN TIGGEL; Belgium
3 Gerlinda REMMERTS; Netherlands
4 Suela RUITENGA; Netherlands
5 Verona VAN MOL; Netherlands
6 Karo VERTESSEN; Belgium
7 Kjelle POETS; Belgium
8 Lauren STACK; Great Britain

Men Junior
1. Wannes MAGDELIJNS, BEL 25 UCI points
2. Pierre GEISSE, FRA 22
3. Jaymio BRINK, NED 19
4. Seppe LAENEN, BEL 16
5. Maxime HABERT, FRA 14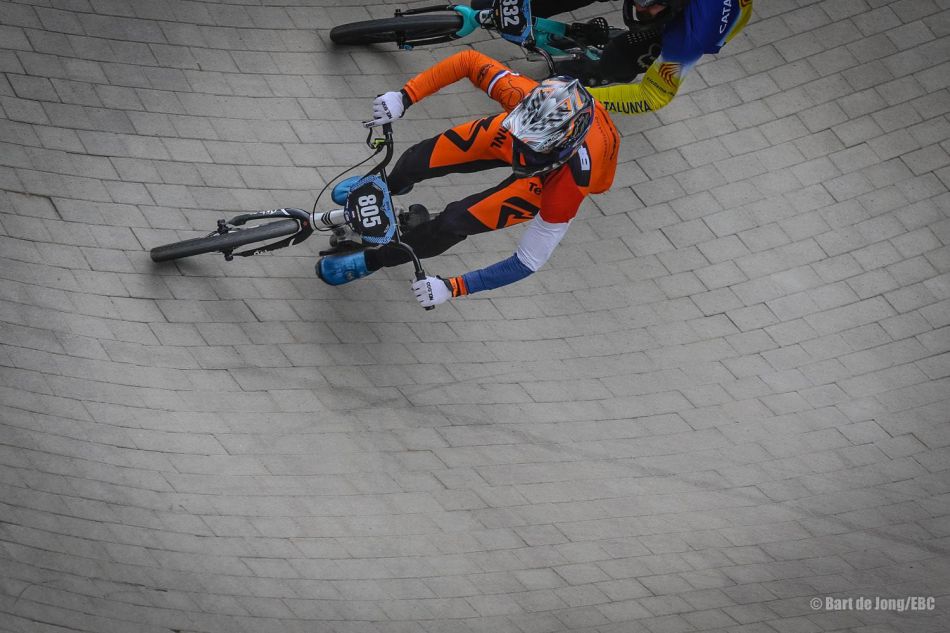 6. Marcus LETH, DEN 12
7. Enzo LECLERC, FRA 10
8. Miquel HERNANDEZ GALLEGO, ESP 8
9. Jessy SOEDE, NED
10. Carlos ORDO—EZ LAGUIA, ESP
11. Julian BIJSTERBOSCH, NED
12. Hjalte FELDT, DEN
13. Tommaso FRIZZARIN, ITA
14. Alejandro GARCIA MARCOS, ESP
15. Louis KASPER, SUI
16. Marek NEUéIL, CZE
17. Bernd SMEETS, BEL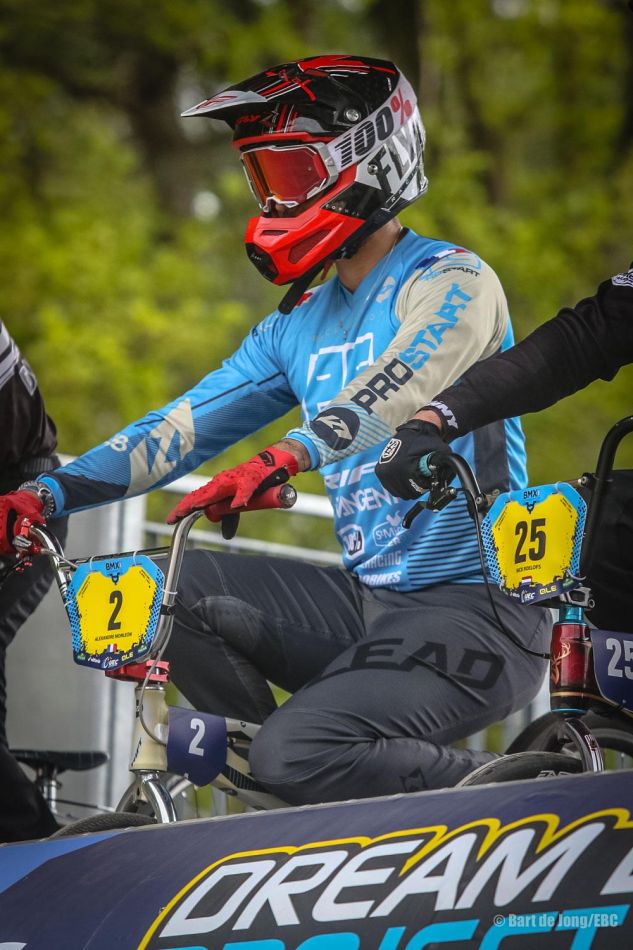 18. Hyoga KIUCHI, JPN
19. Lucas MUES, GER
20. Dieter BROUNS, BEL
21. Yanis BAURAND, FRA
22. Thomas WILLEMS, BEL
23. Albert GROPPO, ITA
24. Casper PIPERS, NED
25. Simon BEAUCAMP, FRA
26. Victor VESTRING-ANDERSEN, DEN
27. Remo HOFER, SUI
28. Maty·ö MENTLÕK, CZE
29. Victor BEIRINCKX, BEL
30. Yago SANCHEZ MEDINA, ESP
31. Maxence BEY, FRA
32. Bart BAKKER, NED
33. SÈbastien CAMPICHE, SUI
34. Maximili·n MARENCÕK, SVK
35. Jakub VESECK›, CZE
36. Lars VAN VLIET, NED
37. Sebastian N÷TZEL, GER
38. AurÈlien VAESSEN, BEL
39. Martin FATNES, NOR

40. Seal N‹NLIST, SUI
41. Danyil CHEREMSKYI, UKR
42. Ziko DECOSTER, BEL
43. Davis Janis ELBRETS, LAT
44. VilÈm SOKOL, CZE
45. Oliver SAYK, DEN
46. Hugo Ilvis EIHENTALS, LAT
47. Joel AUTIO, FIN
48. Bodhi BAKKER, NED
49. Vojtech POLESN›, CZE
50. MickaÎl GUITTARD, FRA
51. Roman DAUGAN, FRA
52. Enzo LALESNEL, FRA
53. Emils Martins TREIMANIS, LAT
54. Baptiste JUPILLE, FRA
55. Renato SILVA, POR

Men U23
1 Magnus DYHRE; Denmark
2 Grégoire QUELLIER; France
3 Jakob SARDAG; Denmark
4 Jan-Viktor VRANCKX; Belgium
5 Bart VAN BEMMELEN; Netherlands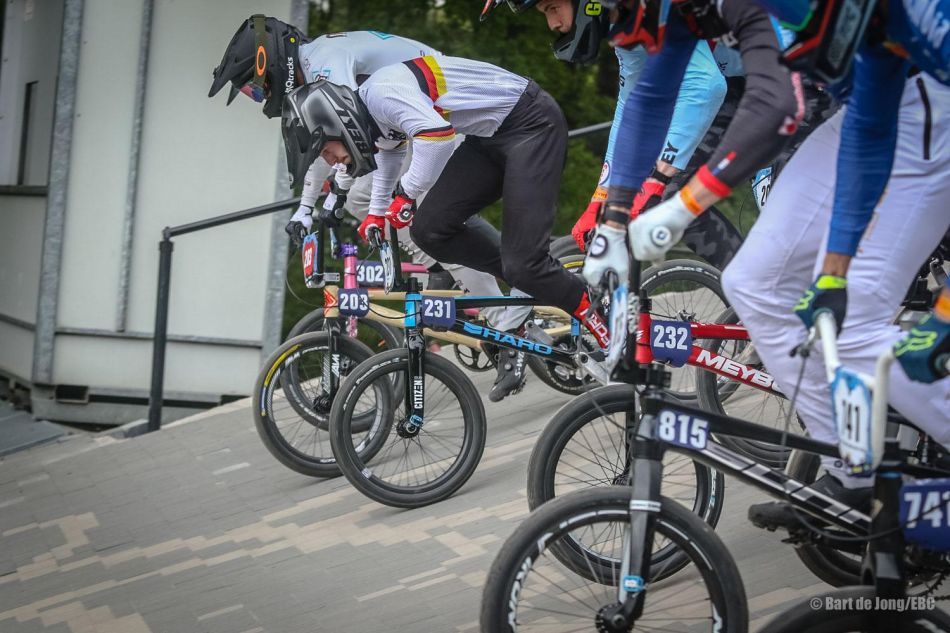 6 Odin VERHOOG; Netherlands
7 Joris BEGUIN; France
8 Giacomo GARGAGLIA; Italia
9. Pablo GARCIA MARCOS, ESP
10. Leonardo CANTIERO, ITA
11. Tim GOOSSENS, NED
12. Mathijn BOGAERT, BEL
13. Marco RADAELLI, ITA
14. Gabriel AVELLANEDA MONTESINOS, ESP
15. Tim WEIERSM‹LLER, SUI
16. Ryan MARTIN, GBR
17. Jersy Alejandro ANDRADE GUSTIN, COL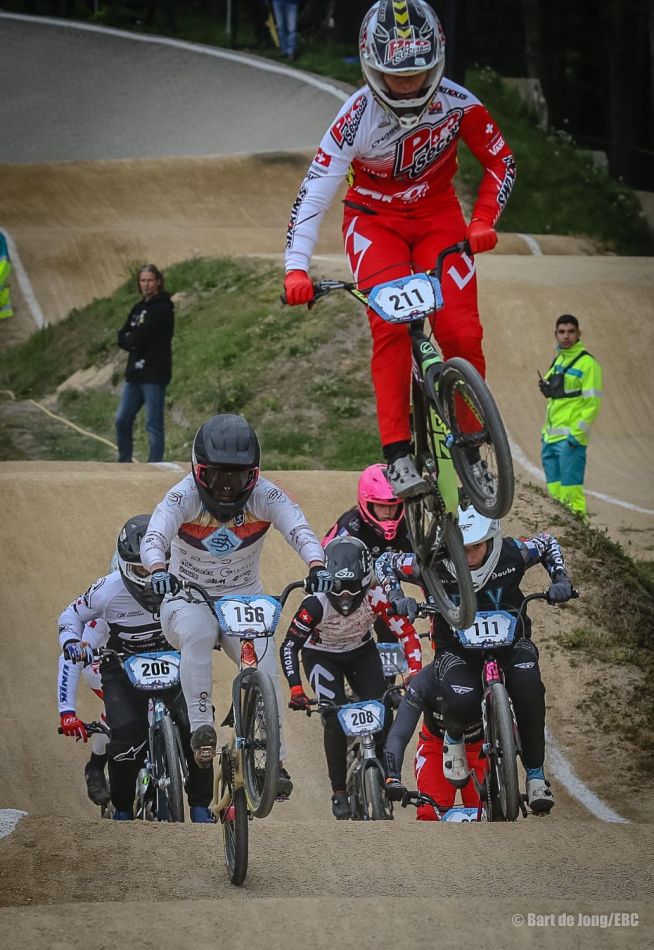 18. Adam B¡BEK, CZE
19. Gebbe SAUVILLERS, BEL
20. Tristan BOREL, SUI
21. Magnus JENSEN, DEN
22. Rik OUWENDORP, NED
23. Simon HÿJSGAARD, DEN
24. Sibe JANSSENS, BEL
25. Callum RUSSELL, GBR
26. Pascal BRENZEL, GER
27. Federico DE VECCHI, ITA
28. Matej LINHART, CZE
29. Tommaso GASPAROLI, ITA
30. Sem LOURENSEN, NED
31. Kenneth WILLEMS, BEL
32. Marc ROMAN MARTINEZ, ESP
33. Aron BECK, GER
34. Didi VAN TIGGEL, BEL
35. Antti LAAKKONEN, FIN
36. Boris BREKELMANS, NED
37. Joey NAP, NED
38. Teun KIVIT, NED
39. Arold VERBIEST, BEL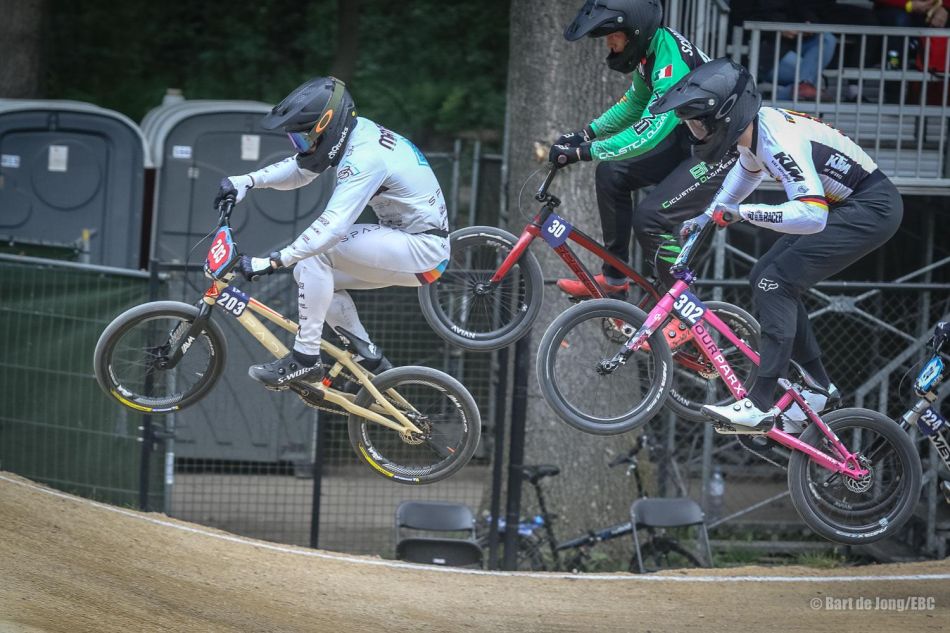 40. Timo CALOZ, SUI
41. Yan SLEGERS, BEL
42. Jeremy PACHE, BEL
43. Jos MARNHAM, GBR
44. Juan Esteban NARANJO MURILLO, COL
45. Juan Camilo RAMIREZ VALENCIA, COL

Women Junior
1 Renske VAN SANTVOORT; Netherlands
2 Aiko GOMMERS; Belgium
3 Robyn GOMMERS; Belgium
4 Lissi VAN SCHIJNDEL; Netherlands
5 Laura MOUGEY; France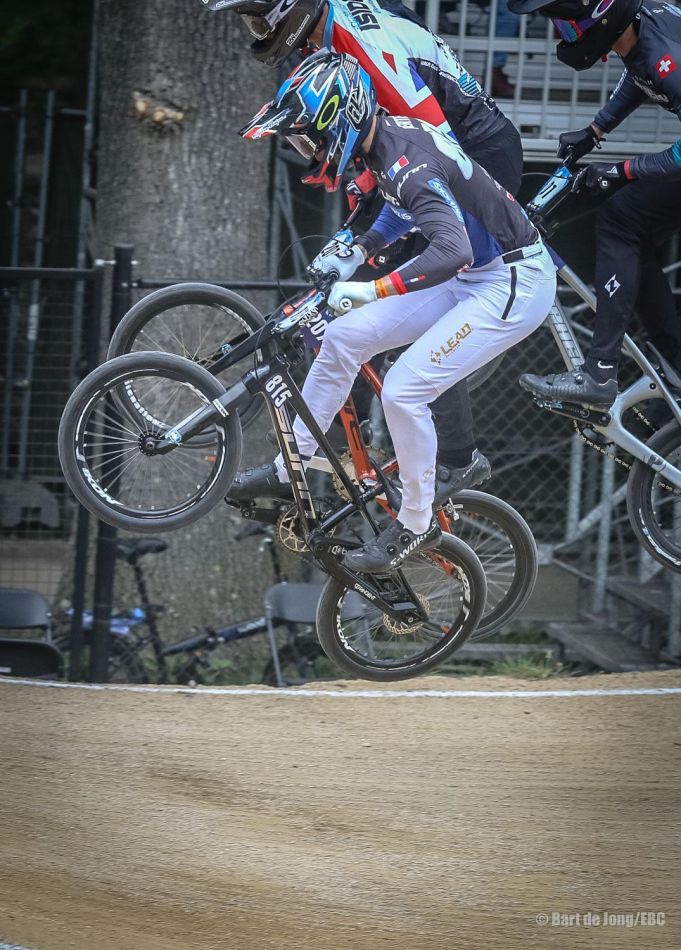 6 Léonie DRUART; France
7 Coralie MOUSTIER; France
8 Pauline PEYRARD; France


Pics by Bart de Jong / FATBMX