create a path and a future that didn't exist. I wanted to be what I couldn't see as a little girl - a BMX Olympic athlete, making a living from the sport. So I had to work really hard throughout my career, from Canberra, through [the ACT Academy of Sport], into the AIS and onto two Olympic Games and eight world titles. And in that journey to the top, I think the challenges along the way really shaped me. The personal challenges of defeat and injury have all been part of that rollercoaster and I wouldn't be here without them."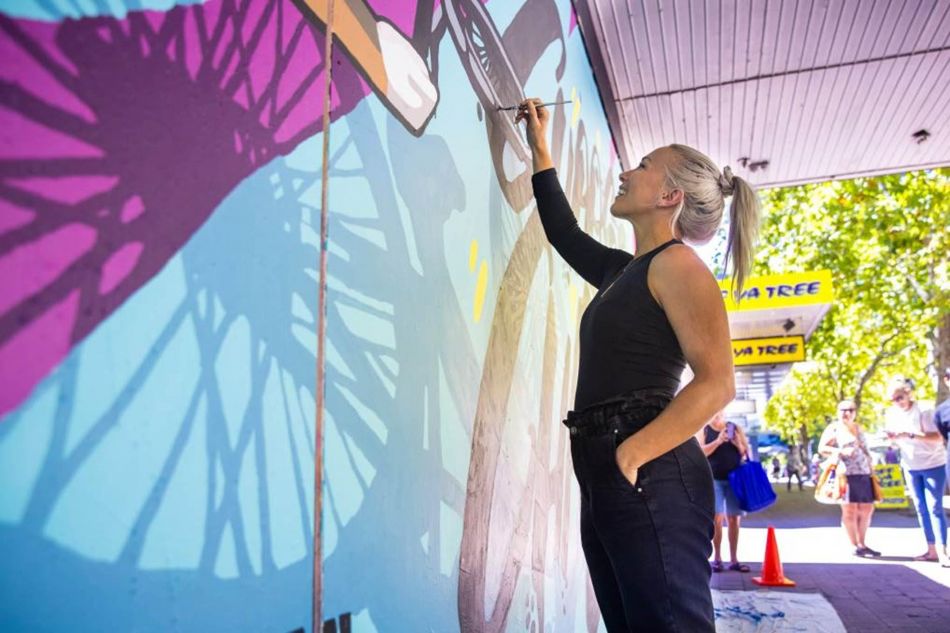 She loved the end result, the mural showing her careering down a slope, with her gaze focused ahead, as always.
"It's pretty incredible and I'm glad that there's that pop of blonde hair flying out the back of my helmet," she said. "As a little girl, I always aspired to be that girl out on the track, I always wanted to race the boys, I always wanted to try to be as good as them and at the end of the day be that girl that went all the way to the top in a sport that used to be a boys' sport and now there's so many aspiring females. There's never been a better time to be a female in the action sports space."
Young female BMX riders, some of whom learnt to ride on the same track in Tuggeranong as Buchanan, were also there for the unveiling of the mural, inspired by the way she had carved a path for them in the sport.
"She's pretty brave. She's a good role model for all of us to show how to go for your dreams," 11-year-old Tuggeranong rider Amelia Stichbury said.
Buchanan, who was working to qualify for her third and likely final Olympics in Tokyo later this year, was an obvious choice for the mural, according to Braidwood artist Bohie Palecek, because of the way she had broken into a previously male-dominated sport.
"International Women's Day is an amazing opportunity for me to have the support of the ACT government to break gender stereotypes, have a conversation with young people about choosing a different path to what they might have been introduced to as young women," Palecek said. "Caroline Buchanan is an incredible advocate for this kind of thing. The more I researched her and listened to interviews with her, the more I realised her values aligned with mine. She's all about being visible, being a female mentor and passing that knowledge on to the next generation about being the best you can be - as yourself. And that is really crucial and that's the message we took away: to challenge but to challenge ourselves, to overcome fear, to overcome adversity and make the most of our life."
The students from Erindale College also painted the mural with 33-year-old Palecek after attending a workshop with her and Buchanan on Wednesday.
Pics by: Keegan Carroll