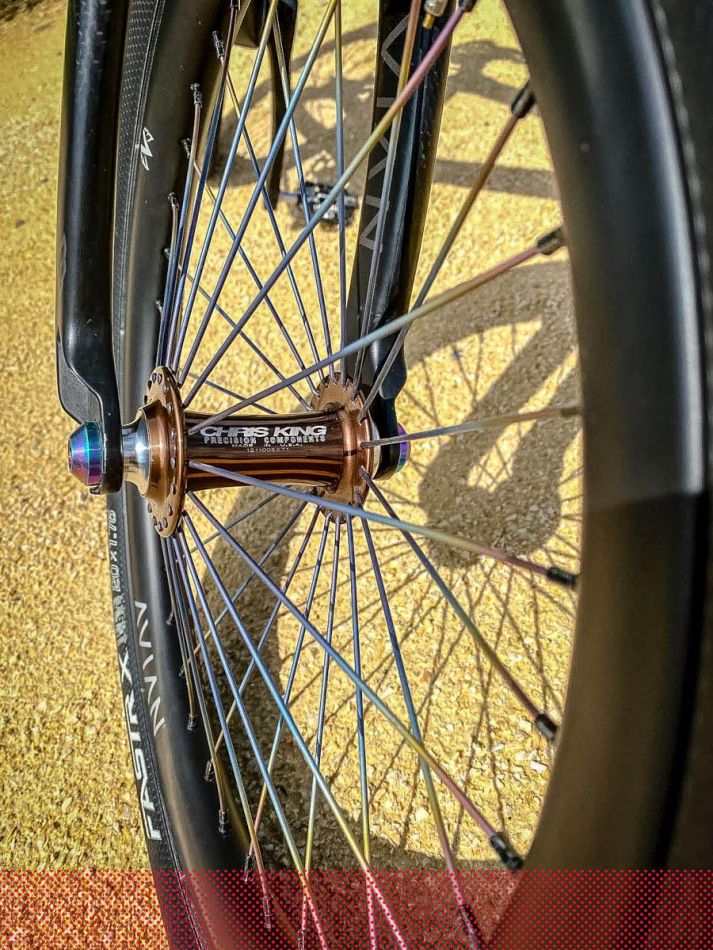 Simon Marquart: My bike is actually not that light or well you could build a bike lighter than mine. I used to be more weight focused than I am now when I was younger but I got away from it. In theory it is better to have a light bike. The lighter it is, the easier to accelerate, that's a fact. But with a maxed-out bike you almost always have problems or trust issues. I'd rather have a somewhat light bike, maybe not the lightest but one I can fully trust. If you're fast, it doesn't matter if your bike is 7.5kg or 8,5kg you're able to win on both. Therefore, I am more focused about training than about getting lighter parts. Nothing the less if you can replace a part with a lighter part completely risk free why not. For example, the seat.
When is it a bad thing to have a super light bike?
Simon Marquart: I can't think of any situation where I wished my bike was 500gr heavier.
What is the geometry and length of your race frame?
Simon Marquart: I ride a Pro XXXL at the moment. Means 22" Top Tube and 15.2" Chain Stay.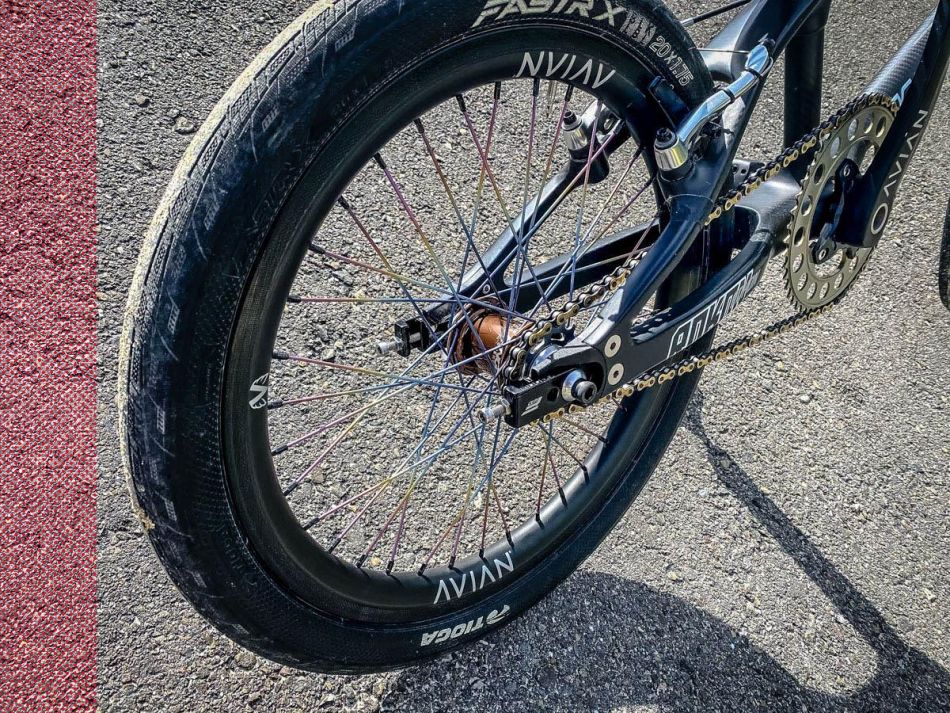 Do your FASTR tires really make you faster?
Simon Marquart: I believe they are really good tires, otherwise I wouldn't ride them. And with the ultra-low profile they surely are one of the best rolling tires on the market.
Titanium spokes. How much are they per spoke?
Simon Marquart: How much they weight or how much they cost? They weight around 2 gr each and they cost about 2.50 US Dollar.
Do you like bike maintenance including the cleaning?
Simon Marquart: I do enjoy cleaning the bike. I completely strip my bike apart and do a full service of the hubs, bearings etc. at least once a week.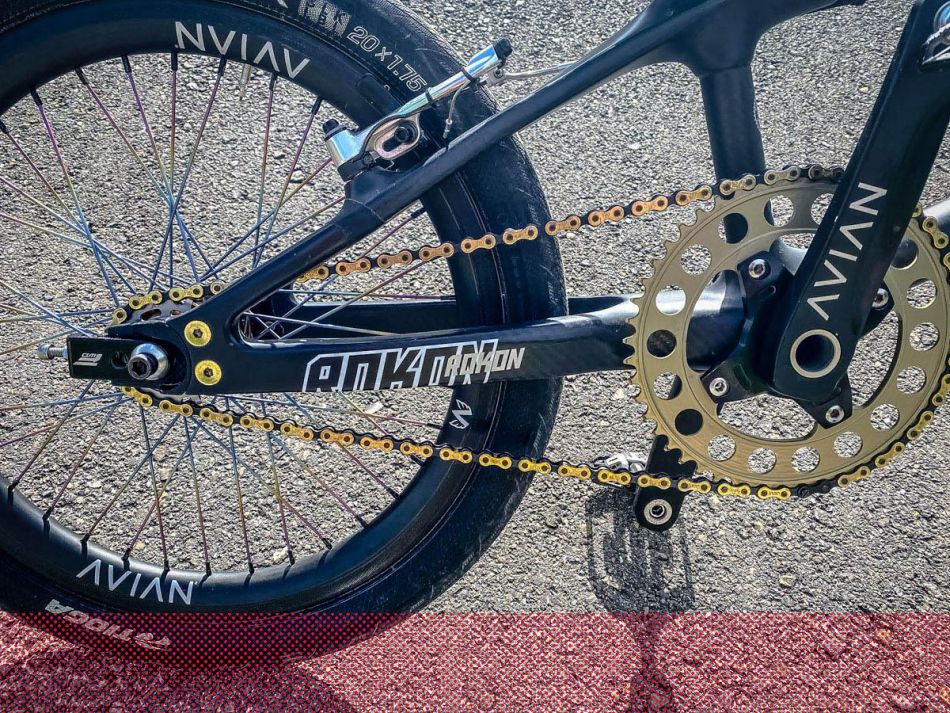 How do you like V-brakes better than disc brakes?
Simon Marquart: I do like Disc Brakes better than V-Breaks. The Problem is that there is no Chris King Bmx Disc hub. So, there is no clean solution at the moment to run a Chris King Hub with a disc. It is possible but it's a bit fiddly and you probably end up spending more time adjusting the disc than actually riding.
What's a bike part you change on the regular?
Simon Marquart: That would be the Pedals and the Grips.
Do you confuse your bike with someone else's bike when the entire team is together?
Simon Marquart: No not really. We all got different colored Hubs but I think if we all had the same hubs it would make it a bit tricky.
You've got five minutes to put your bike in the bag to fly to the next race. Could you do it?
Simon Marquart: No way! It takes me at least 20mins to take everything apart and wrap it.
Please take us through your parts list: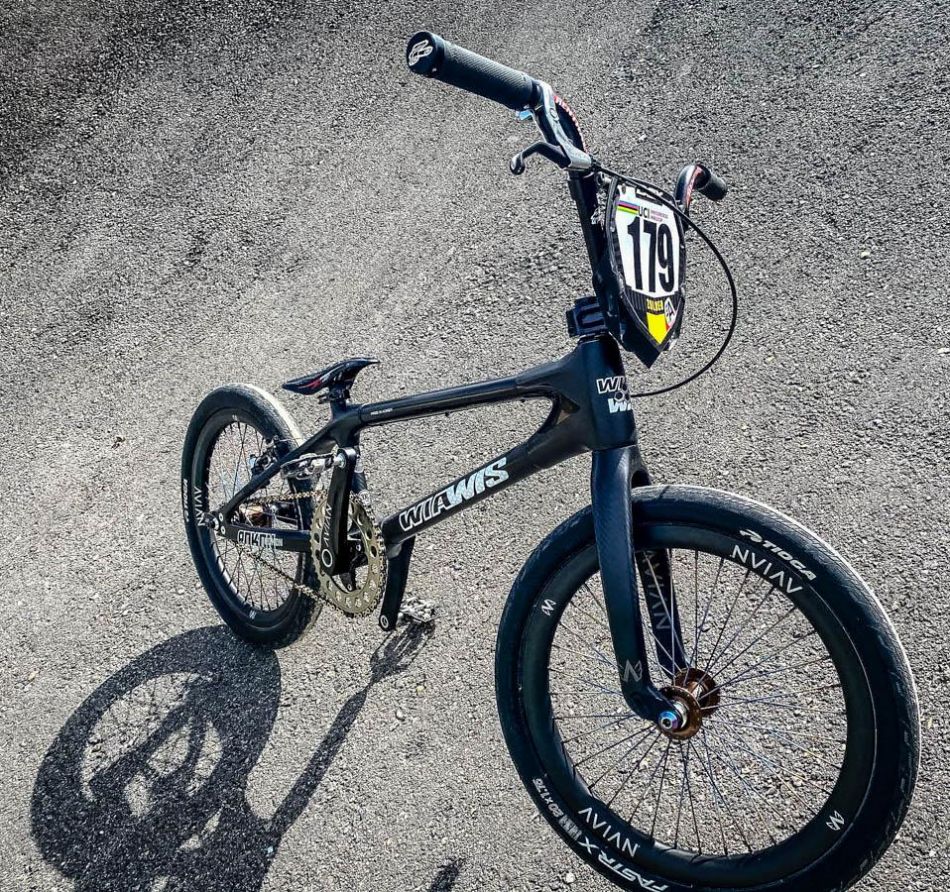 Frame – Wiawis Rokon Pro XXXL
Fork – Avian Brand Versus tapered Carbon Fork
Bars – Renthal Moto 20
Grips – Renthal Ultratacky
Stem – Avian Brand Front Load 60mm
Headset - Wiawis
Brake lever – Shimano DXR
Brake – Shimano DXR
Cranks – Avian Brand Cadence Pro Crank
Pedals – HT Components T1 SX
Sprocket – Renthal
BB – Avian Brand
Chain – Izumi Superthougness
Seat – Tioga D_Spyder EVO Race
Seatpost – It's a combo
Seatpost clamp – Wiawis original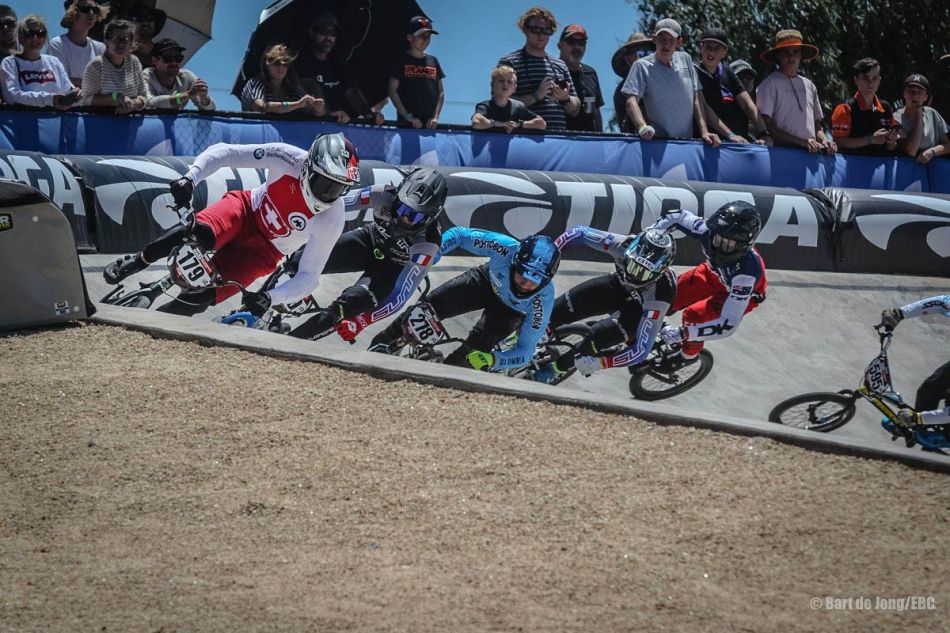 Front hub – Chris King
Rear hub – Chris King
Front rim – Avian Brand Venatic Carbon
Rear rim – Avian Brand Venatic Carbon
Spokes – Titanium
Tires – Tioga Faster X 1.75
Tubes – Schwalbe SV 7
Chain tensioners – Don't even know
Number plate – The one I get at the race
Weight – 8.3 Kg
Thanks to: The World cycling Center, Liam Phillips and all the Sponsers of the Center: Wiawis, Avian Brand, Renthal, HT Components, Tioga