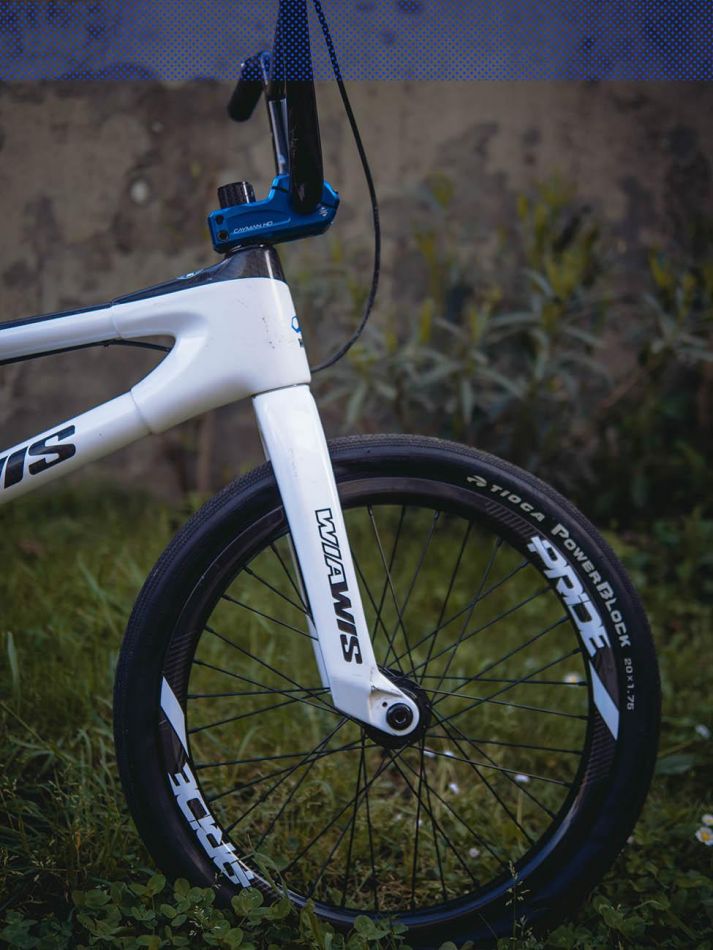 You keep it simple with a white frame and black parts. Are you not a very colourful person?
Mathis Ragot: I have the chance to have different bikes, so I can build them differently during the year. But yes, you're never wrong with black parts.
You do quite some transfers, big jumps, and try different things on the track. Do you break a lot of parts?
Mathis Ragot: I don't break anything, try to stay clean most of the time.
What is the geometry and length of your race frame?
Mathis Ragot: It's a 4XL with 22,5 inch top tube set up with a long chain stay.
Do you ride with flat pedals when you're just messing about or are you always clipped in?
Mathis Ragot: I like to ride flat pedals when it's winter and off season, but when it's almost race time, I use clips.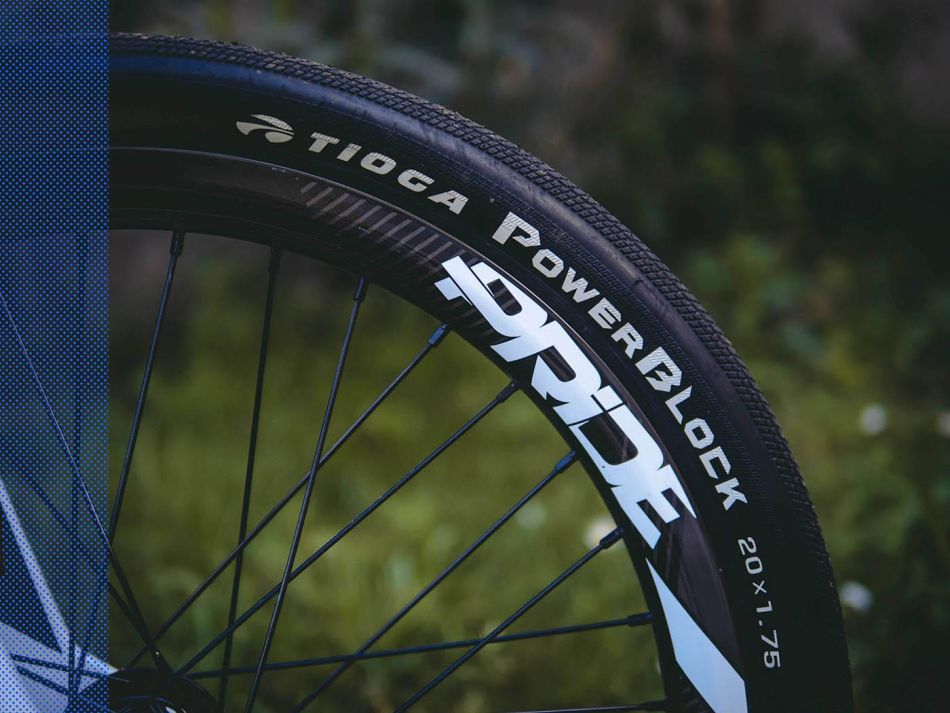 Are you picky about how much your bike weighs?
Mathis Ragot: Not much, I've got Pride racing parts and I know they're strong and light, it's enough for me.
Do you like bike maintenance including the cleaning?
Mathis Ragot: No, I try to clean it more often now since I became an adult haha but as a kid my bike was always dirty haha.
How do you like disc brakes, are they better for manual control than V-brakes?
Mathis Ragot: It's a game changer, less maintenance, smoother in dry and in mud condition, I just love it.
What's a bike part you change on the regular?
Mathis Ragot: I don't actually change parts that much, I've got the same gear on my race bike, I ride my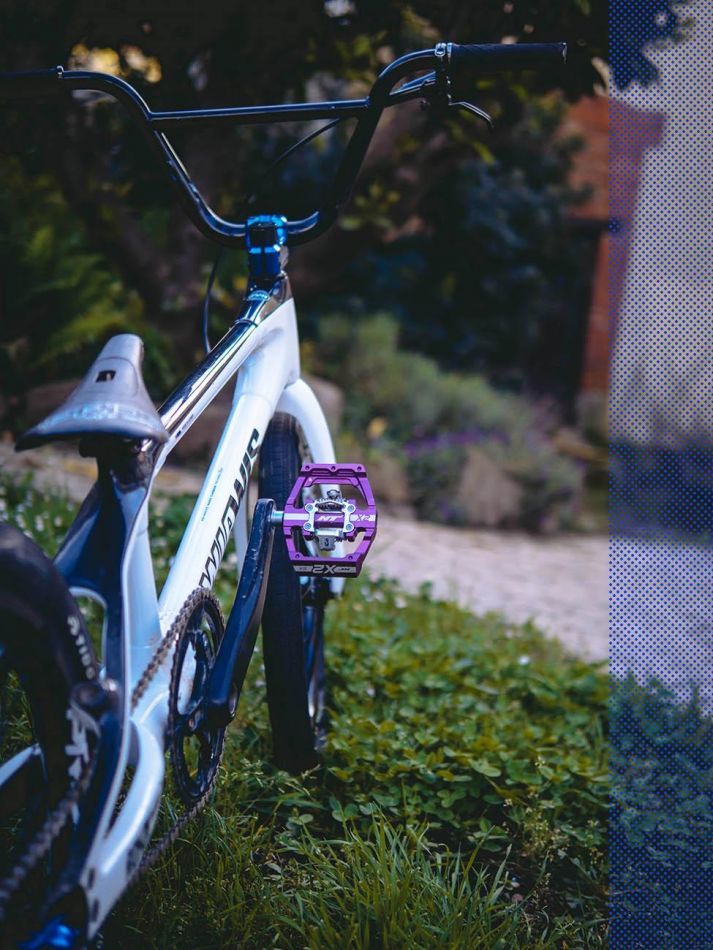 tires to the end haha.
Please take us through your parts list:
Frame - Wiawis ROKON 4XL
Fork - Wiawis
Bars - Pride seven motion 7,5
Grips - Lizard skins Danny Macaskill edition
Stem - Pride over size 58mm
Headset - FSA or Pride
Brake lever - Shimano XT
Brake - Shimano XT
Cranks - Shimano DXR 180
Pedals - HT X2 SX
BB - Forward
Chain - Forward
Seat - Pride
Seatpost - Pride
Seatpost clamp - Wiawis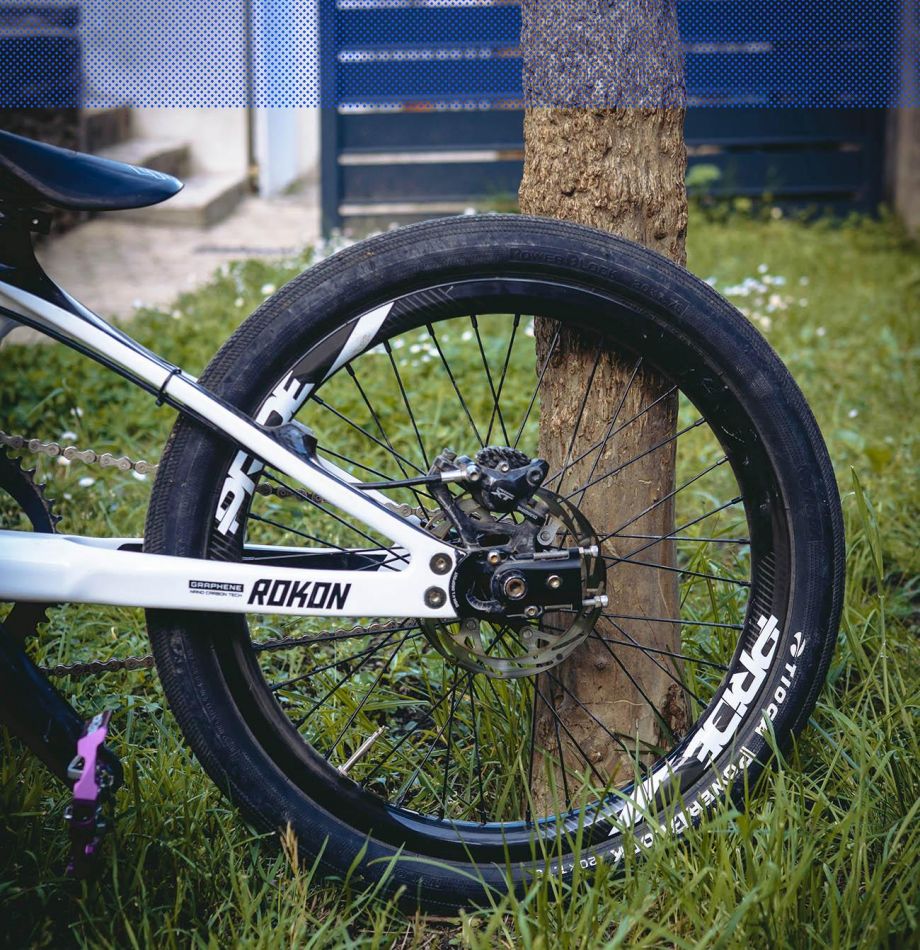 Front hub - Pride 20mm
Rear hub - Pride disc control
Front rim - Pride aero gravity
Rear rim - Pride aero gravity
Tires - Tioga
Tubes - Forward
Chain tensioners - Wiawis
Number plate - 161
Weight - 8,4 kg
Thanks to: Everyone who makes this bike look the way it is. Wiawis / Pride / HT / Lizard Skins + Pro Start / Shot