Monster Quad! Built around huge 29" x 2.8" Vee Speedster tires, this Monster is the biggest BMX bike on the planet. The unique Monster Quad frame design features an oversized downtube, integrated head tube, super stiff BB yoke, and a legendary looptail rear end. The front and rear Avid BB5 disc brakes and 2-piece alloy cranks really put this bike over the top. Watch out now, it's a MONSTER!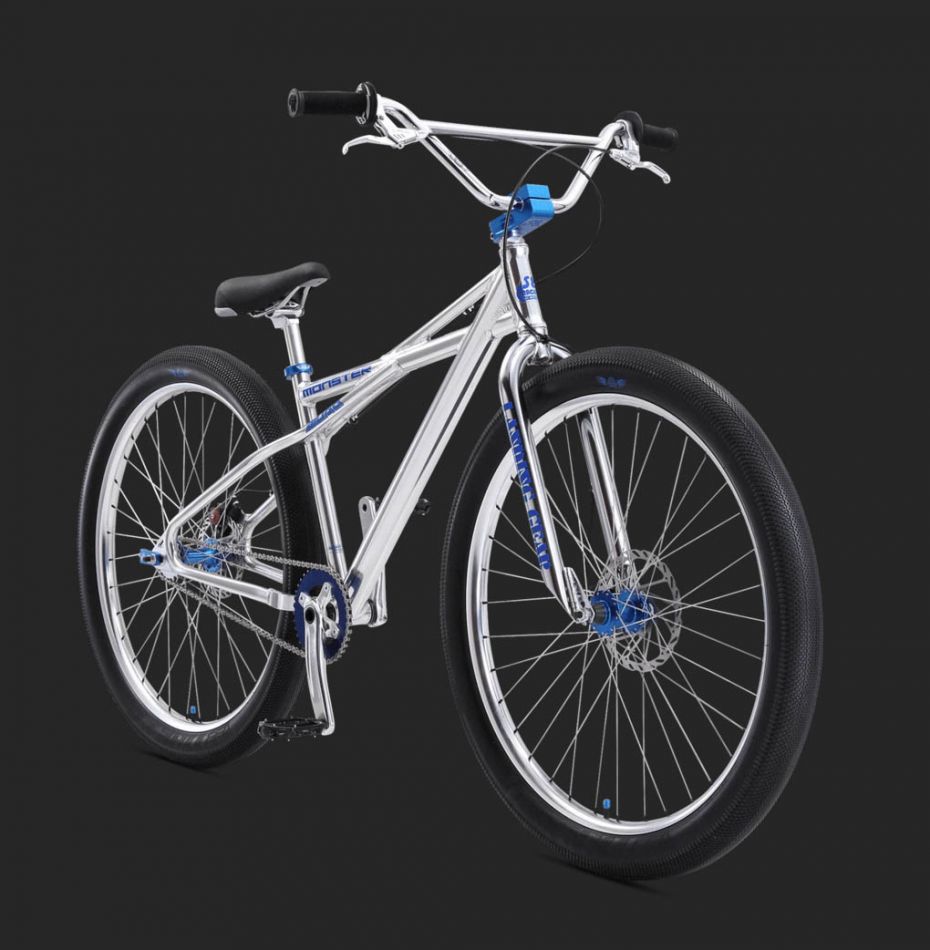 Key Features
-6061 Aluminum Monster Quad frame with oversized downtube, integrated head tube and looptail rear end
-Full Cr-Mo Landing Gear forks
-SE Racing forged alloy 2-piece cranks with 24mm hollow alloy spindle, external sealed bearing bottom bracket and alloy chainring
-Vee Tire Co x SE Racing Speedster 29" x 2.8" tires
-Avid BB5 disc brakes with Tri-Align caliper positioning system, 160mm rear rotor, 180mm front rotor
-Authentic ODI Mushroom II grips with donuts
-Monster Flyer seat with bottle opener
-33.6 pounds
The SE Bikes Monster Quad Giveaway Sweepstakes
THESE OFFICIAL RULES AFFECT YOUR LEGAL RIGHTS BY REQUIRING BINDING ARBITRATION OF CLAIMS, WAIVING CLASS ACTION CLAIMS, AND WAIVING THE RIGHT TO TRIAL BY JURY. IF YOU DO NOT AGREE TO ARBITRATE YOUR CLAIMS AGAINST SPONSORS, DO NOT ENTER THE SWEEPSTAKES.
NO PURCHASE NECESSARY TO ENTER OR WIN. PURCHASE DOES NOT ENHANCE YOUR CHANCES OF WINNING.
ELIGIBILITY
This SE Bikes Monster Quad Sweepstakes (this "Sweepstakes") is open to EVERYONE who is 18 years or older at the time of entry. Entrants will be eligible to win this Sweepstakes. Employees, officers and directors of BikeCo, LLC d/b/a SE Bikes, Advanced Sports ("Sponsor") and their respective parents, affiliates, subsidiaries, advertising and promotion agencies, as well as the immediate family and household members of each such employee, whether related or not, are not eligible to participate in this Sweepstakes (the "Eligibility Area"). By participating you agree to these Official Rules and the decisions of Sponsor, which are final and binding in all matters relating to this Sweepstakes. U.S. only.
DURATION
This Sweepstakes commences on or around February 26th, 2020 and ends on or around March 4, 2020 (the "Promotional Period").
INFORMATION
By registering for the Sweepstakes, you will be agreeing that your registration and any other information provided may be used by Sponsor and that you opt-in to receive email or other communications from Sponsor. You may subsequently opt-out of the receipt of such email or communications by following the directions in the email, communications or by contacting Sponsor directly. Opting-out of such communications will not affect your participation, or chances to win, in the Sweepstakes.
HOW TO ENTER
During the Promotional Period, eligible persons may enter this Sweepstakes by accessing Sponsor's web site at www.sebikes.com, and following the instructions provided to complete and submit the online entry form. Any attempt to enter by any other method is void. Part of the registration information for this Sweepstakes may ask brief survey questions. Your answers to the questions will not affect your participation, or chances to win, in this Sweepstakes. All entrant information, including e-mail addresses, is subject to the respective Privacy Policy of the applicable Sponsor. Entries must be received before the expiration of the Promotional Period. Sponsor's computer is the official clock for this Sweepstakes. Limit one entry per person. Any attempt to obtain multiple entries by using multiple/different email accounts or any other methods will void all such entries and that entrant will be disqualified. All entries become the exclusive property of Sponsor and will not be acknowledged or returned. In the event of a dispute as to who submitted an online entry, the authorized account holder of the email address used to participate will be deemed to be the entrant and he/she must comply with these Official Rules. The "authorized account holder" is the natural person assigned an email address by an Internet access provider, online service provider or other organization responsible for assigning email addresses for the domain associated with the submitted address. Multiple entrants are not permitted to share the same email address. Potential winner may be required to show proof of being the authorized account holder.
WINNER SELECTION
ONE winner will be determined by a random drawing conducted by BikeCo, LLC from all eligible entries during the Promotional Period. The drawing will take place within approximately one (1) week after the end of the last day of the Promotional Period. Entrant whose name has been drawn as winner will be notified by email the day after the drawing. Potential winner may be required to complete, sign and return a W9 tax form and an Affidavit of Eligibility, a Liability Release and where lawful, a Publicity Release within indicated time period. Any entrant who (i) fails to respond to such email notification within five (5) business days after Sponsor's transmission of such email notification; (ii) return the required documentation to Sponsor within the time frame required; or (ii) chooses not to accept the prize, will not be declared a winner, will forfeit his/her prize(s) and, at Sponsor's sole discretion, an alternate winner may be selected. At time of notification, potential winners will be required to provide their first and last name and complete shipping (no P.O. boxes) address. IT IS THE ENTRANT'S SOLE RESPONSIBILITY TO ASSURE THAT HIS/HER EMAIL PRIVACY SETTINGS ALLOW FOR SPONSOR TO CONTACT HIM/HER VIA EMAIL. Entrants are therefore advised to include "@advancedsports.com" on its "Safe Senders" or like email list as well as to check their "SPAM" or junk email folder for email correspondence regarding their participation in the Sweepstakes.
1 PRIZE WINNER (U.S. only)
SE Monster Quad
TOTAL VALUE is approx. $899.99 (U.S.).
A TOTAL of 1 WINNER. The winner will receive 1 (qty.) SE Monster Quad.
Odds of winning the prize depend upon the number of eligible entries received throughout the Promotional Period. Prize may not be transferred, assigned, redeemed for cash or substituted, except that Sponsor may substitute any prize with a prize of equal or greater value in the event the stated prize becomes unavailable.
SE Bikes Newsletter
Your email will be imported into the SE Bikes email list. You are free to opt-out at any time.
TAXES AND EXPENSES
Winners are solely responsible for all federal, state, and local taxes and all other fees and expenses associated with prize acceptance and use not specified herein as being awarded.
GENERAL CONDITIONS
By participating, entrants' consent to the use of their names, cities and states of residence, and/or photographs and/or similar related information for promotional, advertising and other purposes in any and all media now or hereafter known throughout the world in perpetuity by Sponsor, without additional compensation, notification or permission, except where prohibited by law. Entrants agree to release and hold harmless Sponsor and their respective parent companies, affiliates, subsidiaries, divisions, suppliers, distributors, retailers, and advertising and promotion agencies, and all of their respective officers, directors, shareholders, employees, and agents (collectively, "Releasees") from any claims, actions, injury, liability, loss or damage of any kind resulting from participating in this Sweepstakes or from the acceptance, use or misuse of any prize awarded.
LIMITATIONS OF LIABILITY
Sponsor assume no responsibility for lost, late, damaged, incomplete, stolen, misdirected, illegible, unreadable or returned entries; or for any computer, telephone, cable, satellite, network, electronic or Internet, hardware or software malfunctions or failures, garbled, corrupt or jumbled transmissions, or service provider/Internet/web site accessibility or availability, traffic congestion, technical failures, or unauthorized human intervention, or the incorrect or inaccurate capture of entry or other information or the failure to capture such information. Sponsor reserve the right to cancel or modify the Sweepstakes for any reason, including if bugs, virus, fraud, technical failures or any other factor impairs the integrity, administration or proper play of the Sweepstakes, as determined by Sponsor in its sole discretion. In such event, Sponsor reserves the right to award the prize for the drawing at issue in a random drawing from among all eligible, non-suspect entries received for the drawing at issue up to the time of the impairment.
ARBITRATION
PLEASE READ CAREFULLY. YOU ARE WAIVING YOUR RIGHT TO JURY TRIAL. YOU AND SPONSOR AGREE THAT, EXCEPT FOR DISPUTES THAT QUALIFY FOR STATE COURTS OF LIMITED JURISDICTION (SUCH AS SMALL CLAIMS, JUSTICE OF THE PEACE, MAGISTRATE COURT, AND SIMILAR COURTS WITH MONETARY LIMITS ON THEIR JURISDICTIONS OVER CIVIL DISPUTES), ANY CONTROVERSY OR CLAIM, WHETHER AT LAW OR EQUITY, ARISING OUT OF OR RELATED THIS SWEEPSTAKES, REGARDLESS OF THE DATE OF ACCRUAL OF SUCH DISPUTE, SHALL BE RESOLVED IN ITS ENTIRETY BY INDIVIDUAL (NOT CLASS-WIDE NOR COLLECTIVE) BINDING ARBITRATION. Except where prohibited by law or as set forth above, as a condition of participating in this Sweepstakes, entrant agrees that (1) any and all disputes and causes of action arising out of or connected with this Sweepstakes including eligibility declaration forms, publicity releases and waivers, or any prizes awarded, shall be resolved individually, without resort to any form of class action, and exclusively by final and binding arbitration under the rules of the American Arbitration Association and held at the AAA regional office nearest the entrant; (2) the Federal Arbitration Act shall govern the interpretation, enforcement and all proceedings at such arbitration; and (3) judgment upon such arbitration award may be entered in any court having jurisdiction. Under no circumstances will entrant be permitted to obtain awards for, and entrant hereby waives all rights to claim, punitive, incidental or consequential damages, or any other damages, including attorneys' fees, other than entrant's actual out-of-pocket expenses (i.e., costs associated with participating in this Sweepstakes), and entrant further waives all rights to have damages multiplied or increased.
CHOICE OF LAW
All issues and questions concerning the construction, validity, interpretation and enforceability of these Official Rules, or the rights and obligations of entrant and Sponsors in connection with the Sweepstakes, shall be governed by, and construed in accordance with, the substantive laws of the State of Pennsylvania, USA.
RULES/WINNERS' LIST
For the name of the winner(s), available starting on March 13th, 2020 or for an additional copy of these Official Rules, mail a self-addressed stamped envelope to: BikeCo, LLC, 10940 Dutton Rd., Philadelphia, PA. 19154. Please specify the Sweepstakes name and "Copy of Rules" or "Copy of Winners' List". Requests must be received six (6) months after sweepstakes end date. Vermont residents may omit return postage for "Rules" requests.
Administrator: BikeCo, LLC, 10940 Dutton Rd. Philadelphia, PA 19154