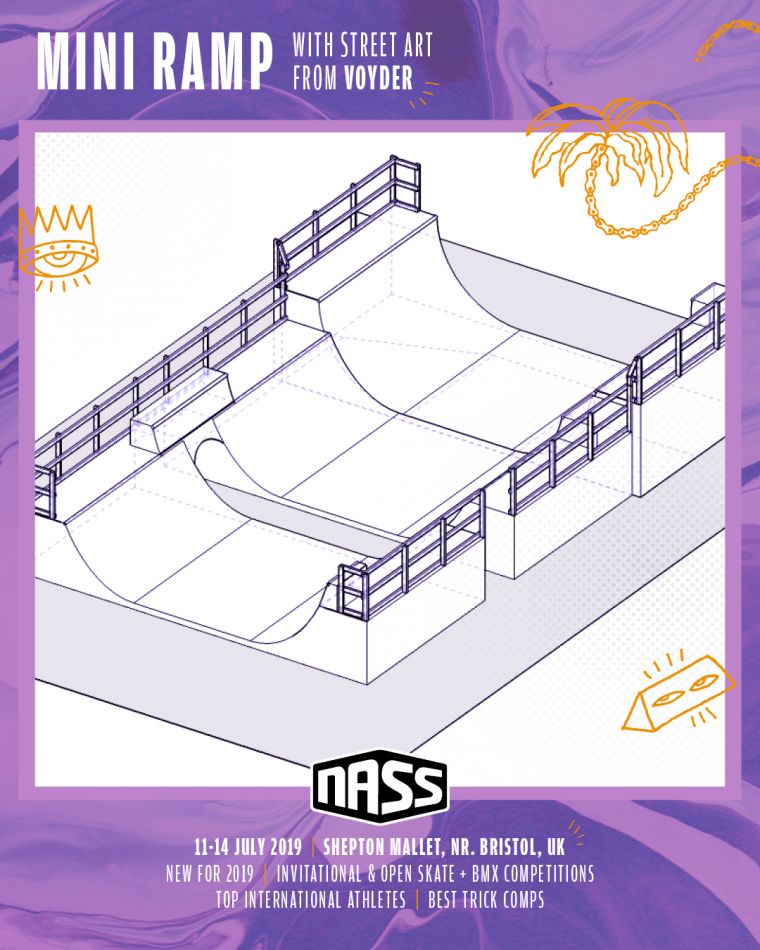 Other competing park riders include Austin Augie (USA) Jack Watts (GBR), Mati Lasgoity (ARG), Kaine Mitchell (GBR), Tom Justice (GBR), Felix Prangenberg (GER) Tom Van Den Bogaard (NL), Harry Mills-Wakley (GBR), Tariq Haouche (GBR), Michal Kovačovič (SVK), Emmy Campbell Proctor (GBR), Izzy Burrell (GBR) and Michal Smelko (CZE) plus many more, see below for further details.

This year riders will be competing in three different disciplines across BMX Park, BMX Street and new addition, BMX Mini Ramp. The finals for all three disciplines are being held on Sunday 14 July, along with Best Trick competitions in all three of the aforementioned disciplines. Returning for 2019 is NASS' legendary BMX Wallride Jam (Saturday 13 July), sponsored by Fireball, it's a cash for tricks Jam that always makes for an entertaining and awe-inspiring watch. The Plaza which serves as a public skatepark will be back with an all new course design; attendees are encouraged to bring their bike with them to experience the festival to its fullest.

Created by the UK's leading park designers FourOneFour, the NASS 2019 Pro Park has been carefully designed to cater for street and park riders. Exciting new features have been added to this year's park including a hammer section with a stair set and a driveway tech section for the street heads, plus transition gaps and hips for the park heads. In keeping with the spirit of the festival, Bristol-based artist, Mr Penfold will be transforming the park into a bespoke art piece.
Giving back to the core communities that it celebrates is of paramount importance to NASS, from enlisting pro athletes in the ramp building process to partnering with skate charity, SkatePal. This year NASS donated £5,000 to SkatePal to develop plans for a new skatepark in Palestine and expand their reach to empower more young people through skateboarding. As NASS grows, they will continue to support the great work that goes on by organisations dedicated to skate, BMX and street art, which sit at the core of the festival.

2018 BMX results:
BMX Park Invitational: 1st Justin Dowell, 2nd Nick Bruce, 3rd Jack Watts.
BMX Street Invitational:1st Alex Kennedy, 2nd Sam Jones, 3rd Joe Jarvis.
Womens BMX Park Open: 1st Lara Lessmann, 2nd Sasha Pardoe, 3rd Jay Lewis.
BMX Park Open: 1st Callum Woodland, 2nd Jack Hall, 3rd Allister Loughran.
BMX Street Open: 1st Kris Bunnage, 2nd Andrew Skinner, 3rd Jason Webber.

WWW.NASSFESTIVAL.COM