How many weekends/days were you away from home and at a BMX jam/contest or on tour?

Brandon Loupos: This year was the longest by far, in total I was away for 7-8 months from Sydney! But I loved it.
What was the best event you went to this year that gets your vote?

Brandon Loupos: It's a tie between X games and the UCI BMX freestyle World Championships. It's always been my dream to ride X games but to ride the first UCI World Championships was an honour! Even though I crashed out and got 10th in the final I'm just excited that I qualified 2nd into that final. I can't wait to do my best next year in 2018 in all the events. 



What contest placing were you stoked on this year? 

Brandon Loupos: Winning Fise Budapest was great! Also finishing 5th at X Games was always as well as getting 2nd in Bmx best tricks at Nitro World Games was awesome too!




What trick/move were you happy to pull for the first time this year?

Brandon Loupos: 1080 front flip for sure! I did it at the Nitro World Games first try without ever trying it into a foam pit or anything. I just sent it and it worked ahaha!

What BMX move stands out the most to you that somebody did this year?

Brandon Loupos: I'd have to say is Colton Walker's flair whip to bar, not because he does them so easy but does them in his contest runs! Definitely next level!




Who had the best looking bike in 2017?


Brandon Loupos: My Jet Fuel Hyper Indy was looking schmick while I had it... ;)


Who had the best video/video-part that stuck out to you?

Brandon Loupos: That's a hard one, I watch so many amazing videos it's hard to pin point the best one. But I'd have to say all of Harry Main''s edits were a big influence on me for sure. 


What was your worst injury in 2017?

Brandon Loupos: I hurt my tailbone earlier in the year and couldn't ride for a couple of weeks, that sucked. But I fractured my ankle at FISE Montpellier in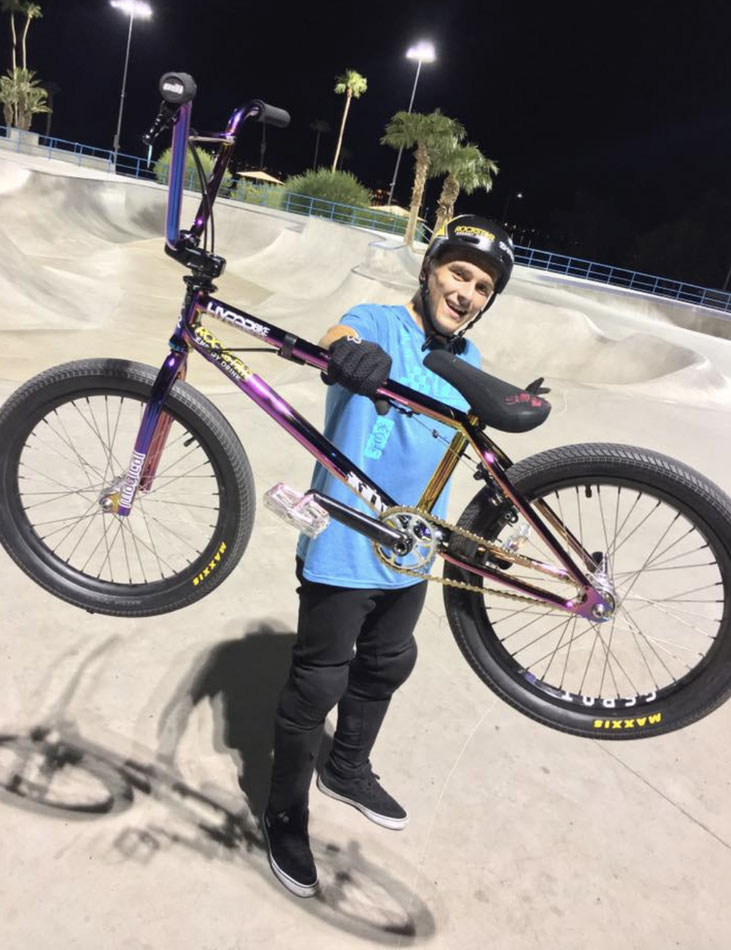 the spine ramp comp and the next day I rode park finals and finished 6th which I was stoked about! It definitely killed me to ride but thanks to Trish she helped me a lot to get through it. I also crashed pretty bad before finals started at the World Championships this year and really hurting my AC joint in my shoulder. But again. Thanks Trish! She helped me get back to riding it and also thanks to my coach, Wade Bootes who helped a lot too! So 2017 wasn't an ideal year but I still got through it healthy and ready for 2018.

Worst thing that happened while you're on the road?
Brandon Loupos: Being broke and not being able to afford food, going to a contest and doing well and making money so I can eat again! Probably worse thing ever.

How many flat tires did you have the past 12 months?
Brandon Loupos: I think a solid 7 or 8!

Best meal you had?
Brandon Loupos: Anything my grandma cooked always hit the spot.

Best party you visited in 2017?
Brandon Loupos: I didn't go to a lot but the FISE Montpellier party at the Aussie bar got insane this
year!

Raddest person you got to hang out with this year?
Brandon Loupos: My grandma.

Best thing you saw in 2017?
Brandon Loupos: Bmx freestyle being welcomed into the 2020 Olympic Games!

Plans for 2018?
Brandon Loupos: To do my best in every event I go in, have as much fun riding my bike as possible and film a new edit!