"I'm so pumped that the Ethika x Nitro Circus Collection will be available for our U.S. andCanadian fans," said action sports icon Travis Pastrana, co-founder of both Nitro Circus and Ethika. "Ethika's design team has collaborated with our riders every step of the way and I think fans will love the results. I am stoked to connect the Ethika and Nitro Circus families."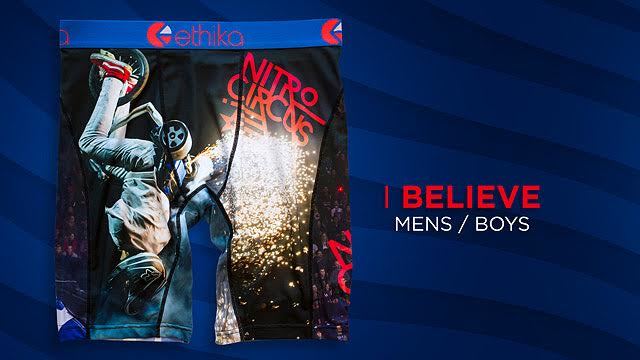 Action sports fans got an advance look at the Ethika x Nitro Circus Collection both at Nitro Circus' San Diego show, a massive event held at Qualcomm Stadium earlier this month, as well as the Nitro World Games this past Saturday at Salt Lake City's Rice-Eccles Stadium. In both cases, the reaction was electric with attendees snapping up product on site. Now fans throughout the U.S.A. and Canada can purchase these styles at ethika.com.

In addition to this online release, look for more news regarding retail availability coming soon. This launch is the first product release since the September 2016 announcement of Ethika's partnership with Nitro Circus. It also follows the March 2016 debut of Ethika's signature Pastrana Vintage collection.