European Title. After the LCQ, the racing is easy to follow as the first 4 finishers transfer to the next round. With Junior, U23 and Elite classes racing for the titles on Saturday, the program delivered the goods.
It remains impressive how fast the racing is these days and the level of bike handling skills the top Men and Women racers bring to the track. Olympians Natalia Afremova (RUS), Manon Valentino (FRA). Simone Tetsche Christensen (DEN), Zoe Claessens (SUI) and Natalia Suvorova (SUI) all made the main in Elite Women. Had this race been the Olympic Games, Tessa Martinez (FRA) would have grabbed the bronze medal. Instead of Olympic Gold, the French rider rocking the 08 plate, can add a third place at the 2021 European Championships to her C.V.. Zoe Claessens as wel as Manon Valentino were both rocking their Olympic bikes in Belgium already. The two of them would have been okay with these results in Tokyo as Zoe rode to first place and the UEC title, while Manon finished nearly a second later in 2nd.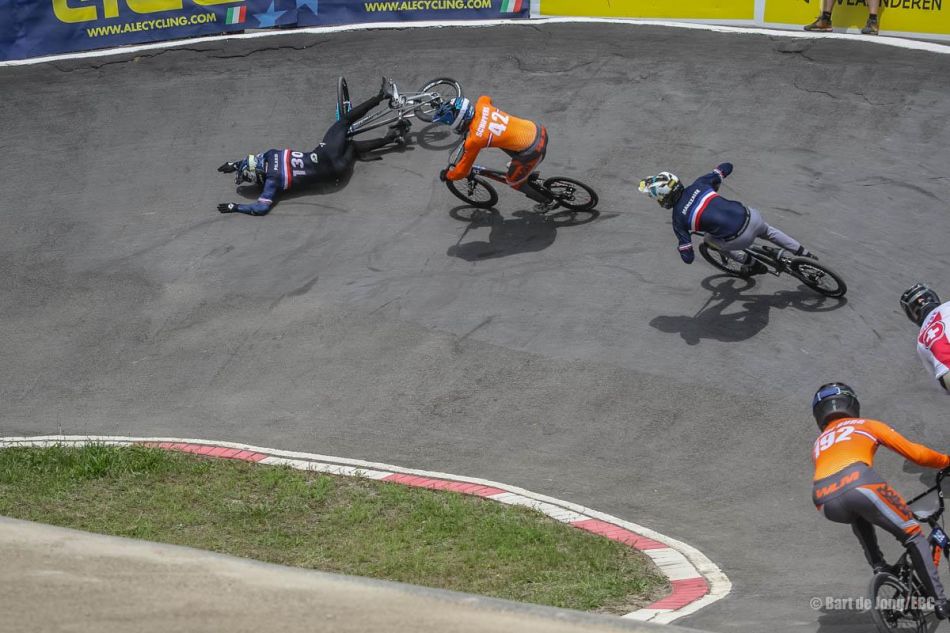 In the intro to the story I gave away who won the 2021 Elite Men title. It is no surprise that Arthur Pilard grabbed it as he has been in top shape to past few months. But it did not come easy in Belgium as the Frenchman went down on his own in the second turn in Round 1 but regrouped in time to race to first place at the end of the day. Dutch 2021 EM Champion Mitchel Schotman (NED) nearly had it and Eddy Clerté wasn't too far off either. Less than 0.3 seconds separated the three riders at the finish while the crowd went nuts. Schippers, Katyshev and Richard completed the top 5.
Photos by Bart de Jong / FATBMX