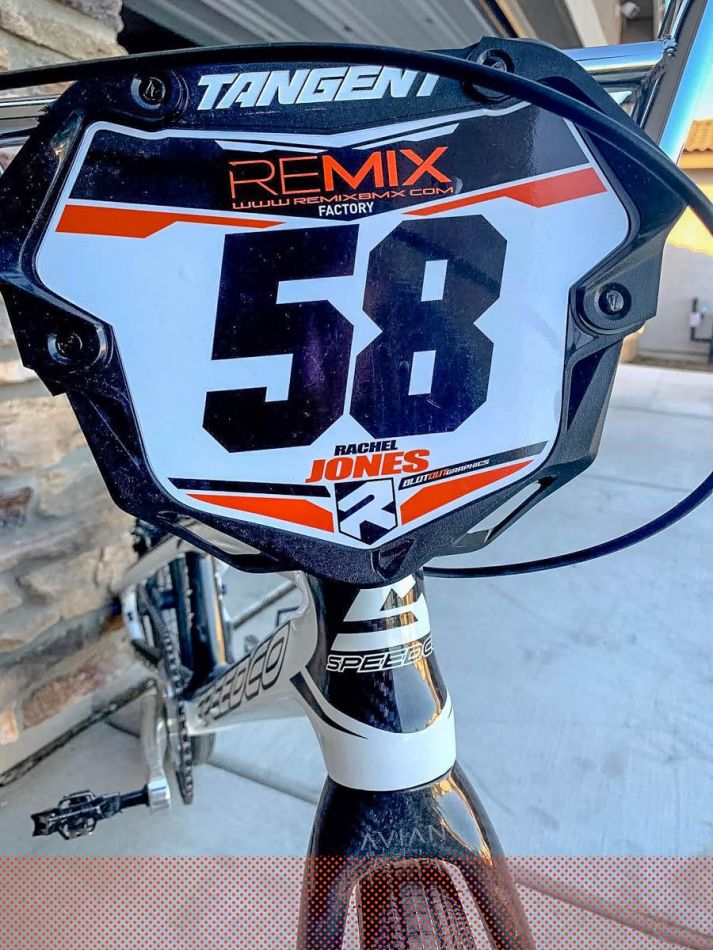 Rachel Jones: When I first switched over to carbon a few seasons ago after having an aluminum frame, I didn't love the feel, but a few sessions in and I didn't want to ride anything else. I enjoy my carbon frame right now!
What is the geometry and length of your race frame?
Rachel Jones: Pro 20" which is a 20.5" top tube and a 14.75" rear center. I enjoy the smaller top tube size so I can get the bike moving around.
Any special reason where the #58 career number came from?
Rachel Jones: Honestly, it's sad to say but it wasn't my original choice. I think it was third down the line. I wanted 13, I grew up playing all kinds of sports and that was always my number. My second choice was 36, it was my motorcross number as a kid, my dad's motorcross number when he raced and the house number I grew up in. I'm still not sure why I never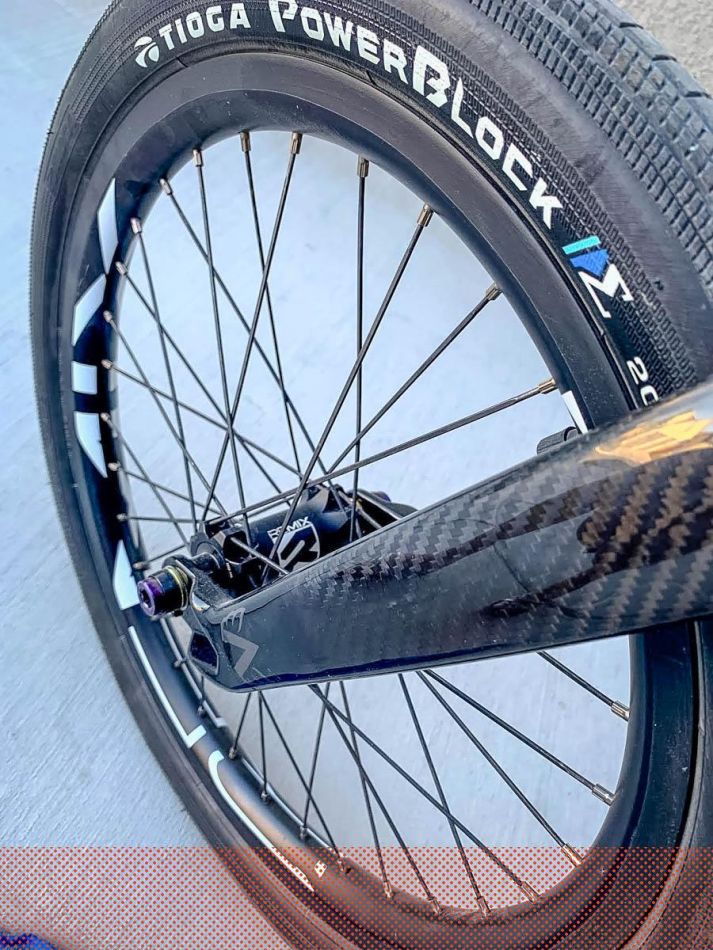 got either of those two options! No specialty to 58. I have considered trying to apply again for a change to one of those numbers, there are just so many females coming into the elite level I'd probably get stuck with a 3 digit career number!
Are you using pre-printed stickers to put on your number plate? Did you help design it so your co-sponsors get a logo on the plate as well?
Rachel Jones: It is a pre printed Remix number plate, designed by Blotout graphics!
Are you picky about how much your bike weighs?
Rachel Jones: Never really have been, it's not something I notice.
Do you like bike maintenance including the cleaning?
Rachel Jones: I enjoy doing my own bike maintenance, it's rewarding. It's a nice feeling to know if something goes wrong I can take care of it myself. Living in the Valley right now in the US my bike is almost always dusty, but she gets a regular cleaning!
What's a bike part you change on the regular?
Rachel Jones: Nothing I can think of that's super regular, it could be brakes and brake pads. I like them to feel good and I like keeping my Remix wheels clean with new brake pads. I'm the type to run it for long periods of time until something needs replacing.
You've got five minutes to put your bike in the bag to fly to the next race. Could you do it?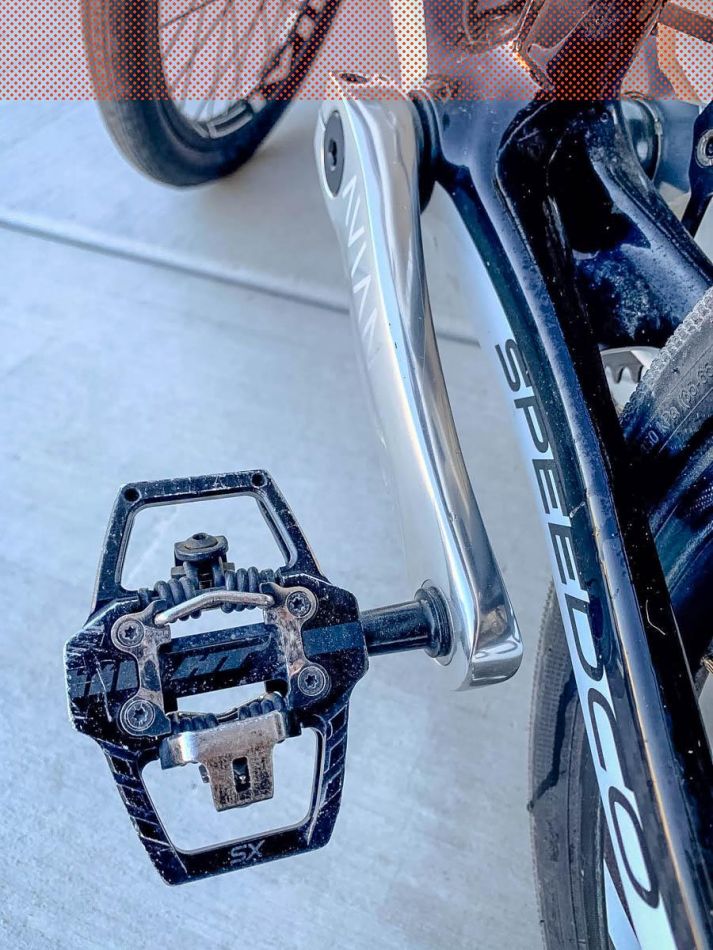 Rachel Jones: Yes and I could probably do Brooke's in that amount of time too haha
---Please take us through your parts list---
Frame - Speedco Velox Carbon Pro 20"
Fork - Avian Versus Carbon Fork (10mm)
Bars - Avian 64 Impala 8" Rise 6 degrees back sweep, 4 degrees up.
Grips - ODI Cross Trainers
Stem - Tangent 48mm
Headset - Cliq
Brake lever - Shimano DXR
Brake - Shimano DXR
Cranks - Avian 172.5
Pedals - HT Components T1 SX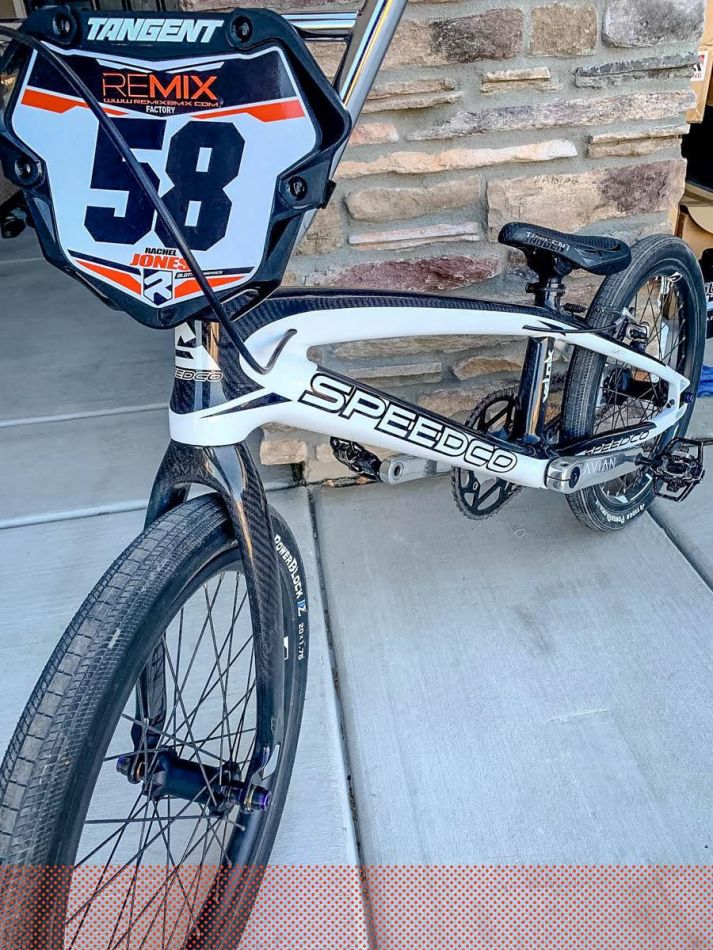 Sprocket - Tangent 44t
BB - Shimano Press Fit
Chain - Shimano 8 Speed
Seat - Tangent Remix Pivotal Seat
Seatpost - Tangent Pivotal
Seatpost clamp - Tangent
Front hub - Remix
Rear hub - Remix
Front rim - Remix
Rear rim - Remix
Spokes - Cold-forged Sandvik T302 aero bladed spokes
Tires - Tioga PowerBlocks 1.60 back, 1.75 front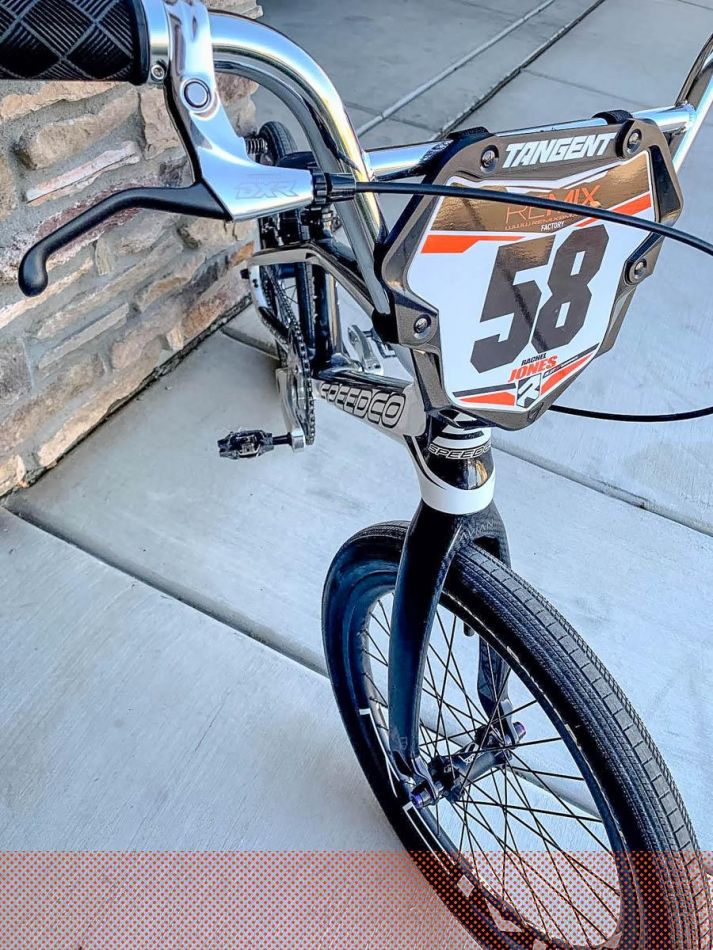 Tubes - Nothing special, I couldn't tell you what's in it right now
Chain tensioners - Speedco Dropout Tensioners
Number plate - Tangent
Weight - not sure
Thanks to: A big thanks to Remix BMX and Dale Robsinson, they have been supporting me for a couple seasons now I couldn't be more grateful for it. It's a great team environment and it helps keep the fun in it. Thanks to Speedco/Avian for parts and frames. Thanks to my family back in Australia, they're always supporting what I do, no matter where I am. Thanks to my family here now and of course my fiancé, Brooke. She has been through it all and always supported me!

Pics provided by Rachel Jones