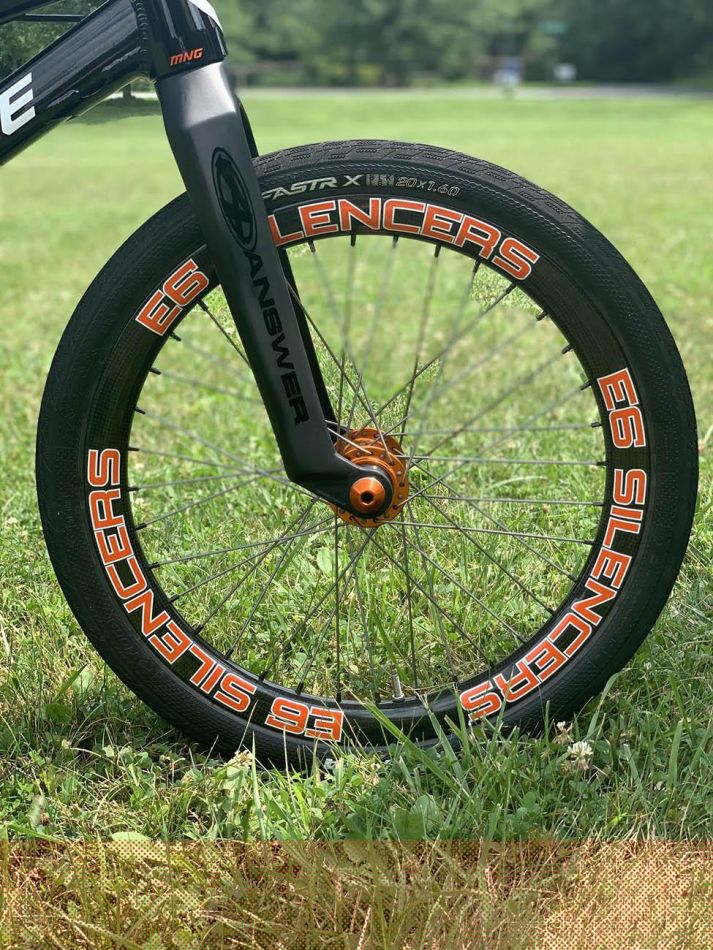 Payton Ridenour: I absolutely love my bike! I have E6 carbon rims with orange accents and orange Onyx hubs which is just enough pizazz to make my bike pop.

Do you have a separate bike for pump track riding?
Payton Ridenour: No, I ride my race bike for both.

Does anything on the bike show you're the pump track world champ?
Payton Ridenour: SevenTen Graphics made me some name stickers with world champion stripes on them, and I also have the stripes on one side of my custom WD-40 helmet.
What is the geometry and length of your frame?
Payton Ridenour: My frame has a 20.75 top tube.

Do you experiment much sizes of your frame, stem, bars to find the right set-up?
Payton Ridenour: I experiment a little bit, but when I find something that works well for me I usually don't change it. I think I'm finally done growing so my bike set up should be staying about the same now.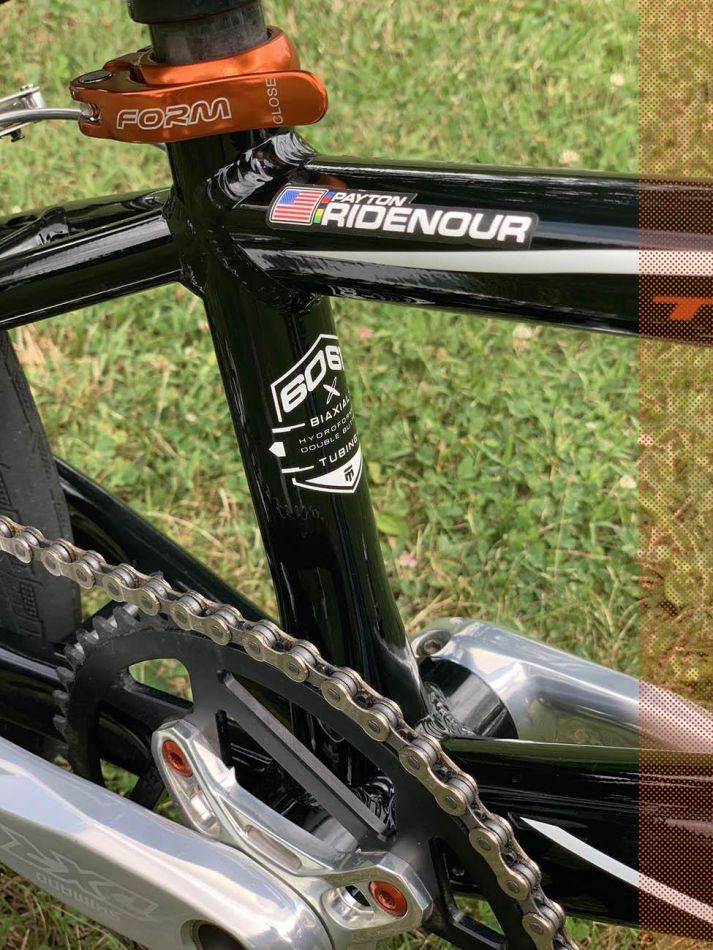 Do you have something customized to make your bike more personal and perfect for you?
Payton Ridenour: Yes! I actually have a custom Mongoose frame that works super well for me! This frame has a longer rear chain stay which is perfect for big hill racing. I also have "P-Nut" engraved on my Onyx rear hub.

Usual tire pressure?
Payton Ridenour: 80 psi

What's a bike part you change on the regular?
Payton Ridenour: I'm constantly changing my pedals between flats and clips. I ride them both about the same amount—maybe flats even more. I also change my chain a few times per season.
Is the bike anxious for the next track session?
Payton Ridenour: Always! My hometrack opened up a few weeks ago so I've been riding there a lot. But during quarantine I'm lucky enough to have a small track in my backyard to ride. It's a lot of work to maintain but it's awesome to have!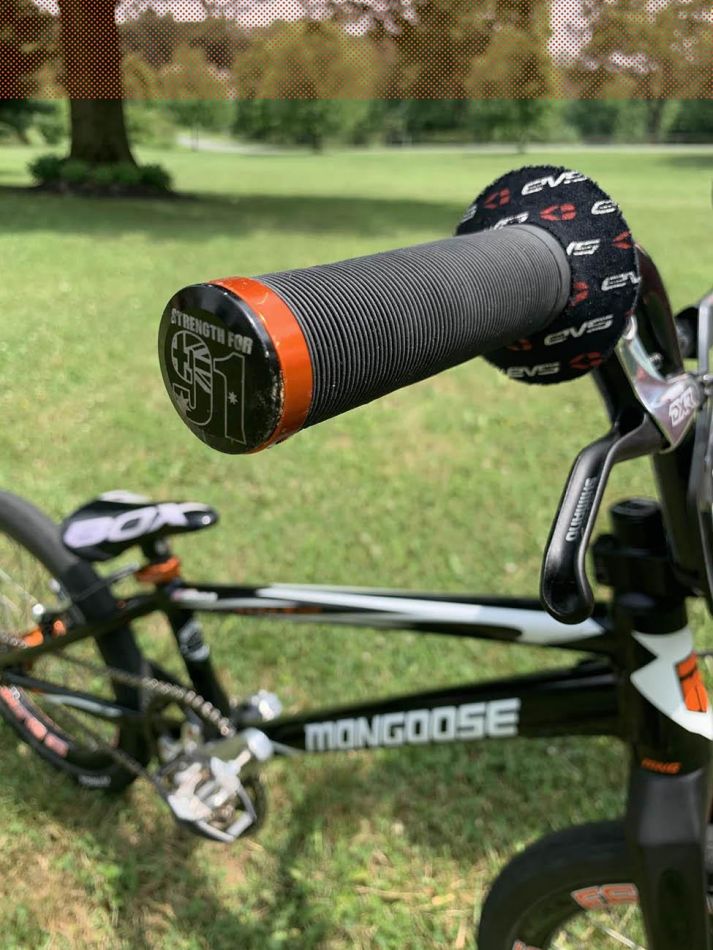 Please take us through your parts list:

Frame – Mongoose Title Elite
Fork – Answer Dagger
Bars – 8" chromoly
Grips – ODI with flanges (plus EVS donuts and Strength for 91 bar ends)
Stem – 53mm top load
Headset - integrated
Brake lever – Shimano DXR
Brake - Shimano DXR
Cranks - Shimano DXR
Pedals – Shimano DXR flats/clips
BB – 86mm press fit
Chain - Shimano
Seat - Box
Seatpost clamp - Form
Front hub – Onyx Helix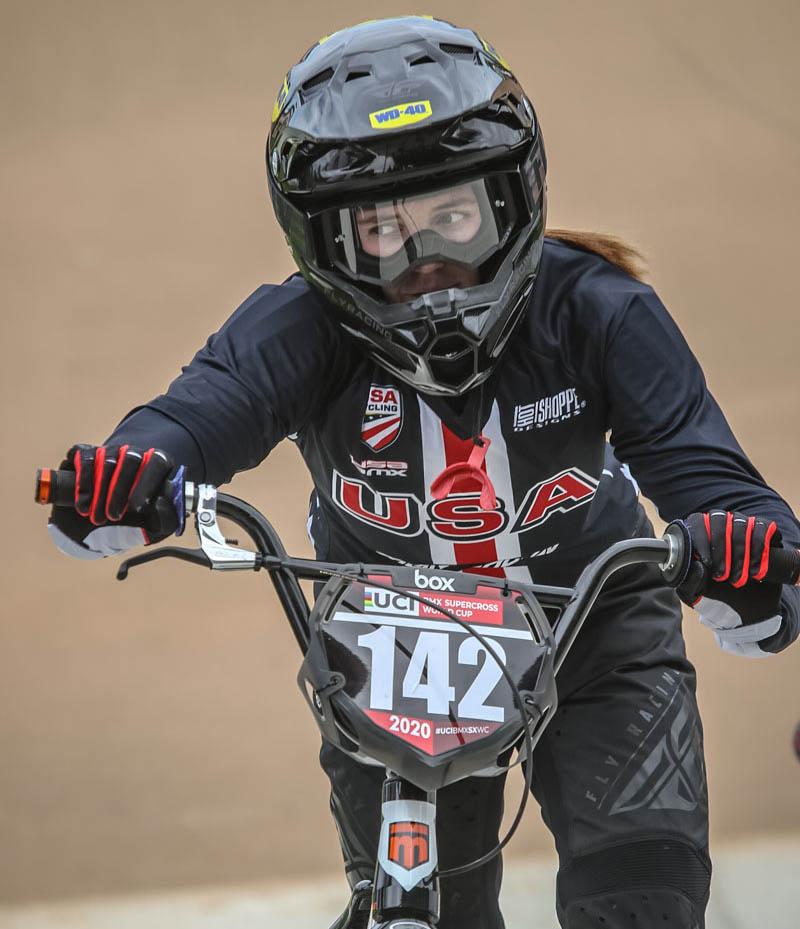 Rear hub – Onyx Ultra
Front rim - E6 Silencers
Rear rim – E6 Silencers
Spokes - ti
Tires – Tioga Faster X
Chain tensioners - Answer
Number plate – Answer plate with HRP Designs sticker

Weight – 19.8 lbs

Thanks to: Huge thank you to my mom and dad, coach Arielle Martin-Verhaaren, Jamie Staff, Scott Mechler, J Bertles, all the guys at Mongoose, and my sponsors for giving me so much opportunity along my journey!