Where: Encino Velodrome, infield BMX flat track, Encino, California.
When: Early Spring of 1975.
What Happened: BMX was really starting to catch-on and tracks were popping up all over the southland. Much to the dismay of many of the track bike racers the management over at the Velodrome thought it would be a good idea to build a motocross course in the infield and host some BMX races. I shot this photo on their grand opening night after helping with track layout and construction. It was a success! And some of the BMX racers became interested in riding track bikes.
Why This Photo: Out of all the pictures I took of John, this one is my personal favorite. Take a close look at John's bike. The frame is a hand made 4130 chromoly top and down tubes with Schwinn Stingray rear stays and head tube. The bottom bracket was raised two inches to allow the use of a longer Schwinn Varsity crank for more leverage and higher gear ratios. The fork was made by Redline. Wheel set - AJ 36-spoke aluminum rimmed front and Motomag rear with Bendix coaster brake. I fabricated his seat from an old Schwinn banana seat by adding extra padding and covering it with Levi's jeans. There were only a handful of these team bikes made beginning in the spring of 1974 by Russ Okawa (manager) and Mike Frankowich Mechanic/welder) at Canoga Cycle Center in Canoga Park California. When John was on that bike, he was practically unbeatable.


Picture 1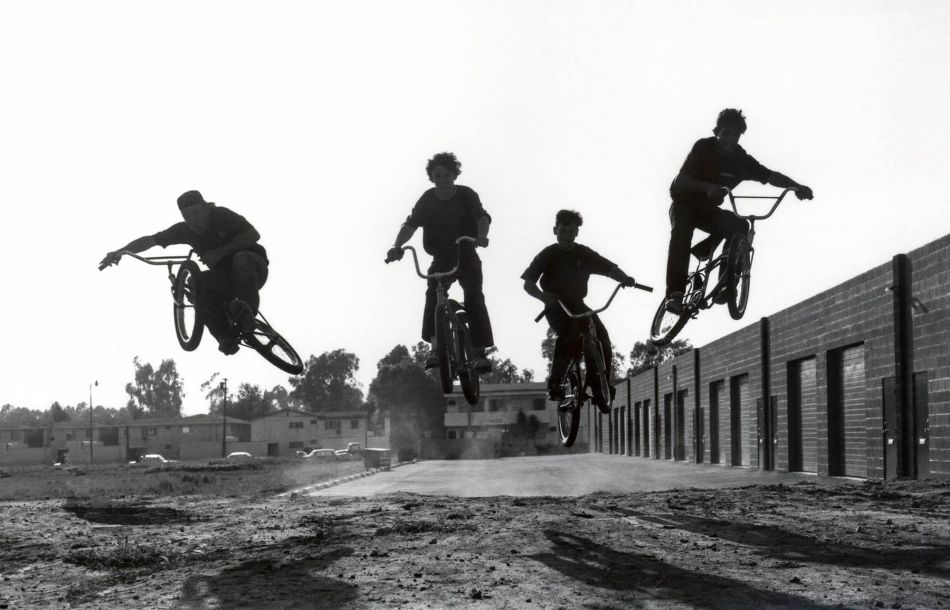 Who: (L-R) Bill Ford, Mike Aldred, Butch Baum and John George. We had just received our new Canoga Cycle Center BMX Team shirts that Russ Okawa had made. Completely stoked, we decided to head over to our closest hot spot wearing our new shirts for some photos. I shot a roll of 36 exposure black and white film and got a lot of killer pics but this one was the money shot. Tight formation, everyone has decent air, the light was good and none of the guys hit me after landing.
Where: Our neighborhood hot spot for jumping next to a new industrial building in Canoga Park, California. It was a 4 foot high launcher with a fresh asphalt runway to build speed and hard flat landing pad. Nothing fancy but lots of air. We used to meet at Lanark Park after school which is a block away from this jump.
When: Winter of 1974.
What Happened: We had a blast and got some epoch shots for the shop.
Why This Photo: I chose to send you this image because it unequivocally defines BMX in the early 1970's. Friends on their customized Schwinn Stingrays having fun and getting rad. My idea was to get all of my buds in the air at the same time. Sounds easy, not so much, but we had a blast trying!
Photos by Mel Stoutsenberger