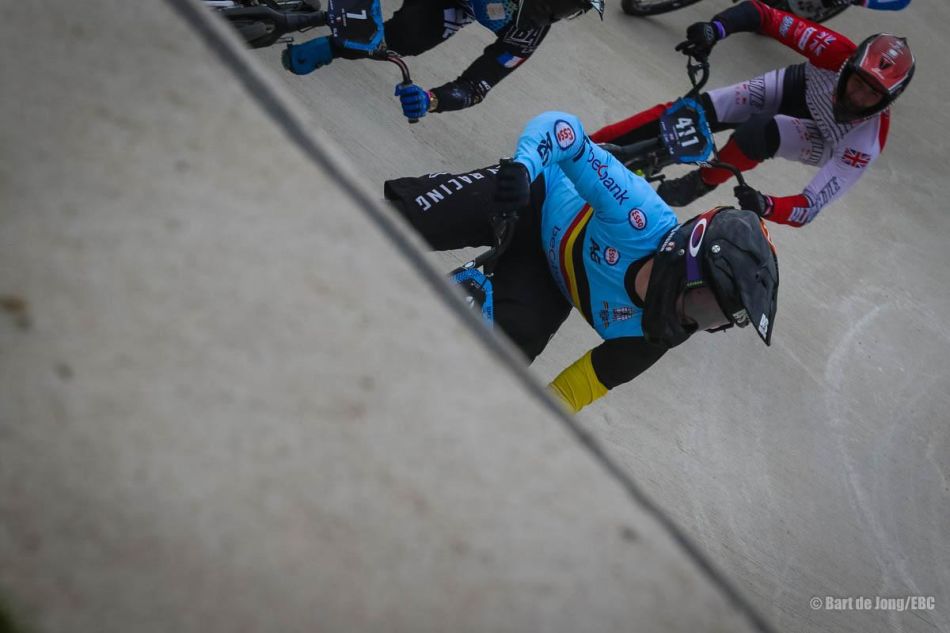 Imagine you have to pass an important exam or carry out a difficult task, but your brain refuses to extract necessary information. The source of such a problem may lie in your nutrition. In case of inability to perform an urgent task, you are free to address custom writers and use homework assistance services. It will help you reduce stress and eliminate the pile of work! Still, nutrition remains a factor that needs improvement, especially if you often spend your free time doing sport.

The fact that an athlete is constantly training already indicates that they spend much more energy than an ordinary person. Thus, an athlete's nutrition should consider height, weight, gender, and sport. So ideally, the diet should be compiled with a coach and a nutritionist. Still, some basic recipes are available to all, which will be considered in the following passages.

Breakfast: Fried Eggs in Pepper Rings
Every professional athlete includes tomatoes and peppers in the diet. These vegetables are rich in vitamins A and C, contribute to the rapid recovery of muscles, and increase the elasticity of blood vessels. Why not make your breakfast rich in beneficial elements?
Ingredients:
2 eggs;
1 pepper;
1 tomato;
1 tbsp of butter;
Preparation:
Cut the pepper into 2 cm thick rings. You should get about 3-4 pieces. Cut the tomato into thin slices.
Melt one tablespoon of butter in a frying pan and add the sliced ​​rings. Fry them a little on both sides.
Place one slice of tomato and break one egg into each of the rings.
Continue to cook over medium heat for about 4-5 minutes, season with salt and pepper to taste. Put on a plate and garnish with herbs.
Snack: Diet Bars with Quinoa
Athletes often choose stewed, boiled, and steamed food instead of the usual fried, spiced dishes. Moreover, they either limit or completely reject the consumption of sweet food. But what can replace chocolates and sweets? There is a way out - diet bars with quinoa.
Ingredients:
oatmeal - 1 cup;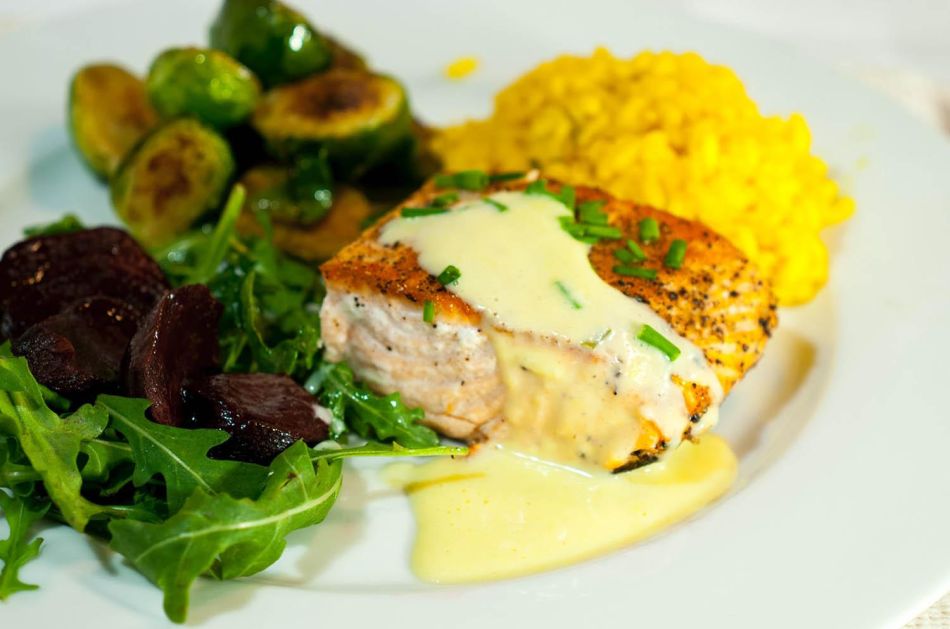 quinoa - ¼ cup;
cranberries - ½ cup;
mix of nuts - ⅓ cup;
prunes - ⅓ cup;
2 bananas;
Preparation:
Mix oatmeal and quinoa thoroughly. Add cranberries, nuts, and prunes to the mass.
Blend everything in a blender until smooth.
Add bananas and grind again with a blender.
Form small bars from the mass and pack them in foil to resemble the shape of bars.
Put the resulting briquettes in an oven preheated to 160 degrees and bake for 20-30 minutes.

Lunch: Fish Steak
Proper nutrition is the fundamental basis of bodybuilding. Only by consuming the required amount of proteins, fats, and carbohydrates can an athlete count on the progress of his form and strength indicators. Thus, eating properly cooked fish is the best way to ensure all the elements are incorporated into the diet.
Ingredients:
fish: it is better to take cod, but salmon or trout can also be used;
greek yogurt - 150 grams;
broccoli - 200 grams;
garlic - 3 cloves;
lemon juice - 1 tablespoon;
pepper, salt, rosemary - to taste;
Preparation:
Cut the fish into medium-sized pieces. Grate garlic onto each piece, pour lemon juice and let it brew for 20 minutes.
Add pepper and finely chopped garlic to the yogurt.
Add broccoli to boiling water and simmer it for 5 minutes over low heat. You can add some salt but be careful with it.
Put the fish into the oven preheated to 180 degrees for approximately 40 minutes.
Put the broccoli and fish on a plate and pour over the resulting yogurt sauce.

Snack: Lemon Protein Muffins
The recipe given below is a very tasty and healthy dessert, which especially pleases bodybuilders trying to gain some muscle weight.
Ingredients:
1 cup of oatmeal;
2 scoops of vanilla protein;
salt - ¼ teaspoon;
soda - ½ teaspoon;
4 egg whites;
250 g of applesauce;
150 g of water;

Preparation:
First, preheat the oven to 350 degrees.
Mix oatmeal, protein, salt, baking soda, and citric acid in a large bowl.
Mix egg whites, applesauce, and water in a separate bowl.
Combine both mixtures.
Grease baking forms with butter.
Pour the mixture into the forms and bake for 25 minutes.

Dinner: Chicken with Asparagus Beans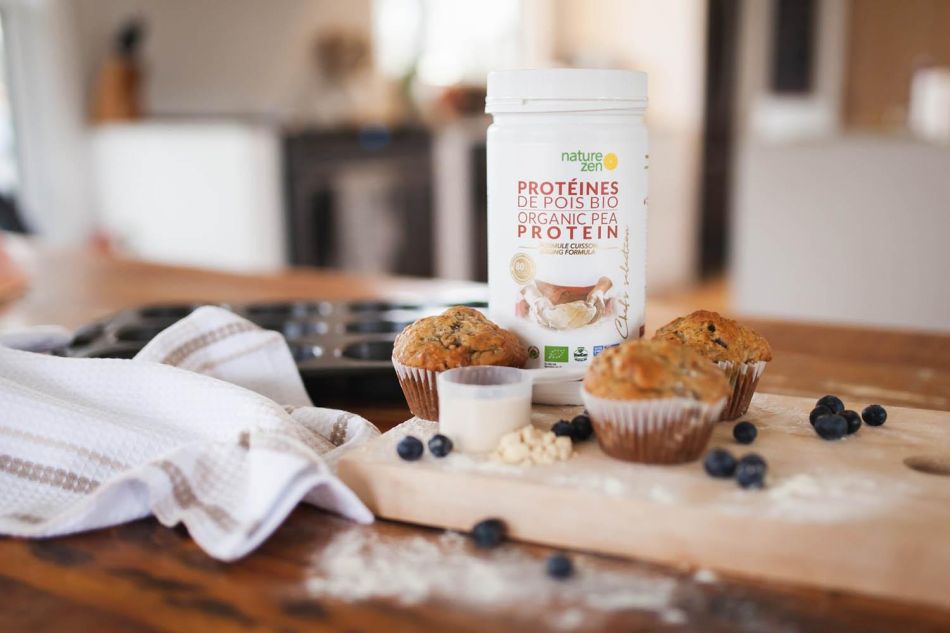 Ingredients:
chicken 400-500 g;
beans 400 g;
garlic - 2 cloves;
1 onion;
soy sauce - 2 tablespoons;
sesame seeds - 1 tablespoon;

Preparation:
Preheat the oven to 180 degrees. Grease the chicken thighs with sunflower oil, add salt and pepper, and place them on a baking sheet covered with parchment. Place two cloves of garlic, crushed with a knife, next to the chicken to make it more flavored. Bake for 30 minutes.
Heat a frying pan with two tablespoons of sunflower oil and fry the onion until soft. Shred the baked chicken legs into pieces, add to the pan, and mix.
Add the asparagus beans to the pan and mix well. Stew the mixture for 2-3 minutes, stirring occasionally.
Add two tablespoons of soy sauce, stir, and simmer for another minute.
Put the ready mixture on the plate and sprinkle it with sesame seeds on top.

Final Words
Everything genius lies in simplicity. The same applies to food preparation. If you think that a healthy diet is difficult, expensive, and time-consuming, you are totally mistaken. Get acquainted with the recipes listed above and make sure you can eat like an athlete. Note that you can use those recipes either as a daily meal plan or as separate dishes prepared whenever you want. Enjoy!