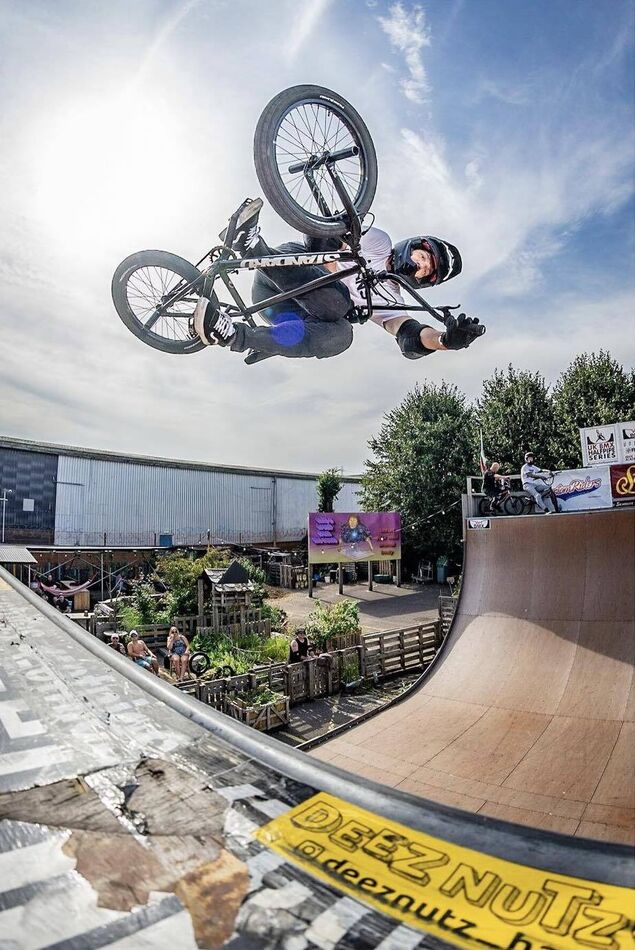 UK Halfpipe Series Round 3. On September 9th round 3 of the UK BMX Halfpipe Series went down, and what a show it was, from the very youngest competitors to some of the most talented vert veterans, this round had it all, big 540's, flairs, whips and combinations. Even had Paul Meacher finding new and innovative ways to exit the ramp. It was fantastic to see the young guns out in force, the group of kids riding the big ramp at Spit & Sawdust Skatepark were all intent on one thing, FUN!

Oli Baker was flying all over the ramp, with loads of one footers and style for miles on his 16" BMX, furthermore to this, we had a family of riders turn up and shred the big wooden wave in the Waltons, T-jay and Tia Walton killed it with Tia pulling a Barspin. Leon Walton held his own with back to back tricks, 540, tail whip and a barspin to name a few. Skaterham local Toby Roberts is starting to show real progression on vert, he did have a couple of crashes during his runs which he walked away from, he was pushing hard. Joe Rendle pulled yet more hand plant combinations along with tail whips and tabletops. We were treated to a flatland legend in Jason Bates joining us showing he isn't afraid of going high, with some awesome extension on his one footers and nice tabletops Jason got a well deserved 4th place. 12 year old YouTube star Caiden Cernius from the USA joined us winning best trick with barspin to xup, Caiden had a nice flow and a massive bag of tricks, it was something else watching this lad on a 16" bmx flair a 12 foot tall vert ramp. I've been floating about at a few comps recently and Chase Weighill is always someone I stop to watch, this lads unique style makes him very easy and exciting to watch.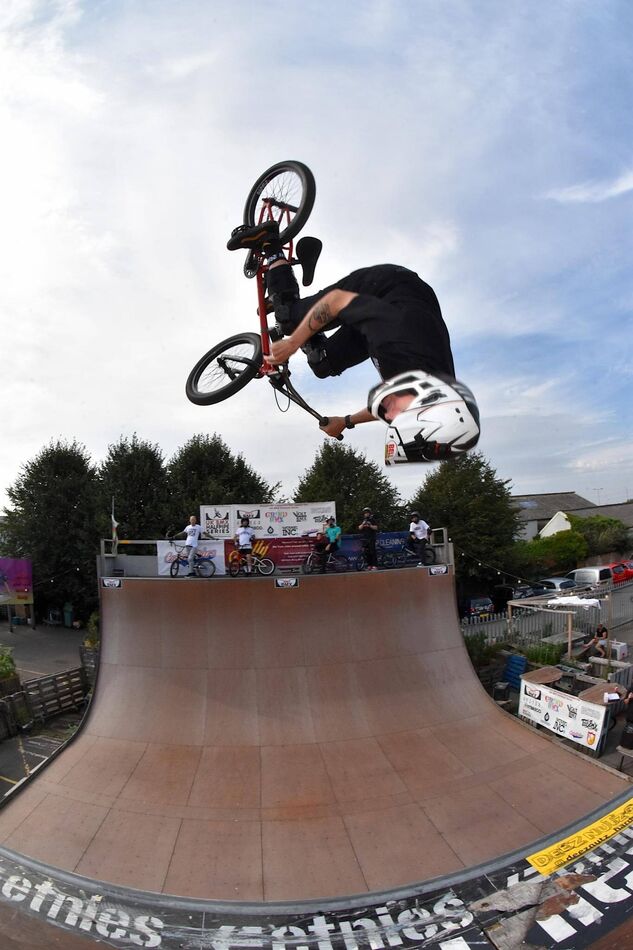 The current overall amateur series leader Harry Gorman took the win at round 3, with massive airs and nosing it in hard, something about his riding style started to remind me of Jerry Galley!

In the PRO group we had some of the very best vert riding I've seen in years. A few moments that stood out were the massive 10ft tailwhip air by Josh Bates, Paul Meacher's Toboggan to no footer, Seb Bennerson's 540 air.

Howard Radcliffe has some awesome style and was folding tables like an origami master, Pete Marselle had his unique bag of manoeuvres out, tyre tap to ice chink inn, 540 and a tail whip along with various style manoeuvres. Bowl rider and all around nice guy Ashley Atwood, who is never without his smile just want to let rip and go as high as he could a do a few tables, a splendid aerial attack by Ash. About 2 weeks before this event I saw Seb Bennerson take a very heavy crash on a big 540 at Creation skatepark, day of the contest Seb not only did he land a big 540 but he also pulled out of the bag a load of tricks from Toboggans to one hand one footers and big alley-opps. Mike Mullen joined us on the ramp and graced us with his never ending flow and style, flying high not only is he the main man behind the UK BMX Halfpipe series but also runs the Mike Mullen BMX academy.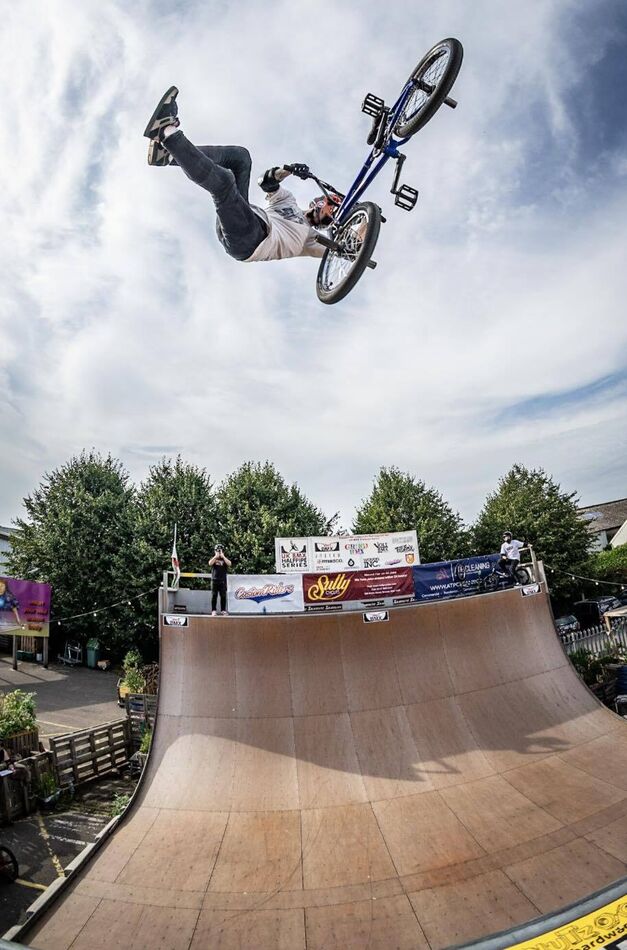 We were lucky enough to be joined by UK Vert legend and one of the main guys behind the original Vert Series Zach Shaw, for someone who's knees are completely wrecked and have had multiple operations, it always amazes me how he can just pick his bike up and just send it. Zach pulled massive flairs, grizz airs and huge inverts. I always forget how many tricks Paul Meacher has tucked away, sometimes you have to expect the unexpected with Paul, no hander to no footer along with the toboggan to no footer where amongst my favourite, with massive airs and beautiful inverts, then at the end of his run he did a big flair but is was so carved he ran out or real estate and exited off the side of the ramp crashing into a pallet which he had only placed there a few hours earlier for the sponsors banner to go on. The Pro competition winner Josh Bates, was on form yet again and every time I see this Tattoo artist ride he seems to be going higher bigger and with new tricks, with how many tricks he has and how high he goes he has to start doing two/three tricks per air, with 10ft tailwhip airs, double whips, flairs, Indian airs to no-footers its going to take something special to beat him.

With round 3 being over, in reflection it was a fantastic contest, the last stop should be a cracker and will crown the series champions! Round 4 will be at Ramp City in Blackpool 12th November, we will see you all there........
Words by Ben Snell
Photos by Jon Blades and Matthew Dyer