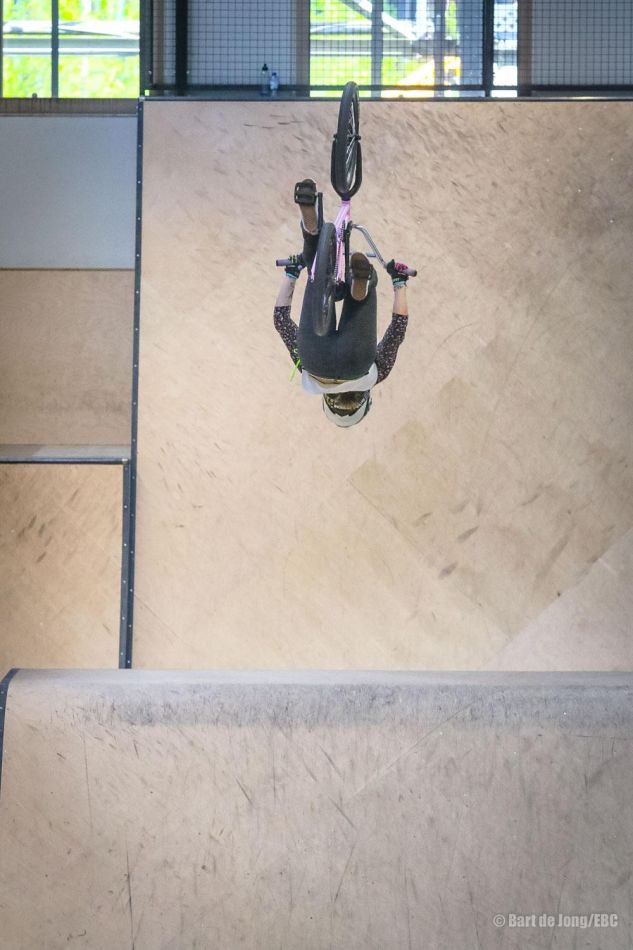 at Area51 even had beer on tap. It surely felt like the good old times even if they were only 2 years ago.

Valeriia Liubimova took the opportunity to escape her home country for a weekend to win the Women Park class. With Olympian Lara Lessmann (GER) in the finals this wasn't a walk in the park but she got the job done with backflips and 360's on the spine on the course that had huge ramps and not a lot of flat bottom to prepare for the next move. Being able to adapt quickly is also part of BMX Freestyle and the Russian did that best to grab the win with Lara in 2nd and Kim Lea Müller (GER) wrapping up the podium.

As expected things got insane quickly in the Park Men class. Just being able to make the final 12 wasn't an easy feat and looking at the names who didn't make the cut already shows that the C1 event in Eindhoven was of a high level.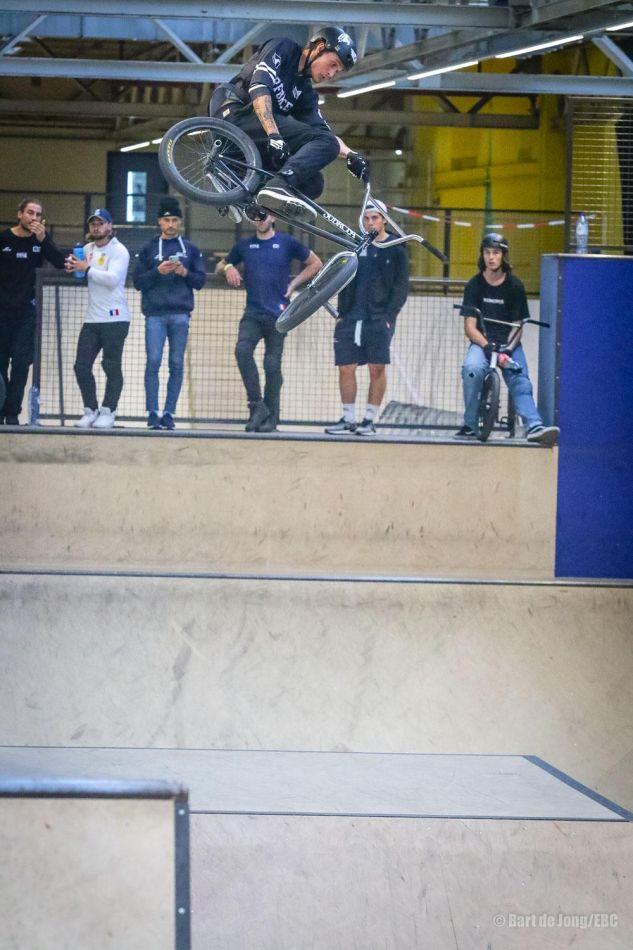 Tom van den Bogaard was out before the comp even started with a few damaged ribs from a crash a few days prior to the event. For the finalists as well it is key to pull at least one good 60 second run. Istvan Caillet (FRA) and Alexandre Sideris (SUI) are both awesome to watch, but failed to stay up during finals. 2021 Dutch National Park champion Arjan Ellens (NED) added 10 points to his UCI Ranking by finishing 10th. He knows what to do next time and will bring it. Ir. Pim Scheers (NED) had just finished university and will now focus on BMX for a while. A 9th place in this field is a good start. The Rookie award went to Tom Clemens from Germany. The 16 years old prodigy made the big step of 'going pro' and set a goal of not finishing last in his first Elite Men Park contest. Well, that goal was reached after the qualification rounds as he made finals, and finished 8th! Congrats on that. If there would be a 'styler award' it would go to Paul Thoelen (GER) and he would grab the high air reward at the same time. A pleasure to watch, always. 7th. Kenneth Tancré (BEL) had not ridden a BMX Park contest for two years but was back and proved his hand on the throttle is always open. His 6th place finish means that Belgium should send th guy to Montpellier for the first UCI BMX Freestyle Park World Cup of the year now that he can enter.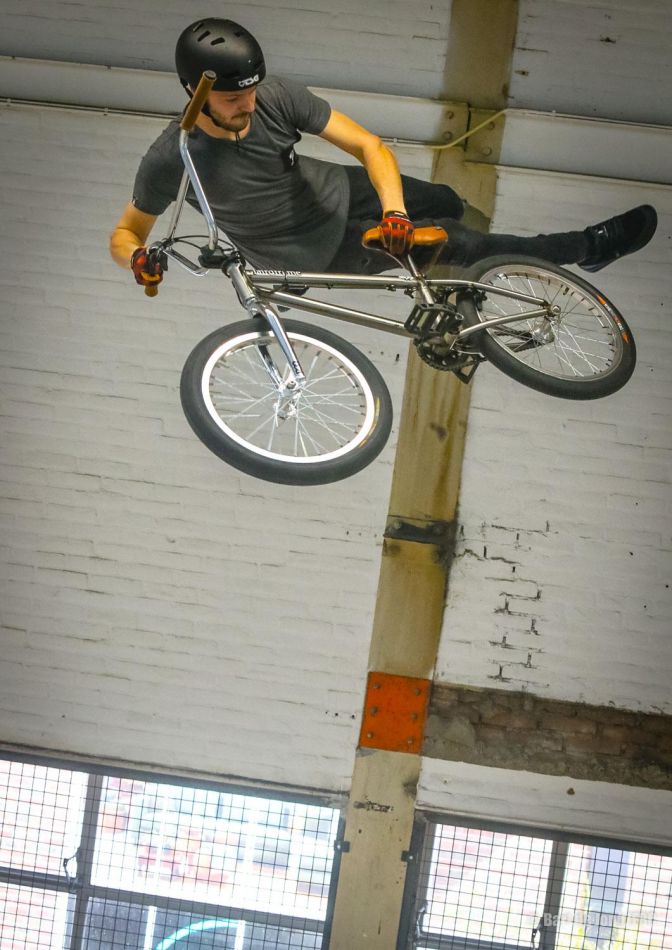 Highest ranked Dutch rider was Levi Weidmann who rides the park on the daily. Home advantage for sure but in this field you also have to deliver when it counts. He made that happen which is a great step moving forward. Contest experience can only be added if you enter competitions. Starting a run with a flair drop-in takes some skills. Leave it to Kenneth Tencio to take that risk and keep going for a full 60 seconds afterwards. Kenneth already had enough points to his name to ride in Montpellier but he simply missed going to these kind of Park events and flew in from Costa Rica just for the good time. Jaden Chipman (CAN) hasn't had the opportunity to enter C1 park events in Canada so he got on the plane for a weekend of BMX Freestyle Park riding in The Netherlands. It worked out well for him with a 3rd place and a wooden trophy to take home.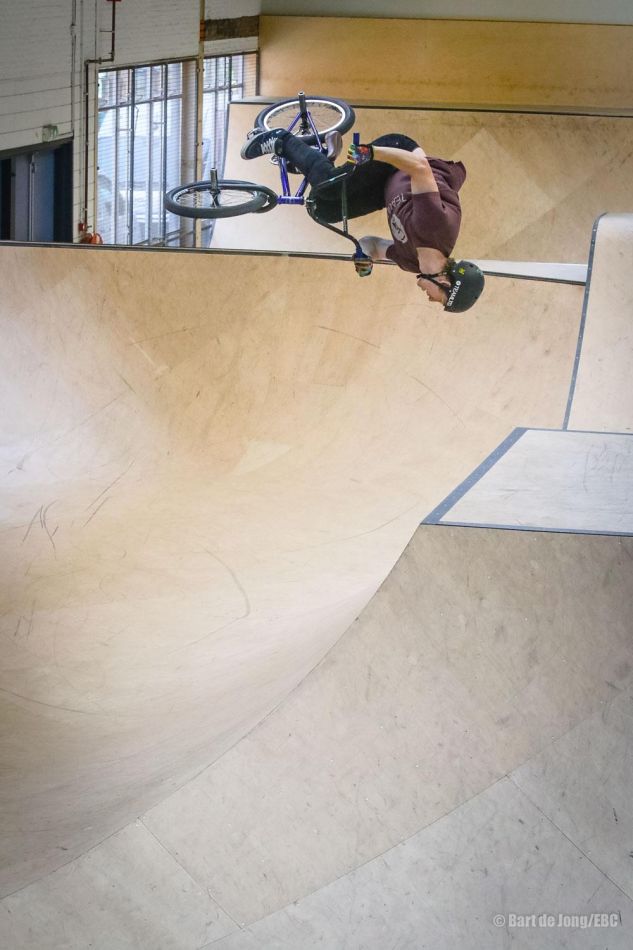 After going to the USA on a points hunt a few weeks ago which didn't work out as planned, Shaun Gornall (GBR) took the 6am Easyjet flight from Stansted to Eindhoven for another go. Shaun's riding hasn't missed a beat with huge 360 variations turning both ways, flairs, tables, you know the score. When he got back on the Easyjet flight that same night he had a good reason to smile with 90 UCI points added to his name. Olympian and current European BMX Park champion Anthony Jeanjean (FRA) is a machine. Hard work pays off and when you have your tricks dialled like the Frenchman it is a matter of putting them together for a good run. Anthony showed he is ready for the big crowd in Montpellier and will aim for the podium over there as well and why not place 1.
Results UCI C1 Park contest Eindhoven, Netherlands. Monday 18 April 2022.

Women Park:
1) Valeriia Liubimova ---
2) Lara Lessmann GER
3) Kim Lea Müller GER
4) Kenza Chaal FRA
5) Ertel Lara Marie GER
6) Julie Plousey FRA

Men Park:

1) Jeanjean Anthony FRA
2) Gornall Shaun GBR
3) Chipman Jaden CAN
4) Tencio Esquivel Kenneth CRC
5) Weidmann Levi NED
6) Tancre Kenneth BEL
7) Thölen Paul GER
8) Clemens Tom GER
9) Scheers Pim NED
10) Ellens Arjan NED
11) Caillet Istvan FRA
12) Sideris Alexandre SUI
13) Florent Kastner FRA
14) Jonas Lindermair GER
15) Quentin Morien FRA
16) Martin Habada CZE
17) Jari Roggeveen NED
18) Timo Schulze GER DNS

Pics by Bart de Jong / FATBMX