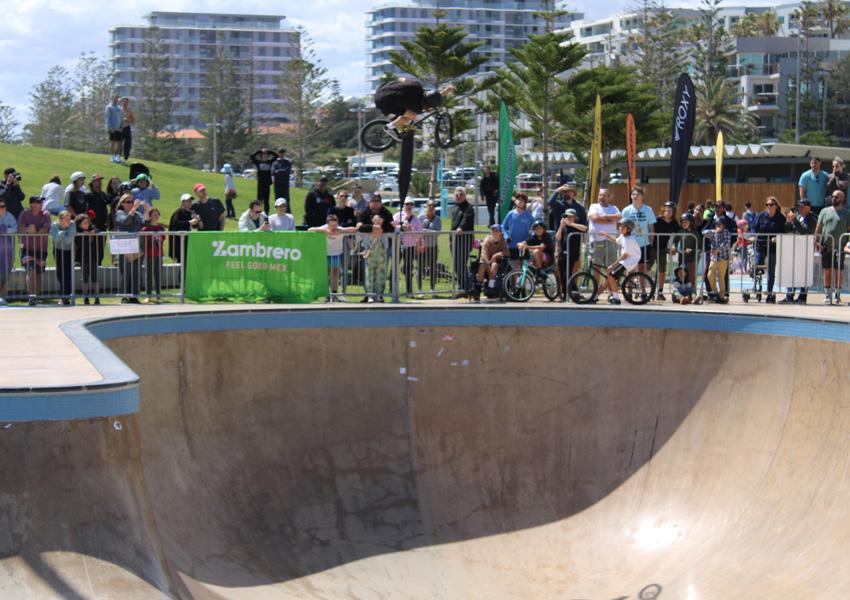 All competitors had two runs in the qualifying rounds with only their best score counting. This set them up in the battle finals order. Qualifying was super important with riders qualifying first put them in prime position for the battle finals.
The battle finals were epic with some dam fine radical skills being unleashed from the riders to make sure they will progress into the next round. Each lower qualifying rider had to battle in out against the next highest qualifier. The winner of this battle then took on the next highest qualified rider. Survival of the fittest and the raddest was the order of the day that's for sure. Each rider had two 60 second runs to make sure they were the rider that would progress to the next round. Riders were judged on the overall impression of their run by the three judges, each giving a score from 0 to 30 points taking into account, difficulty, diversity, consistency, speed, height, flow, lines, and tricks. Each of the battles that took place were awesome, but there were two battles that were epic standouts.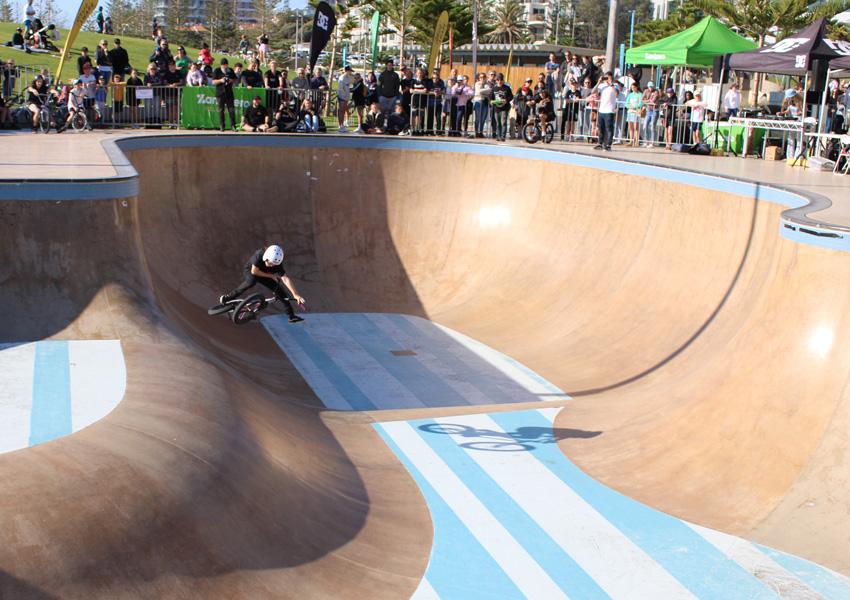 The first epic battle was in the beginners, between two siblings, 15 year old Zac Martin and 8 year old Bianca Martin, brother and sister rolling out the rad and this is why BMX is so rad, no matter what age, size or sexual orientation, skill is the requirement. Zac had qualified in 5th and took on Brenton Waddingham. They both rode well but the judges gave the win to Zac, who only had only dropped into the bowl for the first time a few days previously. The 5th place was given to Brenton and Zac now had to ride against his sister Bianca. The winner from the round could then challenge Morgan West for the 2nd place. Zac dropped in first and powered around the bowl with some great lines 60 seconds later Bianca dropped in. The amount of speed and height 8 year old Bianca expressed was outstanding. Zac was then in for his second run which was the same as his first. Bianca's next run started as a double peg drop in on the medium size transition, from there it was massive airs and great lines and good use of the hips. There were not many points between them but it was Bianca that took the win, on announcing that she was progressing to the next round the crowd let out the biggest cheer of the competition.
Zac claimed the 4th place and Bianca went on to challenge Morgan West, who had only just dropped into the bowl for the first time that morning. Again it was Bianca for the win over Morgan. This left the final battle in the beginners between two 8 year olds, two good friends Bianca Martin and Albie Liveley. While Bianca was airing the massive deep end at the tiles Albie was half a metre out of coping. It was Albie for the win and Bianca second place.


The other epic battle took place in the pro class. Two West Oz legends, Dempsey and Aquaman. Both of these riders have been riding for 20 years, both grew up pedalling everywhere they go, in some cases they would ride 50 kilometres just to ride a skatepark, both of these riders are legends and have so much skill and dexterity on a bike they can ride anything. Looking back to when Dempsey and Ryan Aqulina were teenagers no one would have even thought that twenty years later they would be in one of the biggest bowls in Australia battling it out in the pro class. Dempsey qualified in 5th and rode first. He was on fire during warm up but a few too many foot downs and bails put him at a lower score. Dempsey did some great fakie variations which seem to be a lost art in BMX at the moment so that was great to see but Aquaman went higher had more airs and had less foot downs. It was Aquaman who took the forth place and Dempesy in fifth. Both these riders are not what you would call bowl riders, they ride all forms of BMX but they rode for the fun and it was so rad to see them interacting with the bowl with their style of BMX.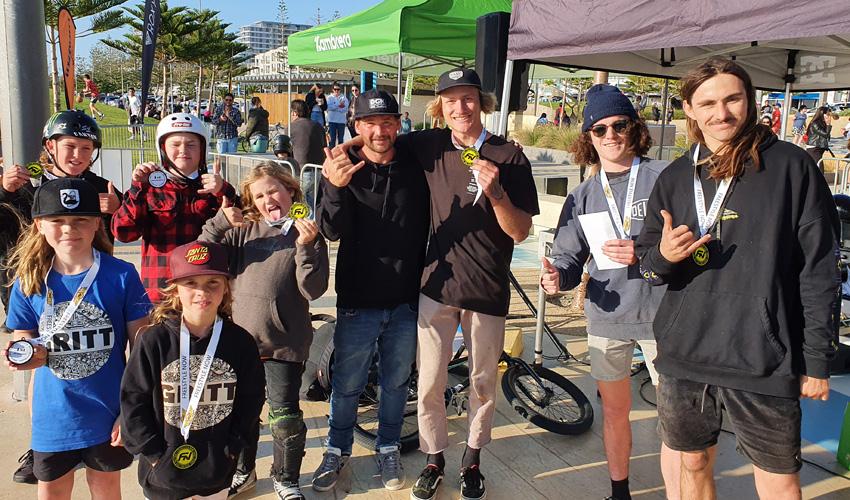 In the pro final battle 1st place qualifier Luke Tooze was challenged by 2nd place qualifier Ben Gately. After Jay Roadly was challenged by Ryan Aqulina, Jay won the battle but took some injuries so forfeited the next round and claimed the 3rd place. Luke was so fast, went super high, had trick variations and was flawless. Ben rode like Ben does, long flowing manuals and some great flowing bowl lines, it was beautiful to watch. Luke Tooze took home $1000, 1st place and a massive smile. (rumour has it he brought a car with his winnings)
We would like to thank the Groundswell festival for making Scarborough beach the place to be over the weekend. Big thank you to Zambrero for being the major sponsor of the Zambrero BMX bowl battle. A massive thank you to our supporters Colony BMX, Sneaky Wholefoods, Local BMX, Cult Crew and Division Brand, be sure to support these brands. And we would also like to thank all the competitors and spectators who came out to support BMX in the way you did. Planning has already begun for 2022, let hope we can have some national and international riders attending by then.


Zambrero BMX bowl battle official results – 9th October 2021.
Beginners
Final battle results – 1st Albie Livesley, 2nd Bianca Martin, 3rd Morgan West, 4th Zac Martin, 5th Brenton Waddingham, 6th Levi Brown, 7th Harlen Pfeifer, 8th Matheus Pascussi,
Qualifying results – 1st Albie Livesley, 2nd Morgan West, 3rd Bianca Martin, 4th Brenton Waddingham, 5th Zac Martin, 6th Levi Brown, 7th Harlen Pfeifer, 8th Matheus Pascussi
Intermediates
Final battle results – 1st Jake Welhan, 2nd Roman Depiazzi, 3rd Joel Brunino
Qualifying results – 1st Jake Welhan, 2nd Roman Depiazzi, 3rd Joel Brunino
Pro
Final battle results – 1st Luke Tooze $1000, 2nd Ben Gately $600, 3rd Jay Roadley $300, 4th Ryan Aqulina $100, 5th Dempsey, 6th Nick Morgan, 7th Brad Evans, 8th Michael Pidgeon
Qualifying results – 1st Luke Tooze, 2nd Ben Gately, 3rd Jay Roadley, 4th Ryan Aqulina, 5th Dempsey, 6th Brad Evans, 7th Nick Morgan, 8th Michael Pidgeon

Sponsored by Zambrero, Groundswell festival, Colony bmx, Sneaky Wholefoods, Local BMX, Cult Crew, Division Brand