entertainment and activities including interactive skate and BMX parks, athlete autograph sessions and sponsor giveaways for all who attend.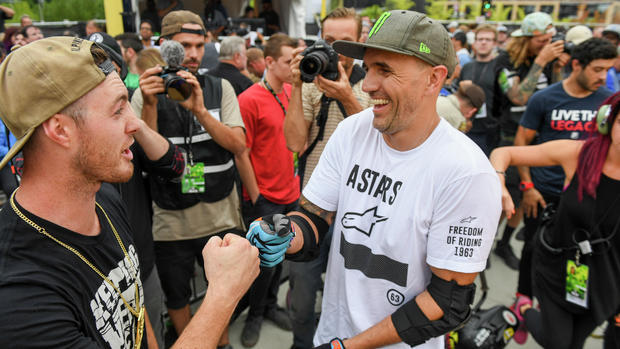 Today's action kicked off with the Fruit of the Loom BMX Vert Finals where Vince Byron (AUS) epeated last year's gold medal performance to top podium once again. In a run highlighted with flawless execution of tricks including back to back 540 flairs, the Australian was awarded a score of 93.00 to take the victory. With a trick selection, style and amplitude a cut above the rest of the field, the 27-year-old is quickly becoming the new face of BMX vert. Narrowly missing the top spot was 46-year-old Jamie Bestwick (GBR), who proved that age is just a number as he threw a barrage of tricks including the seldom seen front-flip flair into his last run. Bestwick's 92.66 earned him a third X Games silver of his distinguished career — in addition to 14 gold medals. Chile's Coco Zurita (Chile) took home Bronze with a score of 88.00.

BMX Vert Final
1. Vince Byron, 93.00 (AUS)
2. Jamie Bestwick, 92.66 (GBR)
3. Coco Zurita, 88.00 (CHI)
4. Zach Newman, 83.00 (USA)
5. Mykel Larrin, 86.33 (USA)
6. Douglas Oliveira, 78.33 (BRA)
7. Simon Tabron, 76.66 (USA)
8. Dennis McCoy, 65.33 (USA)
The action continues tomorrow with a host of competitions scheduled including the BMX Street Final, Women's Skateboard Street Final, The Real Cost BMX Big Air Final and the highly charged Pacifico Moto X Freestyle Final, before musical act A Day to Remember takes the stage.