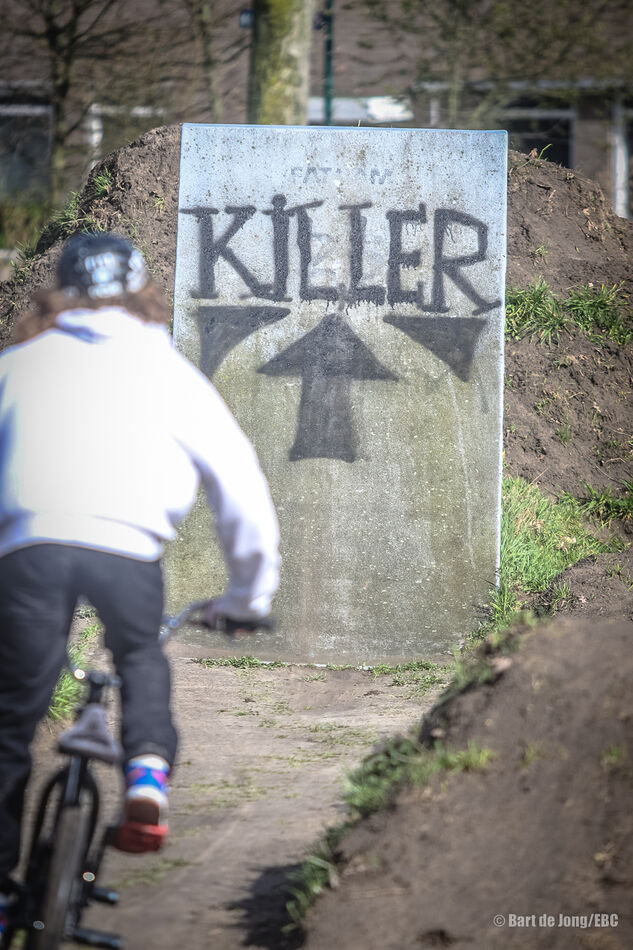 there's room for everyone to push their limits. From the smaller roller lines to the Killer jump and everything in between. Once mastered all lines try to figure out the transfers. Once they're in the pocket, there's always tricks that can be done. Erik van de Wardt pushed it so hard that his bike ended up in a tree like a christmas ornament, something we had not seen i
n 33 years of Sugar Hills Trails history.

Kids were once again spoiled by the prizes that were at hand thanks to Paul's Boutique BMX, Vans and TSG. Everyone left with something, from stickers, buttons, shirts to shoes! Beers were consumed by the locals. Bikes were ridden all day. The BBQ was missing (will be back) but fun was had by all. The afterparty at OJA once again was a good way to conclude an edition of the Mini FATJAM. With the clock being changed to summer time we now have an extra hour of daylight for after work sessions. The Sugar Hills are in great shape for it. Come ride. Open 24/7. For free. Time to progress. Ask the pros for tips. Push your progression. Be careful on that KILLER jump. See you on August 26th at the latest for the summer FATJAM.
BdJ

Pics by FATBMX / Bart de Jong