that thousands of people came over just to see BMX. But not just some BMX riders, the best bowl riders happened to be in town. Some had stayed since Montpellier, others had flown in for the comp or used this as a start for a European stay. Either way, top level riders were present.

Saturday morning saw the Women on the course. Now if you haven't seen a BMX Women contest for the past 5 years, it's time to go see one next. You won't believe the progression the girls have made.
Perris Benegas (USA) was ripping, and we mean ripping! Her airs and flow took some serious form in the concrete park to score a 88.55 from judges Dakota Roche, Joe Rich, and Ruben Alcantara. Macarena Perez (CHILE) edged out Teresa Azcoaga (ESP) for second place. Teresa however won the High Air contest sending that bottom bracket to a height of 2,5 meters!

Women results:
1st Perris Benegas 88.55
2nd Macarena Perez 83.52
3rd Teresa Azcoaga 83.33
4th Natalya Diehm 77.41
5th Angie Marino 76.67
6th Jennifer Wohlrab 73.87
7th Lotta Gruber 67.44

High Air winner: Teresa Azcoaga (Spain)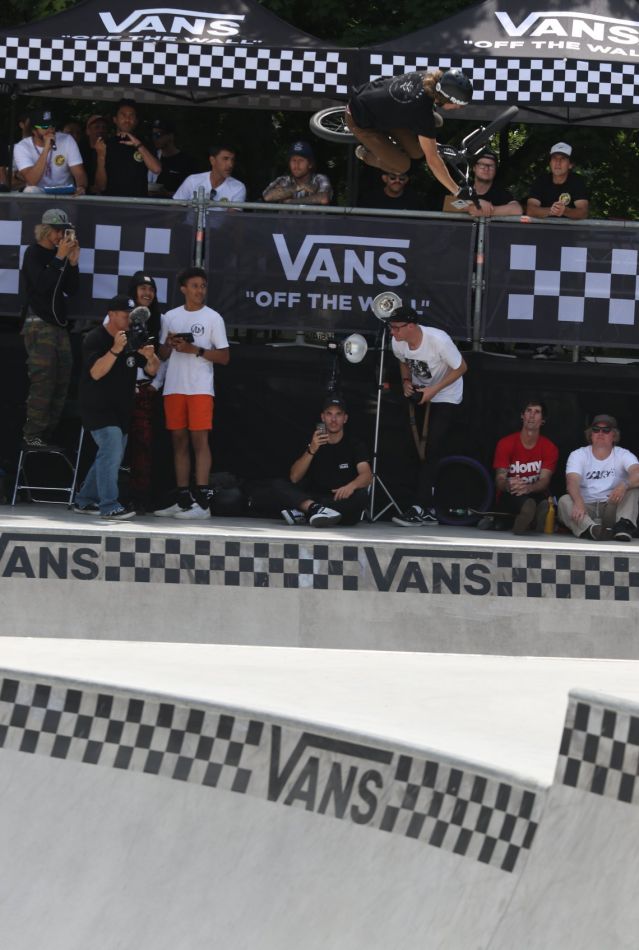 The Men's semi-final followed with 5 heats of riders to form a 14-men final for Sunday. On this sunny Saturday-afternoon the action was non-stop. Sem Kok was the last one to transfer to Sunday's program while lots of BMX stars were eliminated.

A few brewski's were consumed at the beer garden before heading to the Kunstform BMX Shop for some party activities followed by a visit to the Keller Club. Let's just say it was a long but good day where the BMX community came together to celebrate.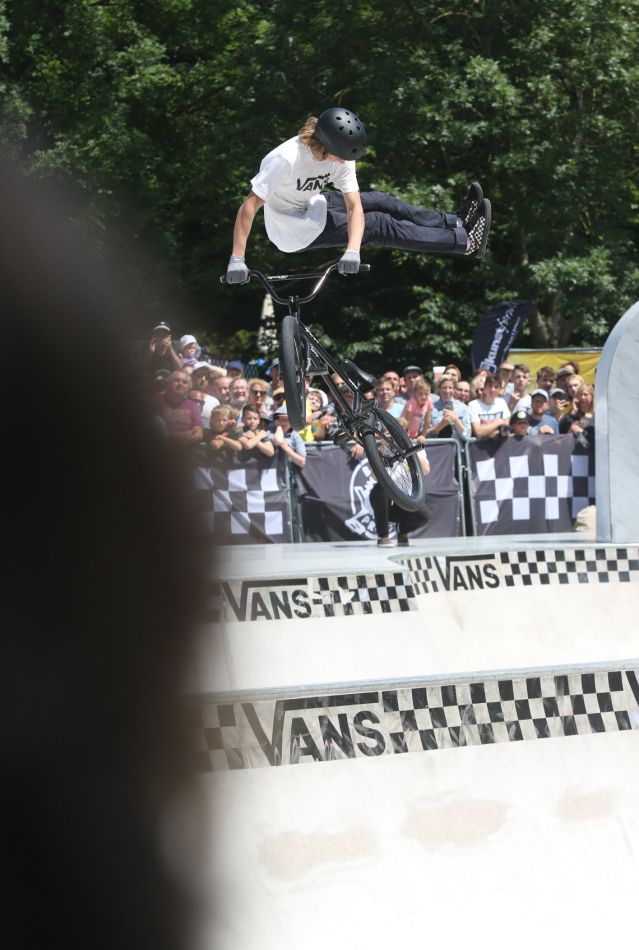 The weather forecast for Sunday wasn't all that great with rain announced in the morning. For the party people that wasn't bad news so some zzzzzz's could be collected even on Sunday morning. Luckily the weather turned around for the afternoon and once again the sun was there and thousands of BMX fans made it back to see the finals. With DJ Dadou behind the music and MC's Maxsomenoise and Darryl Nau on the microphones it didn't take long for the crowd to get into it. Every bit of the venue was used to get a view on the park. People even climbed trees. BMX is hot. 10th place finisher Josh Dove (AUS) is one for the future. 16 years old and stylish as can be. 9th place was for Jose Torres Gil (ARG) who goes higher than most. His no-handed 360 over the spine was a trick people were waiting to see every time he dropped in. The fast pace of the comp kept things going with non-stop action in the Waiblingen park. Alex Hiam (AUS) made sure to pull the tailwhip footjam whips on the highest part of the park for 8th. Kevin Peraza (USA/MEX) won the Best Trick comp with an inverted 540 over the spine and finished on place 7t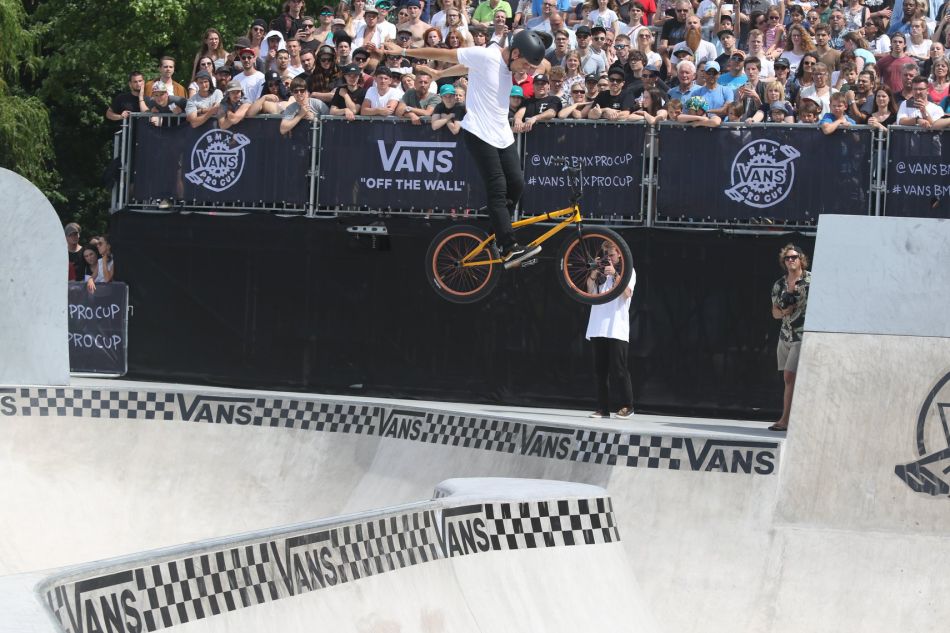 h walking away from the contest unscratched. American Matty Cranmer sent it in Germany and sent a flip on the teardrop as well as "nothing" airs on the same spot. His airs out of the tombstone were sick also. 6th for Matty. Dennis Enarson (USA) sent a double whip transfer into the tombstone plus did a barspin disaster to barspin in on the slanted wall. Knowing Dennis he brought the style and lines that only a few riders possess. 5th place and a smile on his face, as always. Seeing Corey Walsh (CAN) ride has to be experienced in person. The high speed he gains, he uses for transfers that require maximum speed. Corey found lines others did not do and added a bunch of stylish moto-whips as well just missing out on a podium spot.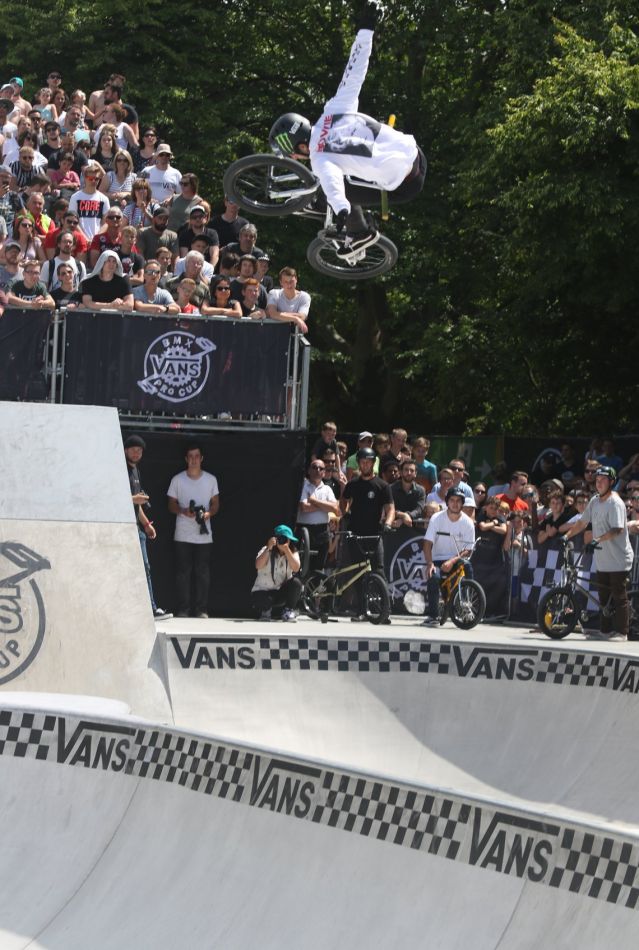 When the following three riders were asked to come to the podium before they announced their order, the crowd was making their own top three in their head. It was between Sergio Layos (ESP), Jason Watts (AUS) and Larry Edgar (USA). All three have won major events before and also in Waiblingen it could go either way. Larry Edgar was awarded third place for going to the moon and back more than once. If Nasa needs help, they should team up with Larry. Sergio simply cruises in the park going either way bringing a combination of tricks, lines, flow and then some. Silver was his and some good points for the Pro Cup Series overall. BMX needs more people like Jason Watts. The party animal keeps it fun at all times. His riding is unique where he does his own thing goofy footed. Lip tricks, stylish airs, decade airs, nose manuals, 360 one-footed inverts at height over the spine, pocket airs, underflips, all with a smile on his face keeping it loose. Luckily the trophies were custom beer mugs and his was filled up more than once that night.

Men results:
1st Jason Watts, Age 26 Australia
2nd Sergio Layos, Age 33 Spain
3rd Larry Edgar, Age 25 United States
4th Corey Walsh, Age 24 Canada
5th Dennis Enarson, Age 28 United States
6th Matty Cranmer, Age 21 United States
7th Kevin Peraza, Age 24 United States
8th Alex Hiam, Age 23 Australia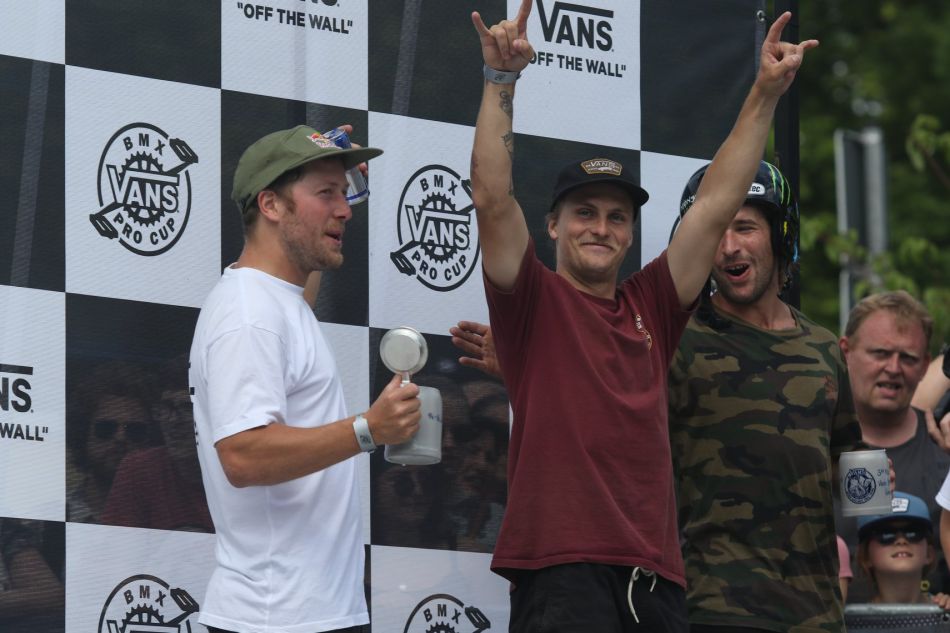 9th Jose Torres Gil, Age 24 Argentina
10th Josh Dove, Age 16 Australia
11th Boyd Hilder, Age 23 Australia
12th Sem Kok, Age 22 Netherlands
13th Rim Nakamura, Age 17 Japan
14th Chris James, Age 28 Australia

Best line: Corey Walsh
Best trick: Kevin Peraza
The event had come to an end. An estimated 10.000 people witnessed the Vans BMX Pro Cup live and no one left disappointed. BMX is rad. Let's keep it that way.

BdJ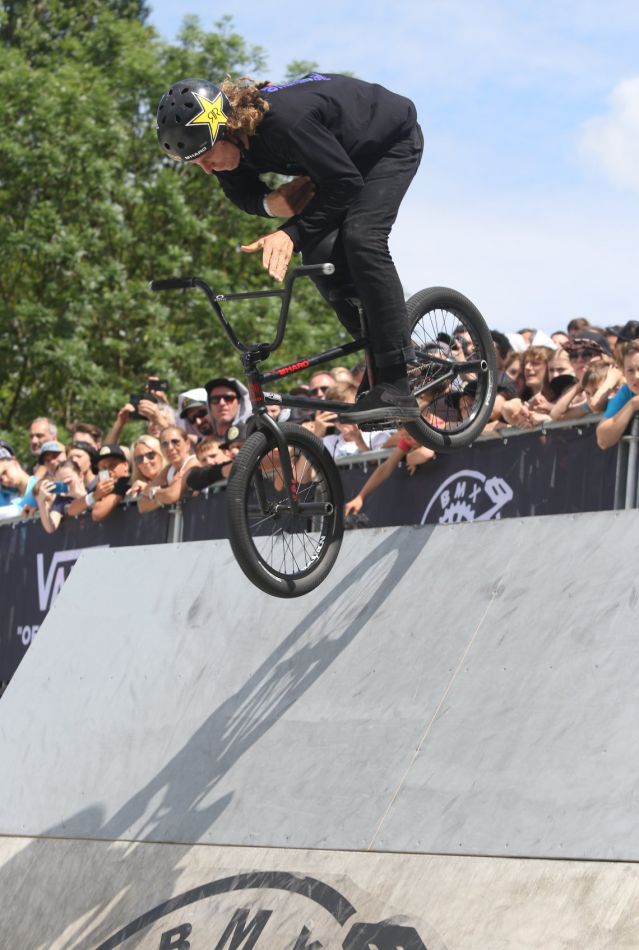 Photos by Bart de Jong/FATBMX