CAEN BMX Indoor (Flatland Jam)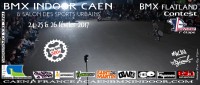 From 24 February 2017 10:00 until 26 February 2017 18:00
The CAEN BMX club and the city of CAEN would be pleased to see you this week-end of the 24, 25, 26 November 2017 for the 6th edition of the Contest Flat at the BMX INDOOR CAEN.
Take place at the Parc Des Expositions, 2 Rue Joseph Philippon, 14000 Caen - Normandie -France.
And it will be the first step of the Flat French Cup !

The Majority of the gathering concern the Race:
For two days more than 1000 professional and amateur participants are going to find themselves for a major competition Indoor. Caen deviend then the International Capital of BMX race.
The only French event where you can find the 4 disciplines of the BMX gathered in a single place !